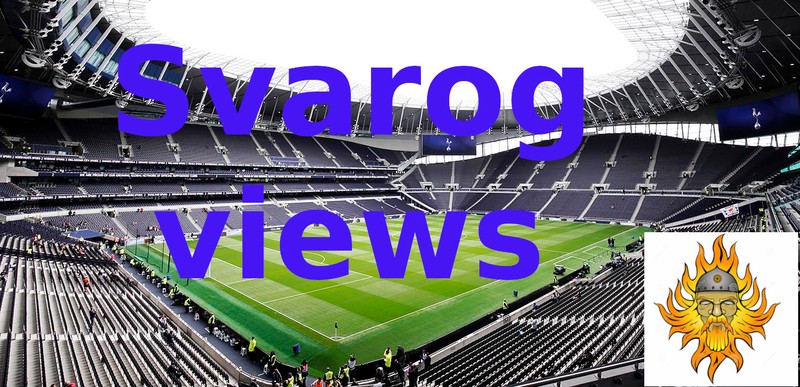 Marseille went all in attack, they made one of many bad passes which got intercepted, Harry Kane took the ball, he somehow sent it to alone Hojbjerg who is running toward, goal, Marseille player tried to block, Dane shot and it's in it's 2:1 for Tottenham in last seconds of stoppage time in Marseille! They will go to elimination phase from place number one of group D! What a finish by Hojbjerg! Real master footballers are scoring when it is most needed! Marseille coach Igor Tudor had privilege to watch it from inside the pitch. :) That would be my comment about finish of this exciting game. It could also end in very different way because ex Arsenal player Kolasinac missed impossible few minutes before. He was alone on back post he tried to hit closer part of goal, made attempt off the ground I already saw ball inside the net, but it went wide of goal! :) Let's start from beginning.
Tottenham did hard defending in something which look like 5-4-1 system most of the first half. We did it quite well until late stage of first half when concentration started to drop. Few bad clearances, few bad balls straight in feet of opponent and again one doggy decision by referee costed us conceding. Sess who played on left wing back left ball to go out for a goal kick, linesman showed goal kick but main referee pointed to corner Sess complained, 3 or 4 our players watched ref in disbelief thinking I don't know what that he will change decision or something, they took fast corner on not well setup defense sent quick combination following by cross on back post toward alone Marseille player and he didn't miss that chance. It was 1:0. It was strange to watch 3-4 our players marking no one inside the box on that corner.
That woke up our players which made one good attack but Harry Kane's shot was deflected in corner. Near the end of half we had big chance after corner but excellent Hojbjerg sent ball wide of goal after deflection. They had some chances before of course, but Lloris was up to the task.
Second half bring another picture. Spurs went in attack with more players and everyone could see how better team we are than Marseille. We pressed and after one excellent set piece made by Perisic Clement Lenglet scored header for 1:1. He might not be the best defender, but he knows how to do header. He showed that last night. He showed also that he learned that it's better to stop attack and get yellow card then concede goal like in Bournemouth. :) We had some chances after, the biggest was crossbar which Hojbjerg hit from shot after Lucas Moura short pass inside the box. It was so hard that this crossbar must shaking still...
However soon after we started to play Italian prime time wasting football. It was not laying on the pitch but play in circle keeping ball as long as we can without much thinking about how to score a goal. This type of play could cost us. Alexis Sanchez had big chance shot from 5 meters, after Emerson lost the ball on the right, but excellent Ivan Perisic blocked it. One attempt flied just over crossbar like rocket. Kolasinac had that chance described above... It was really exciting game.
Son Heung-min suffered bad head injury and was changed in first half. He looked like he's hardly walking, like he suffered shake of brain. His picture with one eye closed after the game tells me it's serious injury and that we will not see him in squad in next couple of games. Will he be able to play World Cup is big question. He was not to big star, tried to get noone's ball, challenged opponent trying to get ball by head, but hit shoulder of Marseille player. It was hard to watch. We wish him fast recovery. Bentancur was substituted in second half because he had some problem with back of his thigh...
Perisic, Bentancur and Hojbjerg were very good in this game, defense was up to the task, Harry Kane knew how to protect and hold ball and force foul in himself. Lucas was bad, but showed some signs of life in second half. He's returning from an injury it's not easy. This time Sess was weak link, but he played on other position of right wing back. Emerson who came in in second half was average.
I am happy because we won and go to knock out stage, but I hope we're going to play some real football then and not this type of pass in circle on the pitch. I can understand that sometimes is important to hold the ball when opponent is in big push toward goal, but it looked like we are not much into thinking how to score, but how to keep the ball. We saw few unacceptable bad passes in promising attacks, few deep offsides, few reactions of Harry Kane inside the box which are bellow his level. He didn't catch two deflections from goalkeeper and got tackled in one big chance in second half. He got more good moments like pass for Hojbjerg, shot in first half etc... There was big well deserved celebration inside the dressing room after the game with little Harry Kane dance. :)
We proceed to next stage, going to quarter final would be very big success for us. However next game is against very big club Liverpool and I am terrified when I think who will play on which position in that game. I am not sure there are any fit players left for that derby... :) Son will not play for sure, I hope Deki Kulusevski or Richarlison can return for that game. Let's see. Congratulations lads it was big fight and very exciting win. Conte also got excited on his seat surrounded by UEFA persona and hosts. Three were needed to hold him after goal.
Reliable source like Fabrizio Romano is saying club is ready to fully back conte in January transfer window, that they will discuss new deal with him during world cup in November or December and that he has been paid less than he was in Chelsea or Inter and that this is not about money but project for him. His decision will affect Harry Kane decision too. Daniel is privately saying he never worked with better coach than Antonio. Let's do this Daniel.
We have something to listen and watch until Liverpool game. "He's here he's there he's <censored> everywhere. Hojbjerg Hojbjerg...." One more thing. Older fans know that Italian national squad looked poor on a lot of World Cups during group stage but that they transformed in unbeatable beasts in knock out phase ready to eliminate Brazil or France... Why not we transform into that in knock out phase too ? COYS!