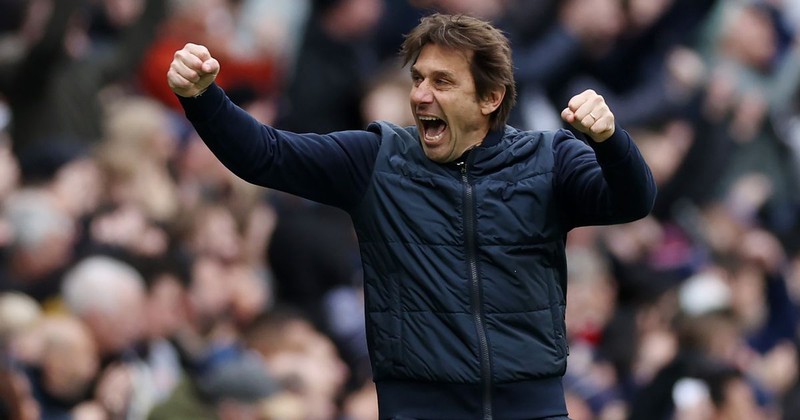 Tottenham Hotspur won Nottingham Forest 3:1 at home today after very good performance. Antonio Conte showed he is not evil minded toward Richarlison as he put him in the squad instead of Dejan Kulusevski despite his ill interview for Brazilian media.

Brazilian scored effective goal in the beginning, but it was disallowed because of offside, which I mean was wrongly draw lines by referees in VAR room. Arsenal ultras Craig Pawson was referee, he used every opportunity to give our players yellow cards, but it didn't help. Big daddy Harry Kane scored two goals. First was after great cross by new signing Pedro Porro who found him inside the box and big daddy rarely doesn't score when he's found like that. Second came after penalty which happen after he sent one Nottingham lad back home by pass through his legs toward Richarlison who was faster than other Nottingham lad who did late tackle, Brazilian who moved ball felt over his legs and Pawson was forced to give us penalty. It was penalty. Third is scored by Son after Richarlison found him inside the box with one very good pass and superb skill by Korean who sent ball throw Shelwey's legs into goal. Visitors lower score to 3:1 after one of 10 corners when Forster went out but didn't get ball. There was also penalty for visitors at the end after ill stupid handball by Dejan Kulusevski near the box line. Forster however did great save with hand and result remanded 3:1.
Easy win I'd say. I am happy because 3 points and more for Pedro Porro who showed he will be important signing. He is dangerous in attack, knows tricks, has skill and it seems he's becoming better and better in defending too. He's living proof that Conte's tactic is working if he has right type of players. I saw also two very good tackles on Forest players. Richarlison had some nice moments, but also some bad and was nowhere near fantastic like some fans think. He felt all over the pitch, let ball fly over him after one corner, but fortunately Forster saved attempt on goal with big save. He had role in first goal when he go around opponent just to send ball to no one but Ben Davies saved it and sent it to Porro with desperate tackle who was alone on right for cross. Pedro sent perfect cross type of cross we were missing entire season from that side... However Brazilian also lost a lot of balls very easily and in one situation even didn't run for ball sent by I think Kane in free space in second half. He had also one one one situation with defender but get blocked. That expensive player should score from such situation for fun, like Son did with his chance despite having two in front of him. He looked good because Nottingham Forest let us a lot of free space in entire game. I don't think other clubs will let us so much until end of the season. "Free flow attacking football" by pretender on Tottenham coach position Steve Cooper failed miserably especially in first half. I'd love to see names of board members who put him on list of candidates. I still hope that was non salt joke by rival fans and not true.
What's missing is hunger for goals. This Nottingham could and should have been escorted home with minimal 5 goals in the net, but our players were satisfied on 3:0 and only defending goal and very rarely go in counter attacks. Antonio Conte who I still think is the best solution for our bench need to wake up that hunger. Also Son and Richarlison look like they are falling to easy. Dejan Kulusevski came in 10 minutes until the end, had one chance, but was blocked and made penalty. Olie Skipp was very good, I loved one his long ball across the pitch on other side and forward for disallowed goal. On the other hand Hojbjerg didn't look that good in this game in my opinion.
It's good to be 3 more points in front of Liverpool who lost in Bournemouth, but we still need to go to Anfield to play the game... Message for the players for the end. You are not anything special, that was just one of the worst relegation candidates Nottingham Forest. This win does not mean you should not show up in Southampton next week! You need to play serious every game until the end.
There is one nice song I want to point you out:
Trust in process and in elite manager Antonio Conte! COYS!