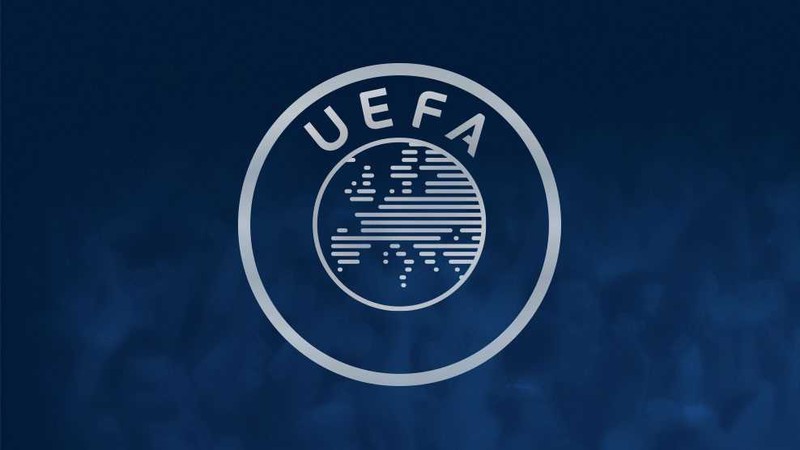 UEFA drawing for Champions and Europa League is over and I like the result of it. It is because I like to watch clubs from England. I like how they think about football. Fast attacking minded football for one more goal than other side, the most active play and thinking about shot and scoring goal as early as ball came to 20m from it. UEFA draw was very nice because it brings 2 clubs from football home - England in groups with Serbian clubs. Tottenham Hotspur will be in group with Red Star Belgrade while Manchester United will be in group with Partizan Belgrade. I wanted Arsenal in group, but can't complain with Manchester United too. :)
UEFA Champions League gropus:
GROUP A
PSG (FRA)
Real Madrid (ESP)
Club Brugge (BEL)
Galatasaray (TUR)
PSG and Real Madrid should go through next stage here, but Club Brugge and Galatasaray will try to give them hard time.
GROUP B
Bayern Munich(GER)
Tottenham (ENG)
Olympiacos (GRE)
Red Star (SRB)
Bayern Munich and Tottenham are favorites to go to next stage here, but they will have some hard time away against Olympiacos and Red Star. If they underestimate they could end up with upsetting loss like Liverpool last year. One more observation: Red Star is tough defending team just like Spurs don't like to play against these days. It could be tricky especially in living hell atmosphere of Red Star stadium.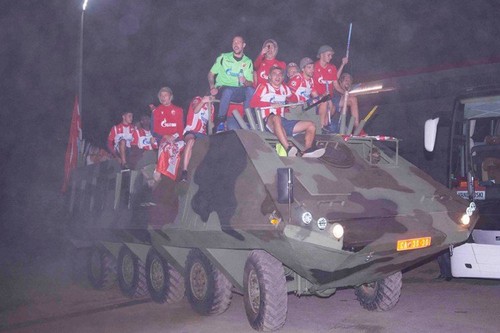 Yes that is real armor vehicle despite some officials said it was "just a model made on army truck". LoL. Even President of State (hard core Red Star fan and in youth member of some ultras group) said on press conference that he called Vukanovic (scorer of goal against Young Boys) saying to him "Son you could score crucial goal in this game" and according to him player replayed "I'll give my best mr. president". :) No it is not some comics or my joke he really said that on press conference. LoL. I expect in few days in media that they insist on fact that he scored a goal and not Vukanovic. LoL :)
GROUP C
Man. City (ENG)
Shakhtar Donetsk (UKR)
Dinamo Zagreb (CRO)
Atalanta (ITA)
Atalanta and Man. City are big favorites here. Dinamo is not to bad, but I don't think they can avoid losing against Guardiola's side. Atalanta also looks very strong.
GROUP D
Juventus (ITA)
Atletico Madrid (ESP)
Leverkusen (GER)
Lokomotiv Moskva (RUS)
Juventus and Atletico Madrid should pass group stage, but Leverkusen will try to change this order.
GROUP E
Liverpool (ENG)
Napoli (ITA)
Salzburg (AUT)
Genk (BEL)
Liverpool and Napoli are to big favorites here.
GROUP F
Barcelona (ESP)
Dortmund (GER)
Internazionale (ITA)
Slavia Prague (CZE)
This is going to be death group because Barcelona, Inter and Dortmund must resolve which two are good for next round. Anything can happen here. I think Slavia will have troubles to get any point from these games.
GROUP G
Zenit (RUS)
Benfica (POR)
Lyon (FRA)
Leipzig (GER)
Interesting group with clubs of similar quality. I don't see clear favorites here.
GROUP H
Chelsea (ENG)
Ajax (NED)
Valencia (ESP)
Lille (FRA)
One more group where anything can happened.
Europa league
GROUP A
Sevilla (ESP)
APOEL (CYP)
Qarabağ (AZE)
Dudelange (LUX)
GROUP B
Dynamo Kyiv (UKR)
København (DEN)
Malmö (SWE)
Lugano (SUI)
GROUP C
Basel (SUI)
Krasnodar (RUS)
Getafe (ESP)
Trabzonspor (TUR)
GROUP D
Sporting CP (POR)
PSV (NED)
Rosenborg (NOR)
LASK (AUT)
GROUP E
Lazio (ITA)
Celtic (SCO)
Rennes (FRA)
CFR Cluj (ROU)
GROUP F
Arsenal (ENG)
Frankfurt (GER)
Standard Liège (BEL)
Vitória SC (POR)
GROUP G
Porto (POR)
Young Boys (SUI)
Feyenoord (NED)
Rangers (SCO)
GROUP H
CSKA Moskva (RUS)
Ludogorets (BUL)
Espanyol (ESP)
Ferencváros (HUN)
GROUP I
Wolfsburg (GER)
Gent (BEL)
St-Étienne (FRA)
Olexandriya (UKR)
GROUP J
Roma (ITA)
Mönchengladbach (GER)
İstanbul Başakşehir (TUR)
Wolfsberg (AUT)
GROUP K
Beşiktaş (TUR)
Braga (POR)
Wolves (ENG)
Slovan Bratislava (SVK)
GROUP L
Man. United (ENG)
Astana (KAZ)
Partizan (SRB)
AZ Alkmaar (NED)
Club from Netherland AZ is solid, one against which our best domestic clubs like Partizan or Red Star can play against. AZ was already in group with Partizan few years ago and Partizan won them 2 times. Now squads changed, but quality level is more or less same. Clubs from Netherlands like to play attacking too and I like that. One team I don't like is Astana from state of Kazahstan which is far away and just travel will make players tired. They showed some good quality by eliminating Bate Borisov (Belarus) in qualifications (3:0 at home, 0:2 away). It will be nice to watch Red Devils here in Belgrade. I am looking forward to this. Last time when they came here in 1966 Partizan eliminated them with 2:0 win at home and 1:0 loss away, but those were different good times when Partizan could reach final of Cup of Champions. United is big favorite here, 3 other clubs should search two for next stage between them and I don't think it will be Astana.
What do you think about those groups ?
Who will go to next stage of Champions League ?