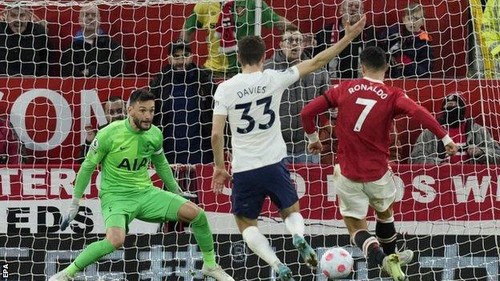 Tottenham easily lost at Old Trafford against Manchester United 3:2. Coach Antonio Conte said they performed well and deserved more from this game ?! I can agree with last part Spurs deserved more goals inside net for this non performance! Especially one player Son Heung-min deserved more for his helpless falling all over pitch without any opposition around him. He deserved good beating like after the game against Middlesboro.
Who is Cristiano Ronaldo ? Who is that anonymous player with ball on 25m from our goal ? Why would anyone bother to come closer to him trying to block him ? He probably can't throw the ball to the goal from that range! That is probably how Eric Dier was thinking on first goal. Ronaldo did phone call with 4-5 seconds duration before kick but he didn't do anything...
Not long before that he made blatant handball for penalty which referee didn't give to United. Before that Sancho made little shoulder move which sent Doherty back to Ireland before trying to make cross inside the box showing ourselves that Matt can be good only against worst clubs in league. When he has half serious player in front of him he's totally helpless and represent big hole in defense.
I will dig myself in goal line this Ronaldo can't hit target from ops ball is in ?! How that happen ? That is probably how Spurs finished goalkeeper Hugo Lloris was thinking in same situation.
Soon after Deki sent United left back back to Brasil with ball through legs and soon after United made unnecessary handball penalty and practically scored own goal for 1:1. That result last for minute or two when Spurs left back Sergio Regullion showed how stupid and useless he really is. Ronaldo was in front of him, he could see he's not offside but move arm up signalizing offside, Christiano run in and made easiest tap in in his career for 2:1.
Second half brought us more ball possession, more dull passing without creating any serious situation in front of goal, total frustrating helplessness, stupid wrong decision what to do with ball, lack of any intelligent playing in front of Henderson. Tottenham would not score goal if they played entire week like that, but then Harry Maguire decided to score own goal for no reason. Oh 2:2 oh how good Tottenham play. LoL! Spursy central defender Christiano Romero showed than how big cretin he really is by coming to Maguire and shouting something over him after own goal. Referee missed to give him yellow card.That was cretin behavior like wild late tackle in first half of last game.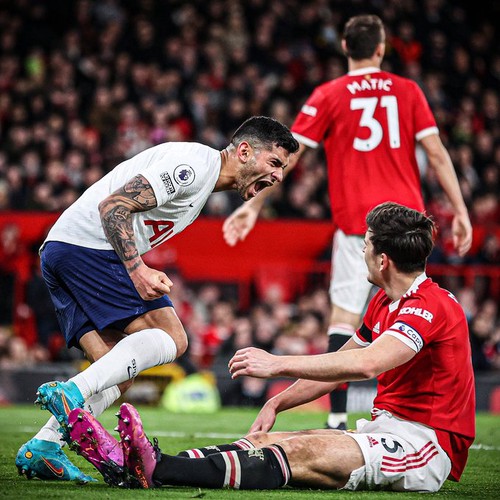 Draw result lasts for minute or two when cross came in from corner catching so expensive player like Romero tracking his player behind him and letting ball fly over him leaving incompetent player Matt Doherty with Christiano Ronaldo in air duel and it ended with only way how it could with easy header tap in for 3:2 and game over.
Som (catfish) Heung-min deserved beating for his performance because he just fell with ball 2 if not 3 times when he was all alone with the ball and should lead counter attack. I don't know what kind of drug or alcohol did he use before the game but it must be very powerful because he couldn't stand on his legs during match. I was astonished how this player ended game on field. Only answer is that Conte must not to change him for some reason. Some people are saying he is tired, exhausted from playing each game. He was injured for month and played just few games after that. If he is tired he should be BENCHED. They say he's non changeable ?! How can player who can't stand on legs be unchangeable ?! I say I don't need player who can't stand on feet on pitch. Anyone who can stand on feet and run is better. Bergwijn can play on his position and he looks pretty fit to me. Lucas can play on his position too. He is fit too. That is where we come to Conte and his mismanaging of Steven Bergwijn.
Shameful Conte's statement after game "We played well, we deserved more" is like doing sex in health brain. If manager thinks that that kind of stupidity, dull passing, helplessness and inability to score is good play than we have even bigger problem than we think we do. This was pure garbage play. He better tell us why he didn't change Son, why Hojbjerg can't make serious shot at goal from outside and inside the box ? Why new signings like Bentancur and Romero are so quickly becoming Spursy ? Why Son can't stand on legs ? What is happening with Lloris ? Why this team can't make single good action during entire game when they have possession and opponent sitting deep?
I am not so sure anymore if it is because of dark force or some influence on players I wrote in previous articles about. It could be and probably is because of fact that those players just lack basic intelligence. They might be just too stupid to play football against team that doesn't give them half pitch empty for combinations. Manchester United didn't play much, they were also poor and will not finish 4th. Tottenham will probably end up from 7th to 10h place at the end.
Conte will probably walk after and I am so indifferent toward that now after his shameful statement about how he cares and loves his ex war criminal club which won everything they won with money pillaged from Russian people thanks to friendship of it's ex owner and Russian present dictator. He probably already have and accepted offer from some bigger more wealthy club like Paratici has with PSG. He's just preparing his exit...