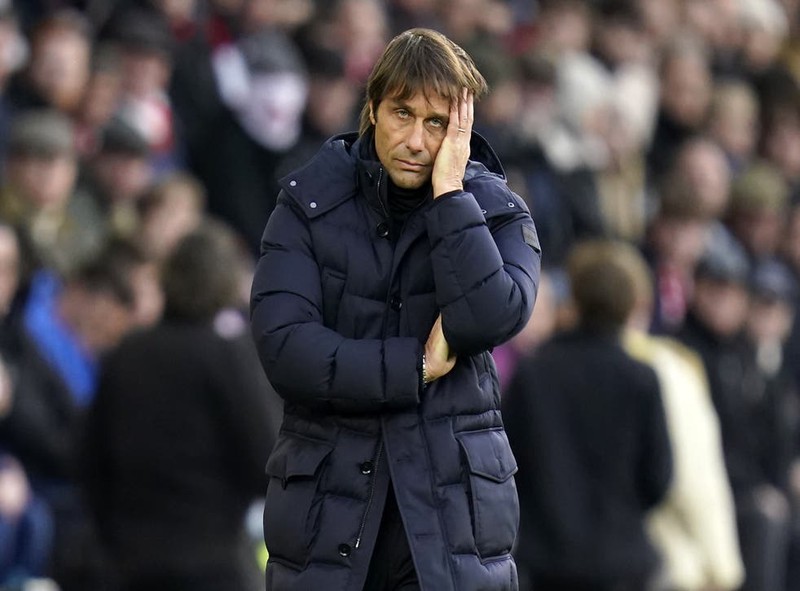 Tottenham defeat against Burnley last night seems to upset coach Antonio Conte who said it's not acceptable for him to lose every week and that club should do some kind of evaluation of his work. That press conference upset me more than loss against club fighting to avoid relegation.
Antonio, no one in this club or almost if not all of fans don't think you are responsible for bad results in last few weeks. You said to players before City game that you are devoted to Spurs job and project. We fans have patience, we love to have you on our bench, you said yourself there will be 2-3 transfer windows needed to fix issues in club. We are ready to go through all of them with you! We know that we should not evaluate coach after couple of months but only after 3 years in charge! You said you are not afraid of work that you have the best group of players around you, so please continue doing great job with them! Luck is just behind the corner your style of play worked perfectly against Liverpool and City, you just need to find out the way how to break clubs which defend passionately with a lot of players and don't give much space to us. We know you can and will do it!
About this last game I can only say hat up for Burnley they defended with passion, blocked almost every our shot attempt on goal. Few clear shots we got our players Emerson Royal and Lucas Moura sent high up in the sky like they are playing rugby and not football. Burnley lad jumped over Romero, won air duel scored a goal and they won. That happen in football sometimes. I noticed conditions for play were hard, heavy rain, strong wind and things like that. Those conditions favor high lumberjacks and teams which play long balls. Those two other defeats against Southampton and Wolves came also on rainy soggy pitch. It looks like our refrained short pass build up play is not working the best under those weather conditions...
Club ownership should publicly announce they are fully behind the coach, that they will fully backup coach in next transfer windows and that they are more ready to sell every single player from club and bring new than fire the coach.
It looks to me like someone does not want to see us playing champions league next season. I don't know who that might be and don't want to point the finger to anyone, but I have simple and efficient solution for that suspicion. Club could send undercover agents to offer some players bribe to play bad in next game. After that we will quickly find out who will report it to club or authorities and who will not and see if that bribed player will really make amazing own goal or pass to opponent or do some action which will lead to conclusion he accepted bribe. Then just discover him to authorities and arrest lad. Maybe some big fish like Manchester City, Chelsea or Arsenal owner, or maybe even Daniel or some booking house like William Hill will then suddenly jump out of water!
City owners are first on this list. They might think if they don't get top 4 Kane will want out and they will be able to get him in the summer. That can be good motive. Daniel could have motive too like not to pay bonuses and cash in Kane, bookies surely profited from players betting on Tottanham in recent period because majority probably bet on Spurs win against Southampton, Wolves and Burnley and City win over Tottenham, but nothing from that happened. Maybe it's just stupid conspiracy theory, but it would not harm to know how loyal to club and coach some players really are.
Maybe it's problem of other kind. Maybe it's players who think they are better than they actually are. They played so poor against Saints and Wolves, but after Conte told publicly we are in range of Aston Villa and Brighton and not top clubs they suddenly played perfect game like Brazil prime against City. As soon as Conte said he has the best group of players he ever worked with here in Spurs they transformed back into selfish s*ers on the pitch who can't do anything good in front of opponent goal!
One is sure it's not coach, but players issue! Poch, Jose, Santo and now Conte face same problems in this club. Don't tell me they don't have quality to win Mura, Dinamo Zagreb or Burnley and that they have quality to win against City... Something is not right in mind of those players.
We fans should be patient, show more love to Antonio Conte and club in following period. We can still win FA cup, we can still finish top 4, but need to win in following games, Kane can still overthrow Thiery Henry from all time EPL scorers table, Son and Kane can still be the best attacking duo overthrowing Drogba and Lampard... There is plenty of things to fight for! COYS!