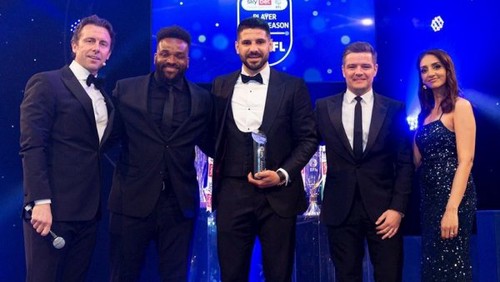 Aleksandar Mitrović became Division One all time top scorer and won player of the year award for Championship. He scored incredible 41 goal this season. His club Fulham returned into Premier League few weeks before end of season. Twenty seven years old Serbian player has chance to become all time the best goal scorer in all England second divisions. If I understand it correctly he will need 2 more goals for that. Question is is today that day ?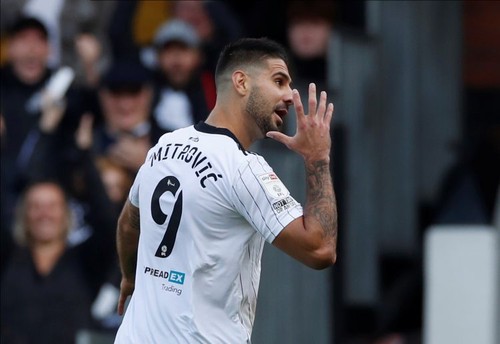 Fulham plays Nottingham Forest at home tonight. Will it be one more heavy night for ambulance ? I say that because of his way of celebration in which he has moving hand signalling that he's crazy. Will we see yet another craziness at Fulham home ground ? I hope so!
Serbian player born in town of Smederevo who played for Partizan Belgrade, Anderlecht, Newcastle and Fulham is also all time top scorer of Serbian national squad. He scored attractive goal in last minute in Portugal to send us to World Cup. Old fashion heavy striker, strong in duels, perfect in headers, good in passing and shooting with flair for goal, bully for defenders, man who can hold two defenders on his back and score goal after wrestling with them however didn't show that class in Premier League so far.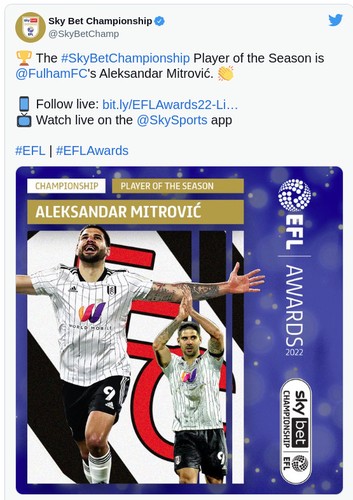 I think that is only because coaches didn't let him play in clubs like Newcastle and last Premier League season in Fulham. Yes he is not very fast and if you play on counter attacks not the best fit, but at home ground where you will try to attack he must be in starting eleven. Rafael Benitez almost ruined his career by not allowing him to play for Newcastle forcing far worse players than he is. However his countryman Slaviša Jokanović called him in Fulham and he soon started to show what he can do!
I've read he is trying to persuade Fulham owners to bring Sergej Milinković Savić in squad to strengthen it for Premier League! I really hope he will become all time England the best second league scorer, but my hopes are not ending there. Twenty seven years are peek of football career and I hope he will finally show us that he can do big damage in Premier League and why not on World Cup in Qatar too!
I remember him during playing for Partizan Belgrade with Lazar Markovic. Everyone were full of price for last one and have not so good opinion about Aleksandar, despite he scored more goals. I noticed instantly that he is main player in that squad. There was period where he had a lot of chances but couldn't score and everyone were after him saying he's not good enough and things like that... I wrote comment in which I said in World Cup 1998 one player missed a lot of chances, went 3 times alone in front of goalkeeper and failed to score single goal, Arsenal bought him, journalists asked Arsène Wenger why do you need player who is missing so many chances he replied it's important to find yourself in chances, goals will come with time! Player was Thiery Henry who become Arsenal legend later and one of top 10 the best ever goal scorers in Premier League. I hope I gave that little contribution to his career by writing that...
Other reason I like him, a part from he is ex Partizan Belgrade player is fact that I feel he is playing football for fans and because he always has special relation with fans and because he is 100% team player. You can see that on bellow video when he literally escaped from journalist during interview because more important was to run toward fans and to celebrate with them!
As fans in England would say "When Mitro's on fire your defense is terrified!"