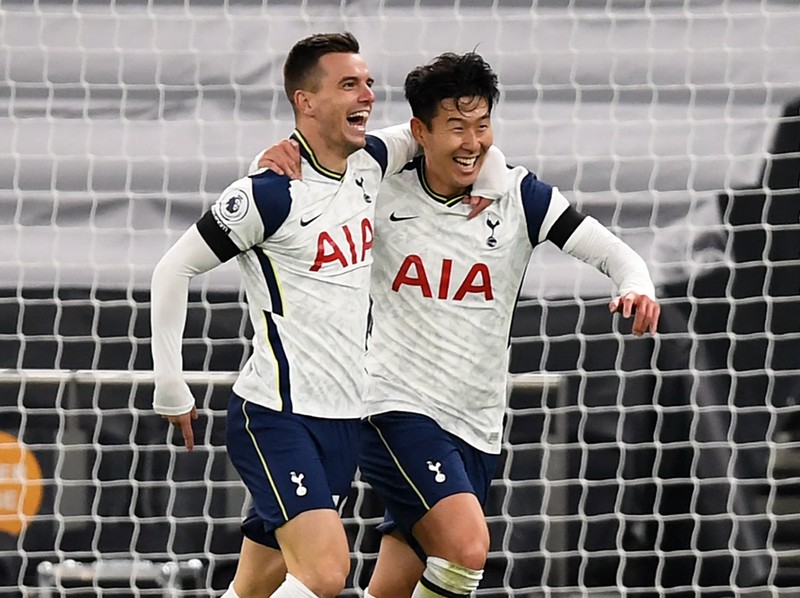 Yesterday we watched Premier League game between Tottenham Hotspur and Manchester City. Main question after that is "Are Spurs title contenders this year ?" Arsenal legend Ian Wright reluctantly said for BBC "They are! If teams are going to give them space they will hurt people!". Newcastle Alan Shearer said yes too because Liverpool has a lot of injured players and Spurs just destroyed Manchester City. Gary Linker thinks that too.

It was game where Spurs defended perfectly. Every man on pitch did what he should, a lot of attempts were blocked, defenders were pure world class, midfielders too. City got possession, tried everything but couldn't be big danger. Last seasons when they attack I was in fear expecting goal every moment, but last night was different. I felt calmed, secure and confident watching that. Big credit for that goes to Eric Dier who I called "clumsy bear" month ago after he made unfortunate penalty against Newcastle. Well he's not that anymore. He is brilliant defender now. Nothing can go around him, he clear every high ball, stop numerous of attacks, block shots. He is even able to send dangerous long diagonal balls in attack. From bellow average in my eyes he moved over useful, good, very good, excellent to brilliant. There are few steps for him to reach like world class and one of the best in world. His progress is impressive. Alderweireld was brilliant too, but his injury spoiled fun near the end. He'll be absent for at least month which will put Jose in dilemma who will play alongside Eric. Answer on above question depends of his choice now. If Spurs survive Chelsea, Arsenal and Liverpool they will be title contenders for sure.

Wide back Aurier played superb too, avoid mistakes and stopped dangerous Spanish player German-slayer Fernan Torres couple of times. However guy who impressed me the most was Regullion. That man literally robbed ball from Mahrez dozens of times making this excellent player look like school boy running with ball in goal out. Not only that Reggi wanted to go in attack in few occasions, but his teammates didn't follow him. He's like an airplane flying constantly on left side. Running all time up back up back... He can't get tired. :)

Danish player Hojbjerg is already world class. He intercepts everything, helping everywhere, wherever you look he is there to take ball from opponents or to block. N'Dobmbele is also on rise able to get rid of two opponent players suddenly changing path of moving. Today however he didn't make mistake after that but send few excellent usable balls toward teammates. His pass to Son for 1:0 was great piece of play. Kane was benefactor like always. When he gets ball and turns toward goal you know you've been done! Number one striker and passer this season. Jose also has super sub Lo Celso. When he came in we all know some chances are going to happen. What I didn't know is fact that he'll score after just 30-40 seconds since he came in. Cool finish after benefactor's great ball and City was done. After that I could enter on field and they would not be able to score a goal. LoL
So are Spurs title contenders this year ? It depends on one fact which is will Jose deal with the last weak link in squad - Sissoko. He's extremely fit that's nice, but he's so weak on ball. His ill pass almost made great chance for City in first half, he failed to block shot when City scored disallowed goal. However he went on my nerves very hard when he made unnecessary foul on De Brune in 45+2 minute. Fortunately referee blew for half time and we didn't watch dangerous cross inside box... Is he playing against us ? was thought passed through my head. After Toby's injury City had big chance and header from 5 meter, but Ugo Lloris saved it and Eric the brilliant cleared it. It's nice Sissoko is worried for Ugo to have some real job! It was again player who escaped from Sissoko inner (which should never happen) before header. So in my opinion Sissoko is only remaining weak link in Spurs.
If Jose deal with him and wake up that guy or find another player with similar fitness, good not just off the ball but on the ball too Spurs will become big danger and very serious title contenders in Premier League which is according to benefactor H.Kane wide open to a lot of clubs now.

Next week brings new big test against Chelsea. Warner, Abraham, Zyech looks like in very good form, Chelsea looks superb in passing and creating, but give you few chances during a game. I hope Kane, Son and why not Bale will be able to score couple of goals at Stamford Bridge! COYS!

One last word. I thank to Pep Guardiola who didn't play dirty on H.Kane this time. My main fear was benefactor could get injured for months like last time against City. It didn't happen. Pep might lose the game, but he was fair and sportman.