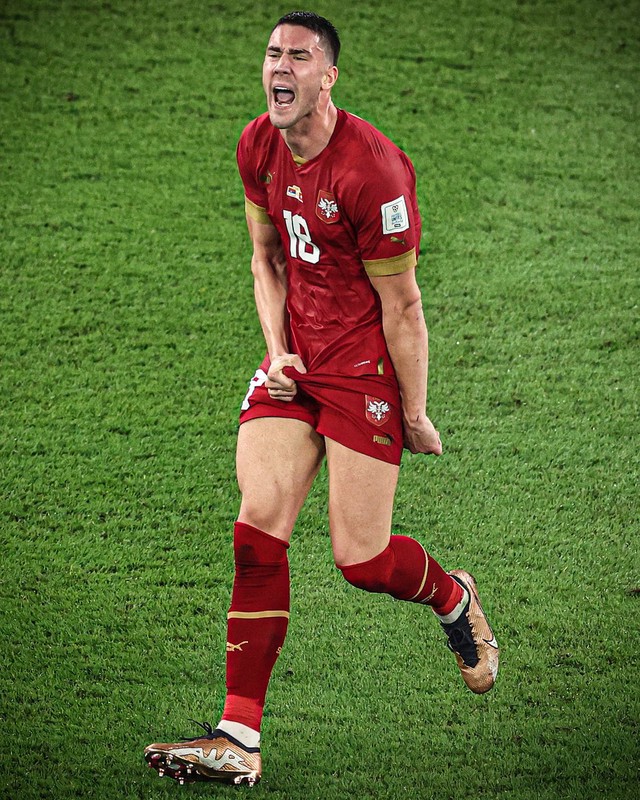 It was very interesting game between Switzerland and Serbia. Game decided who will go through it Swiss won it 3:2 after much better performance. However it was shameful what people could see during this game. What kind of swearing, holding penises, provocations etc... between Serbian coach and star player Vlahovic and Switzerland Kosovo-Albanian players Granit Xhaka and Xherdan Shaqiri. LoL! Disgraceful behaviour.
Serbia was that good that it could easily concede goal after just 20 seconds because our wing backs Kostic and Živković didn't ever return into defense. One long ball behind them and Swiss player run like rabbit on wing, while three bang average Serbian central defenders and two ignorant defensive midfielders trying to deal with ball coming inside the box.
Xherdan Shaqiri scored for 1:0 and showed ssssssh gesture toward Serbian fans. Not much of provocation, nothing special, but our players took the bite like catfishes. Tadic who played also good made cross toward Mitrovic and Mitro's on fire scored header for 1:1. Soon after Shaqiri sent wrong ball back and soon after Vlahovic had chance and converted it into goal for 1:2. Then he did this gesture. Was it to opponents, journalists which wrote about his sexual life or to whom it's not clear...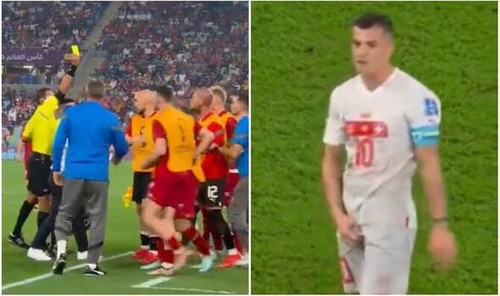 Better Switzerland side came to half time with 2:2 because this same player ran through 3 Serbian ignorant like he is Maradona sent ball on side other player made low cross and it was goal. Easy like on Sunday league.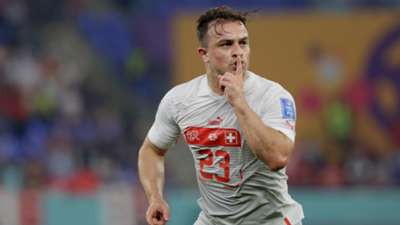 We conceded one more stupid goal in beginning of second half again after Xherdan Shaqiri sent ball inside and our stupid central defenders were overplayed. 3:2 for Switzerland and start of Granit Xhaka's show. He grabbed his tool in front of Serbian bench and almost caused fight on pitch, but didn't get yellow card. He also swear on Albanian language about how he "f*cks Serbian mothers in little p*ssy". He was not first it seems that our national coatch did same thing on Serbian on 2:1 but with "I f*k your Shiptar moms". Not sure that is truth, if so deeply disgraceful because first Shiptar is considered offensive and racist these days despite those people call themselves like that, but when Serbians call them like that they get insulted.
You have picture about what was happening, but that was not end. Near the end savage from Arsenal tried to initiate fight with Milenkovic after he blocked him, just to get pushed by Serbian player and no one knows what kind of insults were fired up after. I saw picture where Serbian goalkeeper holds his neck. It was not enough for this Arsenal legend but he wear shirt of team mate with last name "Jasari" because other guy Jasari is considered like Albanian terrorist in Serbia and like a hero on Kosovo because he fired first on Serbian security forces on Kosovo and according the media his entire family was killed after. I have no idea if that was truth or not, but I am pretty sure he put that shirt because of that reason.
Where is Switzerland in all of that ? It looked like it was Serbia vs Kosovo game and not like Serbia vs Switzerland. LoL.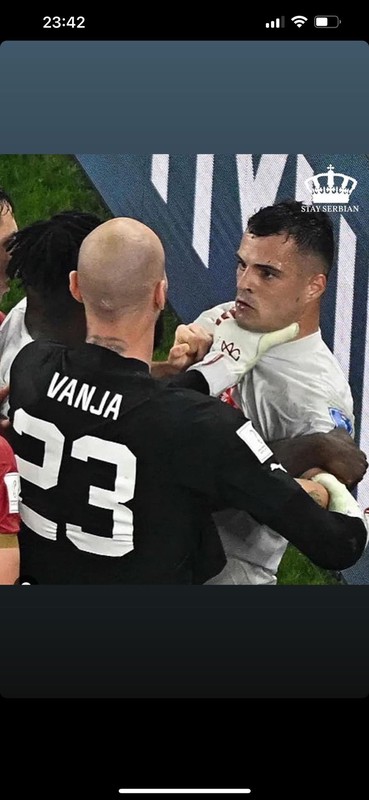 If we look on football Switzerland was much better, deserved to win with bigger goal margin, Serbia has 5-6 players for World Cup, rest are bang average especially wing backs and defensive midfielders. They don't know how to cover emptiness on left and right side when wing backs go up and better squads on World Cup know how to punish that. There was also one situation when Mitrovic fell inside the box after being hit by defender in neck, but referee from Argentina who was very good in first half and very pro Switzerland in second didn't give penalty for that...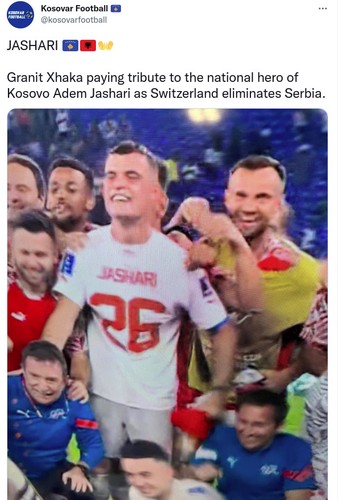 I think we're the worse squad from Europe on this World Cup and are going home well deserved. Any punishment coming for above misconducts to everyone would be justified. Between us I don't think those men did that because they wanted, but because security agencies of both countries (Serbia and Kosovo not Switzerland) ordered it to keep hate between nations.