You don't need me to tell you that there is a sporting and historical rivalry between the English and Germans. For what it's worth I'm all for bygones being bygones and in fact, it seems that our 2 great nations should be able to get on fairly well with each other given our shared love of beer, sausages and football.
Despite this, the English still take almost as much pleasure over any German failure on the football pitch as they do in their own success. Perhaps that is as much to do with the fact that English success over the years can be tallied up using one solitary finger whereas at the very least the Germans will have to crack out the old abacus to help them quantify their haul of various major trophies.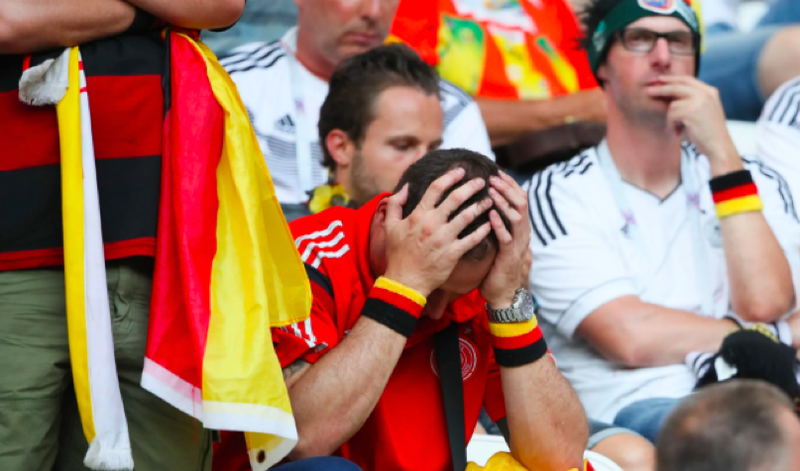 From an Englishman's perspective, this summer's World Cup was a case of pure schadenfreude. I wasn't actually watching the match that ended Germany's participation in the group stages, the first time since 1938 that they had fallen at the first hurdle. Instead, I was out in the garden cutting the lawn. As any other married men will be able to testify, you have to be prepared to put in some hard graft to earn your R&R and it was my intention to watch the England match later that week. Meanwhile, standing outside, enjoying the bliss of the English summer and the smell of freshly cut grass, I was suddenly shocked back to life by a loud cheer from my neighbour's house. Seconds later and out he came, a smile on his face as wide a Cheshire cat's. "Germany are out!" he chirped as we entered into an excitable conversation that ended with us both agreeing that England were now destined to win the tournament. And perhaps that is another reason why we English take so much pleasure from Germany's footballing failures. With our tradition nemesis out of the picture, there would be no penalty heartbreak and no tears for heroes dressed in grey this time around, South Korea had practically handed us the World Cup!

The beauty of tournament football is that any team, regardless of being defending champions and pre-tournament favourites, is just 90minutes away from elimination. It was surprising to see the German's crash out of the World Cup so early but I think all in sundry believed that this was just a passing blip and that 'Die Mannschaft' would be back to their efficient and brilliant best come the start of the UEFA Nations League! However, this has not been the case and instead they have 1 solitary point from their 3 games to date having lost their matches against The Dutch and French during the recent international break.
So what's gone wrong with one of the world's footballing giants? Is it just a temporary loss of form or are we witnessing a downturn in their fortunes for the foreseeable future?
Complacency turning into a refusal to change
As the image below shows, the problems for Germany started a little while before the 2018 World Cup with a series of disappointing performances and results against some mediocre teams (including a 0-0 draw with England). From the German point of view and indeed much of the watching world there was always the feeling that it would be all right on the night for the Germans. After all this is a team that always turns up for the big matches in the global tournaments and needn't be at their absolute best to win.
Germany's miserable 2018
Perhaps what we were seeing in the run up to the World Cup was a team that was just a little bit past it's best and a manager and squad in general unwilling to acknowledge that fact. Post-World Cup and a similar situation still exists with Germany's new crop of talented youngsters still struggling to gain the full trust and support of Joachim Low. In previous generations, the German's success has been built on the idea of bringing through not just 2 or 3 decent players from the national youth set-up but entire squads who have played together from U-18 level all the way to World Cup triumph with the senior team. At present, the youngsters who delivered Germany the 2017 Confederations Cup have largely been overlooked in favour of the old guard who won the World Cup in 2014. From an English perspective we found it strange that the EPL Young Player of the Year 17/18, Leroy Sane couldn't even get in the German's World Cup Squad! Despite the failings of the German team this summer, players like Sane are still struggling to get regular starts under Low. The manager's failure to realise the need for a shakeup in personnel is somewhat similar to the issues that Del Bosque faced with Spain after that magnificent squad went past its use by date without anyone binning them in favour of something a little fresher. Ultimately, if Low is not willing to make the necessary changes then perhaps it is time for a change in the manager position itself.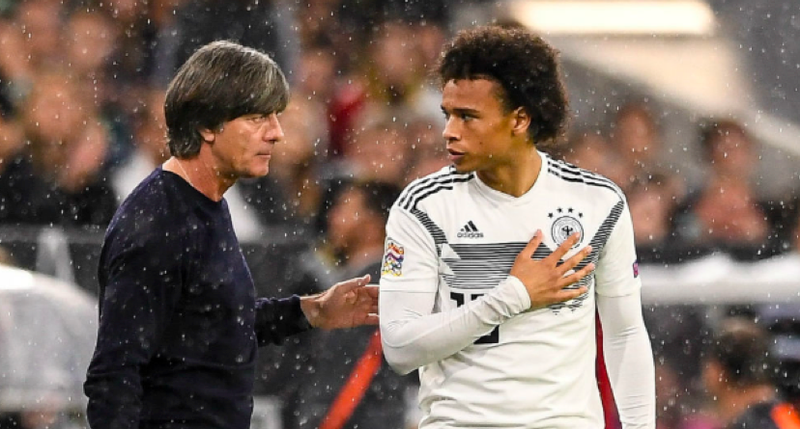 An arrogance to their play
Arrogance is not always a bad thing in sport. Most if not all the great German teams have been arrogant but they have backed it up with a strong, organised side that is ruthless in its pursuit of victory. However, watching the way this German side played in the World Cup it seemed as though they believed all they needed to do was turn up and the likes of Mexico and South Korea would cower before them. You had players like Jerome Boateng striding forward from defence with all the self-confidence of Lothar Matthäus but unfortunately the overall footballing ability of Bambi. The German midfield, usually blessed with equal parts technical ability and tactical discipline has in recent times started to melt away like a dollop of cream on a hot apple strudel anytime the opposition mounts an attack on their goal.
Take for example the final goal that the Dutch scored in their recent victory against Die Mannschaft where having given up the ball cheaply in midfield the German's allowed Gini Wijnaldum to just stroll through and smash the ball into the back of the net. You'd be embarrassed to have conceded that goal in a Sunday league game down the park let alone an international fixture!
A lack of a solid core
Although it is a very cheesy and often overused soundbite for football commentators, the Germans really just need to get back to basics and establish the kind of strong core to their team that is the mark of all successful sides. Boateng and Hummels need to be replaced sooner rather than later and a high class holding midfielder established. Young Joshua Kimmich played in that vital position just in front of the 2 Centre Backs in both their recent Nations League fixtures and perhaps not surprisingly for a man who can usually be found flying down the right flank, he looked a little out of his depth. Even the great Manuel Neuer is not the player that he once was. His fluffed attempt to come and claim the ball from the corner with which The Netherlands took the lead in their recent 3-0 defeat of Germany was symbolic of a footballing nation that at this point seems to have lost it's way.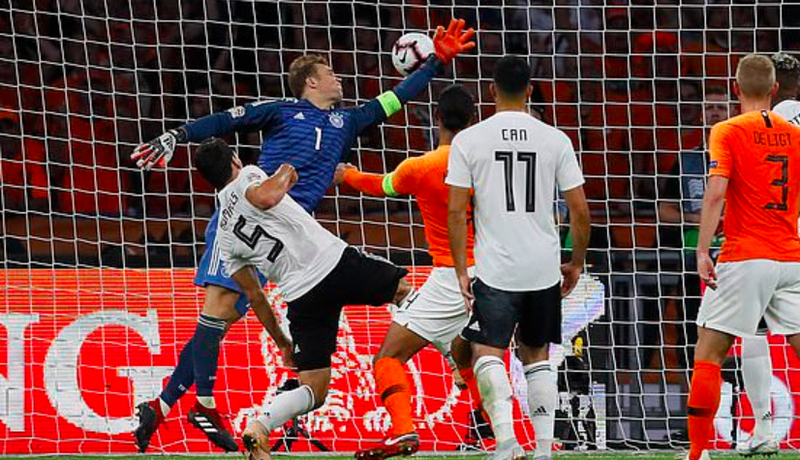 Find goalscorers and stars
Going back to previous points, successful German sides have not always been stacked full of superstars. Instead, it has generally been a case of German teams being greater than the sum of their constituent parts. However, there does seem to be something of a lack of star performers in the current German team especially in comparison to newly crowned World Champions and close neighbours France who can call upon the likes of Mbappe, Pogba and Griezmann for those individual moments of magic. Even in comparison to England who at least have Harry Kane, Germany look thread bare in their striking options. 27 year old Mark Uth played up front for the Germans in their most recent encounters. Don't feel embarrassed if you need to do a quick Google search to find out the pedigree of this footballer, he has hardly set the World on fire. Indeed, since moving on a free transfer to Schalke this summer the 6.1ft striker has failed to find the back of the net in his first 10 appearances for the club. Is he the German equivalent of Michael Ricketts?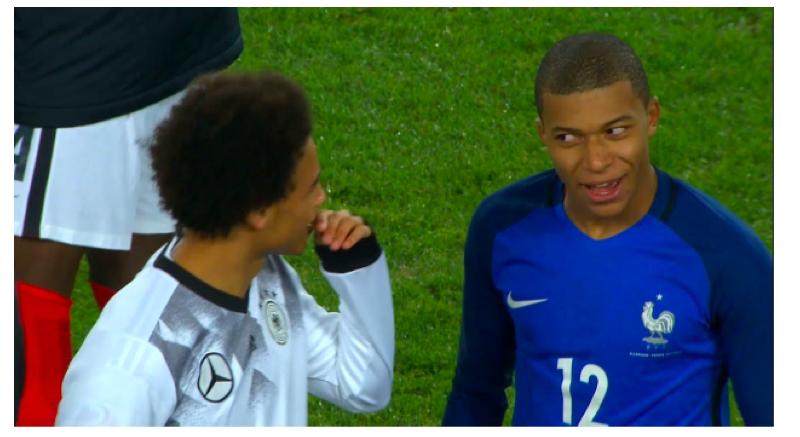 It is also no coincidence that many of the fading stars of the German national team including Neuer, Hummels, Boateng and Mueller are also struggling for form at club side Bayern Munich. The traditional powerhouses of both German and European club football have had a poor start to the season and with the younger, sharper looking squad of Dortmund setting the early pace in the Bundesliga, perhaps the next generation of stars won't have to wait that much longer for a shot at the big time.
Yes, there may be some painful changes that need to occur within the immediate squad and management but let's not forget that the German's also won the U-21 World Cup last year so there is talent ready and waiting to be given the chance and the German system has an excellent record of translating that potential into success. For us English, we should probably enjoy our sniggering across the garden fences while we still can.