It's so hard but I can't just cry; wish I didn't use the Free-hit chip at all.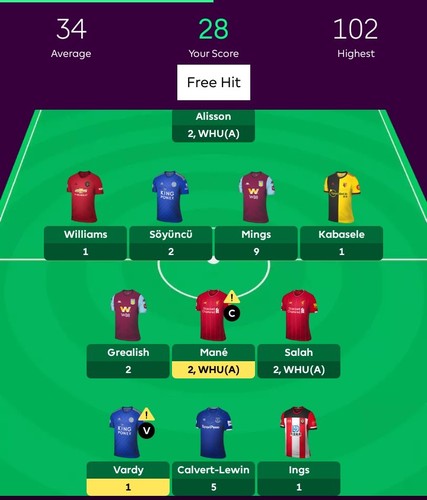 I've been playing FPL for quite sometimes now, and I've never for had a score so low like this, though there'll be another match before the week is over but I don't think my injured captain can partake in that anymore.

He didn't even make the week special, no exceptional saves, no cleansheet, just like many other goalkeepers.

I just can't cry looking at my defense. The least of them all to me was Mings, I never expected more than just 2 points from him but let's assume I just had the luck from his end.

All my three midfielders, it just seems like they all died this week, they all had the chances to make it bright but they all lost the chances.

The record was broken this week, my attackers only gave me 7 points in total, that was quite painful but here, I would say their managers decisions affected mine so badly.

There was no much surprises here on my bench, I knew Traore could be great but I only thought Liverpool could be better.
Nucleus Writes.📝