I know if a lot of fans were asked about the Sheriff fc team they will only be able to give out answers if they checked through Google or other information website. I am not exempting myself from it, I also checked the web to have more knowledge about the team although I knows of this team last year when they surprisingly defeated a very big team last season. Well incase you don't know, Sheriff fc team ended up defeating Real Madrid last season and it was really a motivation for them. It acts as a stepping stone for them and that really improved their style of play I must admit. That will alone give investors more hope to believe in the Sheriff fc team dreams. Well, as we have it, they ended up winning the Uefa champions league trophy last season. I believe I catch your attention there, I am not referring to Sheriff fc but Real Madrid. Despite their poor start with Sheriff fc team defeating them, they still went ahead to wins the Uefa champions league, isn't that amazing? Yes it is I must admit.
For those who still don't knows about the Sheriff fc team, permit me to talk little about them before we commence on this post. One thing that I love about this team is that despite being a small team you can can see the determination boldly written all over them that they are very serious and dedicated. I just love a team possessing such trait, this shows that in a longer run they might ended up being a bigger team. The fans, team, coach, investors are all backing the team in their best interest, this is amazing I must admit. From the look of things it is written all over them that they got their fans at heart, this is one thing that I also love about them and just like as I hinted, their fans also got the team in their heart. This is how you eventually knows a promising team. They are supportive to each other irrespective of the outcome. Well, if they continues like this there is that positive zeal in me that they will eventually wins the Uefa champions league competition trophy someday.
As per knowing about the team, Sheriff fc is from Moldovan and the team was founded in the year 1997. There was at a time referred to as Tiras Tiraspol. From research it was said that they later change their name from Tiras Tiraspol to Sheriff fc the following year after it creation. From research it was gathered that the Moldovan league is a new born league that was established in the year 1992, that was about 31 years ago. They established their league after they got independent from the Soviet Union. From this year episode of their league, Sheriff fc team are currently topping the chart as they are now occupying 1st position with 17th point while teams like Milsami fc and Petrocub fc are currently in second and third place respectively. They are both on 11th position respectively. The league is not competitive to me as we have only 8 teams in their league. This is too small to me and that might not give the necessary enjoyable pleasure that we needed.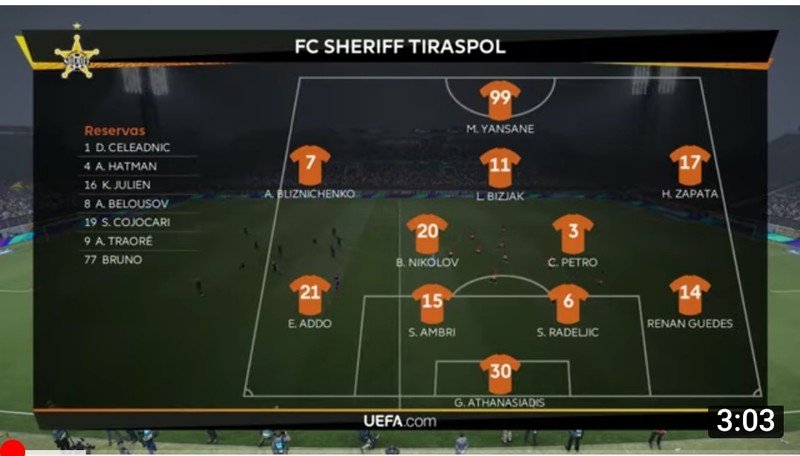 Do you knows that since the Modovan league was created in the year 1992 the Sheriff fc team has won a total of 20 league trophies. This is amazing I must say. They have failed to wins it just two times. This simply shows that they are the boss here, anytime you talked about the Moldovan team you should think of the Sheriff fc team. With the way they are going just like what I hinted above they might wins the Uefa champions league competition trophy someday. Remembers that anything is possible when it comes to soccer. At least we have seen different team coming from no where to lift the prestigious trophy. Despite me not loving their league because of the few clubs participating in it as there seems to be no good competition, there is every tendency that watching from their style of play we can see that they are eventually playing good football and that deserves some accolades I must confess.
Deviating back to the match between them and Manchester United in the Europa league competition I must admit that both side palys good football. Well, at the end it was Manchester United that won the match 2 nil. Goal from Jadon Sancho and an assist from C. Eriksen gave Manchester United the lead in the 17th minute before Cristiano Ronaldo scored from the penalty spot to give Manchester United the second goal in the 39th minute. That was what actually ended the match between both side. What I really love about the match is that both side produce a very good football which I really love. Sheriff fc team tried their best but their best was not enough to stop the Manchester United team.
Photos from YouTube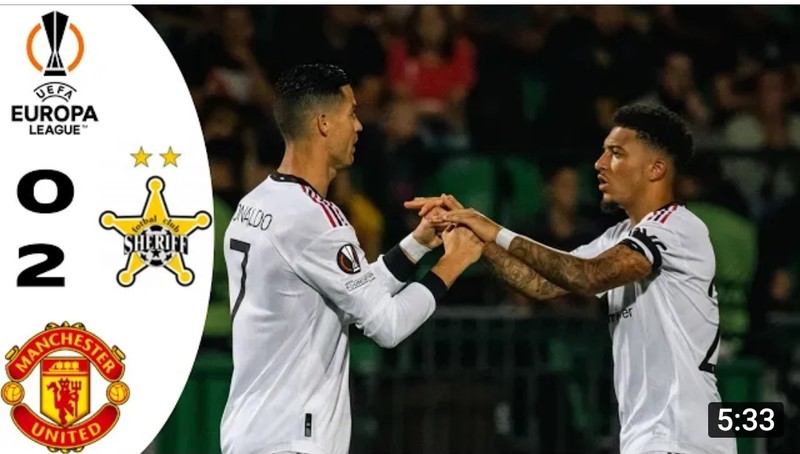 I will end the post here, if you have any thing to say please air your view by commenting under this post.