I must admit that I just don't for any reason want to discuss about this match, but if I fail to do so, there is no sense in it. When it comes to matches we all knows that we are bound to win draw and even loose. It is normal. Don't expect your team to be plucking three (3) point all the time. You should knows that when it comes to the soccer ecosystem the unexpected happens most time. When you think that the match is yours, you will see that it might go the other way round. This is why the soccer ecosystem is just too amazing.Manyfans expect to see their team winning matches all the time. If you are on that table you should move out. Try develop the rightful mentality by knowing fully well that when it comes to soccer anything is bound to happen. Your team can't be on their best all the time. As for your information, draw, win and loose are in the soccer ecosystem for a reason, they are not there to act fancy. Since they are there for a reason you should knows that any body or team can fall into that category. Another thing that you should know is that without win, draw and loose you should knows that we won't be able to determine who should win a trophy. This should tells you that any team can always fall into that category. Once again, the win, loose and draw are not there to act as being fancy, they are there for something and I have explained some about. With this being said you should knows that it is not that easy seeing your team winning all the time.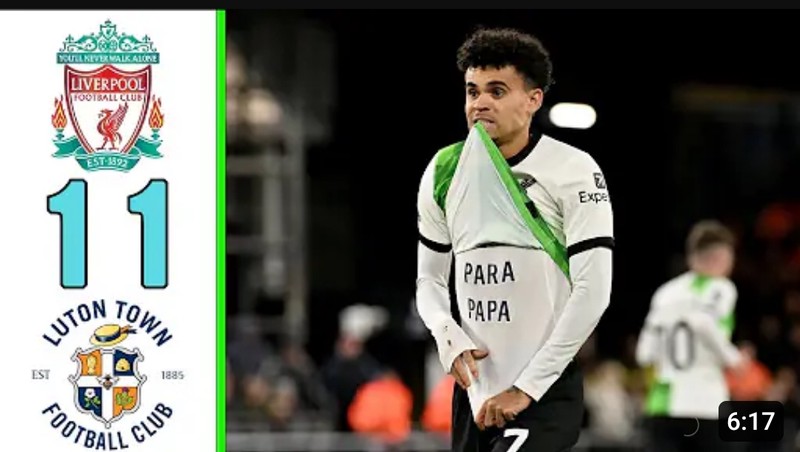 Liverpool fc come back not enough to give them the needed three points?
Before the match I have said it that my team Liverpool fc will be defeating Luton city. You just need to see how I wrote them down as if they have nothing to offer. Well, that might be the reason why they gave us tough time I must admit. Mainly looking at it you will discovered that it was the Liverpool fc team that did well in the game but they failed to convert chanced. You just need to see how furious I am seeing that my team were missing opportunities. I was not happy at all. Well, I just don't want to point fingers to those players that contributed badly to the game, this is simply because they have been amazing in time past. One thing that I have been seeing is that fatigue might set into Jurgen Klopp team and eat also into it. As for me I just don't want to witness such thing.
One thing that really caught my attention is the introduction of Luiz Diaz and how he also scored and how he celebrate d the goal, I must admit that I am really happy over that. My prayers is for everything to go well with him and his family, Amen. As for those who don't. Know what is happening to Luiz Diaz, his parent were kidnapped and only the mother has been rescued, we are waiting for his father to be rescued also. The reason why he made that celebration was simply because of that. Assuming he has been in that match from the start we could have won the match.
Just take a look at how he converted the opportunity neatly as he ended up equalizing for the Liverpool fc team. The Luton town team knows that assuming the match was not ended on time the Liverpool fc team could have won the match. The Liverpool fc team did well as they run the Luton town team till they gas out. If you observe and you watched the match, you will noticed what I am saying is the rightful thing. They can't contain the Liverpool fc team when the pressure eventually came.
If you observe closely you will see that the Luton town team scored because they knows that the Liverpool fc team wanted to win, so they apply wisdom and it worked for them. The liverpool fc team simply pushes everything forward. The Liverpool fc team went fully in search of goals, the Luton town team took advantage of that and they scored. I was just saying that I knows that the Luton town team will convert their chances and they did. The moment that goal got in, I said that it is Luton city game and I am very sure that they will win the match but as we have it, it ended up in a draw match as the Liverpool fc team ended up equalizing the match in the final period of the encounter. You just need to see how interesting the match is. Once again I was really happy seeing that it is Luiz Diaz that scored the amazing goal.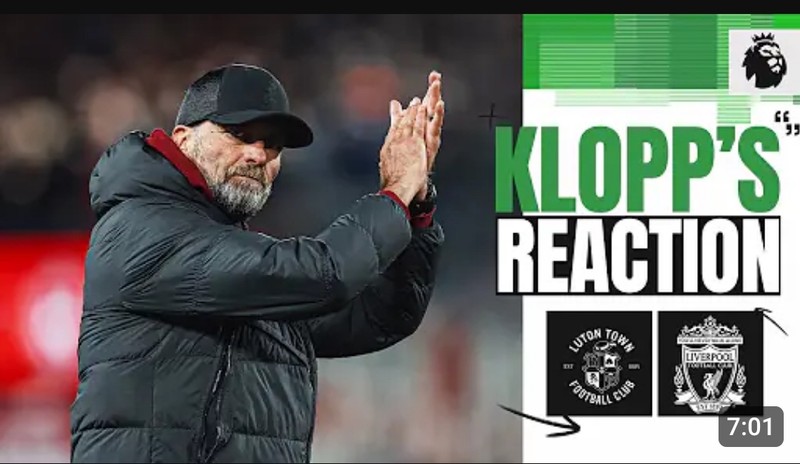 I will end the post here, have a nice day.