I have been wanting to discuss about Erling Haaland for a very long period of time but because of my busy schedule I was unable to do that. We all knows that ever since he got signed to Manchester city he has proven to be a very good signing. In case you still don't know about Haaland Erling, permit me to talk little about him. He is a an attacker that was formerly playing for Borussia Dortmund and during his reign and regime he did a lot of wonders. He was at that time the highest goal scorer and also he helped Borussia Dortmund achieve a lot of things. He wins some trophies for the team and deep along the line he attracts more investors to Borussia Dortmund. Because of his good playing tactics he rases the bar and standard for himself as he was able to drive his worth from nothing to something amazing and fantastic. As at the time of playing for Borussia Dortmund he raises his bar to the extend that he became the talk of the moment. Almost all team wants to have his signature because of how good he is. He grew from nothing to something and just like what I hinted above he became talk of every one's lip.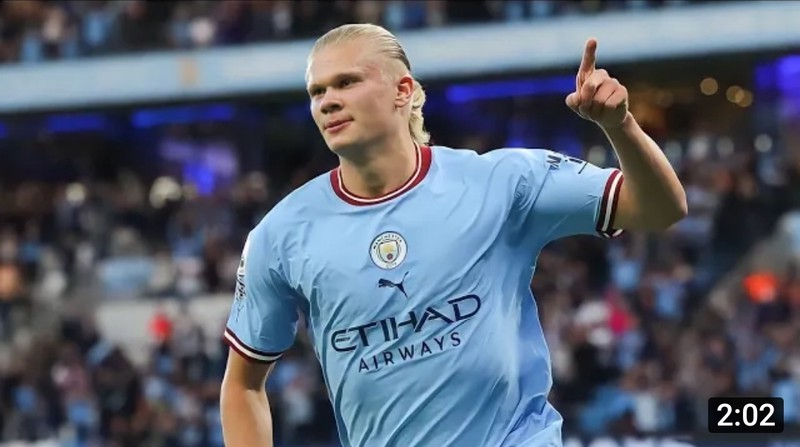 Because of what I said above, he attracted a lot of attention from almost everybody and team. The love for Erling Haaland grew to another level because of so many reasons. Clubs started bidding for him because of mainly his young age and the other reason holding to the fact that he can score goals with his feet or head. He is very good when it comes to aerial ball, and with his height it is very difficult for defenders to stop him when it comes to that. Another good thing about him is that he is very fast and smart with positioning. One thing that team looks out for is how you position as an attacker, if you are not good with positioning you might struggles to attract attentions from team. Just like what I said, Erling Haaland is very good with this, he was born with the attribute of being able to position perfectly. This made him very smart when it comes to decision making. This should be something to always look out in an attacker before thinking of signings one. If an attacker lacks this he will surely struggles to deliver when his service is being needed.
Seeing him possessing all this attribute clubs started bidding for his service. Well, no matter how it seems and looks there is every tendency that there is going to be only one team that will eventually got his signature. Despite the numerous bid from different teams it is Manchester city that he agrees to sign for. Pep Guardiola must be one of the happiest man on earth to get his signature. The reason why I said this is holding to the fact that we all knows that Erling Haaland is a very good player and with what he has shown we all can see that he is a player for the future, he will surely creates a big impact here. Pep Guardiola sees that he suits their style of play i.e the Manchester city style of play that is why he rushed down into signing him. I knows without much deliberation that Erling Haaland is definitely going to do wonders when it comes to the English premier league competition.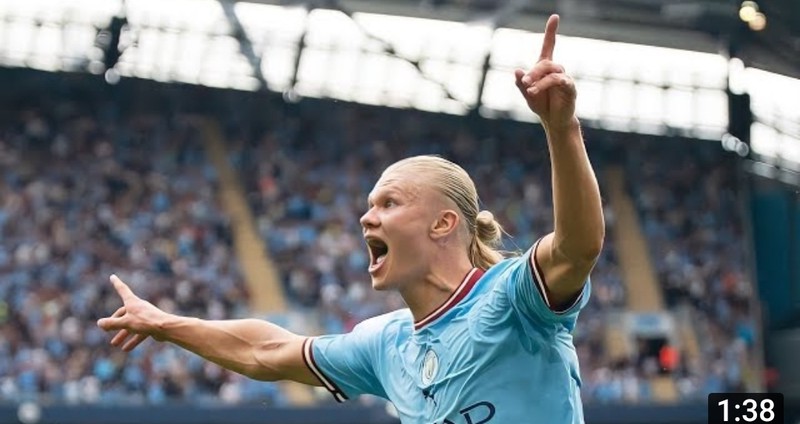 Another point to note is that we all knows Manchester city to be a very good club. Irrespective of anything Erling Haaland should be doing well here, this is simply because he is surrounded by good players, he should not struggle in this team. This is because this is one of the best team in the world. He has every potentials to succeed here. Since he got signed for Manchester city Erling Haaland has scored 10 goals which is currently making him the highest goal scorer in the English premier league currently. Just imagine, isn't this amazing? Yes it is. With the way things are going I see Erling Haaland winning this year episode of the English premier league highest goal scorer award. Without much expectations I will say that I am certain that he will impact the Manchester city's team positively.
Just his first season with Manchester city in the English premier league and he is already doing wonders. This is amazing and also defenders will struggles in the English premier league to stop him. I will be looking and observing to see how he impact the English premier league more but I am certain he is definitely going to do wonders
Photos from YouTube
I will end the post here, if you have any thing to say please air your view by commenting under this post.