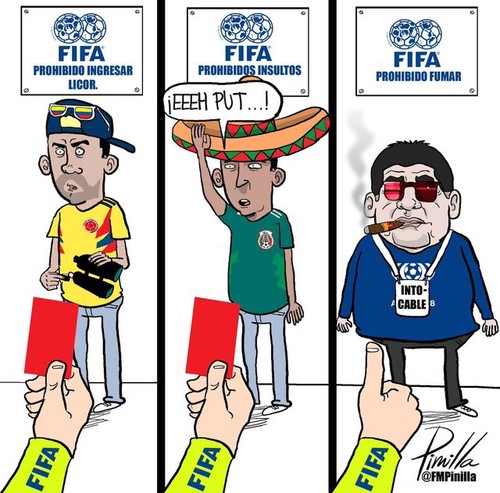 The World Cup is the football party, a unique event that brings together everyone without distinction of race, sex, economic or social status; The dream of every player is to raise the World Cup and that of the fans is to see theirs win the world cup.

In theory, this event has the perfect condiments to get the best out of us for 30 days and in many cases it is like that; However, there are times when we use this window to the world to shout and confirm our inherent flaws. I want to refer specifically to the Latin American, which once again shows its lack of class and marginality.

During the course of Russia's past World Cup there were events that involved Latin American fanatics who are simply stupid, reproachful, detestable and lacking any common sense; acts that disgust me and make me very angry because, again, the continent and its nations were badly stopped making international ridicule.

Let's start by reviewing some episodes that were presented in the last World Cup in Russia. After the matches of their respective teams in the group stage, fans from Japan and Senegal took the excellent initiative to collect the garbage that was thrown in the section of the stadium where they were. In the midst of the joy that surrounded them for the victory obtained by their selections, they did not forget to take their bags for garbage and collect the waste. In an image to remember, you could see children and adults, men and women, people with their bodies painted from head to toe to clean up the dirty that they themselves and perhaps other people had generated.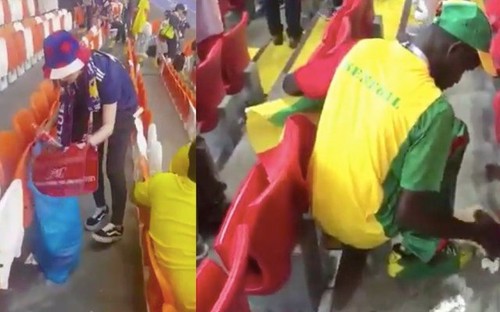 While Japan and Senegal gave us a show of civility, consideration and environmental awareness, on the other side of the stadium some Colombian fans boasted about how they had managed to introduce beer illegally to the stadium. It was not enough just to violate this rule, but they were recorded to show how they beat the Russian security and even gave advice to other fans who wanted to do the same. Of course, his compatriots were not lacking behind this man celebrating his "feat", not caring much that this was a crime.

And it is not about introducing illegal beer to an enclosure, we are talking about the Latin American way of being, our blessed and lamentable idiosyncrasy. One of these things is our pleasure to take advantage of people and abuse them, and samples of this could not be missing in our journey through the 2018 World Cup.

Let's talk about the episode that happened with some Colombian fans after their match against Japan. These men met some Japanese ladies and did not miss the opportunity to "teach" them Spanish. In the video that the same fan climbed to their social networks, you can appreciate how this man takes the Japanese and encourages her to say "I'm a whore, a very fucking whore. More whore to where", totally abusing this pair of Japanese fans and their ignorance of what they said.

I would like to say that it was an isolated case, but it was not like that. In another corner of Russia, a similar case was presented in which an Argentine amateur takes advantage of a Russian girl to record a sexist joke. In the video, which the same amateur uploads to their social networks, you can see how he used this innocent Russian girl to make her say "Hello Argentines, come here. I want to suck dick". There are no words, it is simply outrageous and lacks any kind of morality.

The stupidity of the Latin American has no limits and our Mexican friends also showed it. While the Germans congratulated the Mexican fans one by one after the good victory of their national team in the debut match and even gave them flags, the Mexicans gathered in a square in Russia to burn the German flags and celebrate over them. See what I tell them? We are the latest.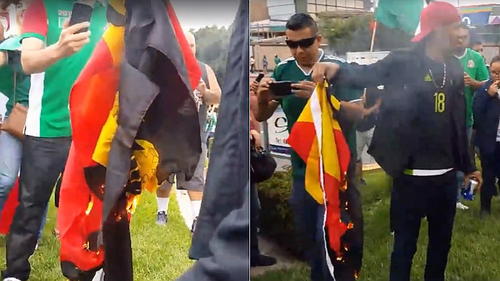 With all this I do not want to point out and demonize the people of Colombia, Argentina and Mexico, because the Latin American in general is like that. And what about my country Venezuela, we do not need to go to the World Cup to embarrass others. There are already many jokes from my compatriots abroad making disasters.

As I mentioned before, all these behaviors start from the blessed idiosyncrasy of the Latin American. We call this kind of thing "Latin vivacity", when it is nothing more than stupidity and ignorance of our peoples. In my country it is common to see how a person who tells a lot of lies and believes them, who skips a line or cheats someone else, is the best, the most, "the most alive of all". The worst thing is that we applaud these despicable attitudes and laugh at them, because after all "that's the way we are".

There are many Latin Americans who, like their supermarkets, are full of products, their cities are beautiful and they have good services, they think they are from the first world; when it turns out that our mentality is third world. A first world country does not do its technology or its cities; but its people, its education, its civics, its culture, its values. As long as we Latin Americans do not change our way of thinking and acting, we will remain the same old marginals and we will continue to be ashamed of ours.

With this I do not mean that we are all like that, it would be unfair to blame everyone for these despicable acts. But the truth is that the vast majority are like that, I see it in my friends, in my neighbors, in those around me. Unfortunately, from Rio Bravo to Patagonia stupidity is popular and the worst thing is that it is contagious. In Latin America we are the champions of the World of marginality and that title is very difficult to be taken from us.