A few weeks ago I told you about Kylian Mbappé, who has been chosen by the gods of football to inherit the throne of Messi and Cristiano Ronaldo, and how he is destined to rule with iron hand the world football at individual level during the next decade.

After having discovered the inevitable fate of Mbappé by March of 2017, stop looking for that heir of Messi and Cristiano Ronaldo, because obviously he had already found it. Then I undertook the search for the player who could rival Mbappé and contend for the next Golden Balls; if it is that perhaps that player exists, because the superiority of the French over the rest of the players of his generation is scandalous.

From then on I began to consider several options to compete in the future for Mbappé. Gabriel Jesus, Marco Asensio, Ousmané Dembelé, Marcus Rashford, Christian Pulisic; all these players who appeared to be clear prospects of the Golden Ball, for now have ended up disappointing me. I know I'm talking about 21-year-old players whose career is still too young and I know it may sound hasty to say they have failed; very likely they will be great players and have a successful career. But I was not looking for a good player, but who could compete with a player who is clearly well above average. I was looking for a star player, who had the same thing I saw in Mbappé and knew instantly that it was him.

Fortunately, last year I found the contestant and he responds to the name of Jadon Sancho. Even with a great name of star we came out the boy. I am convinced that Jadon Malik Sancho is destined to be the stone in the shoe of Kylian Mbappé Lottin and will wash the French party several times over the next ten years.

Jadon was born in England on March 25, 2000, which means that he is now 18 years old. Having trained at Watford, he signed with Manchester City in 2015 for half a million euros. He entered the academy of the City in full economic and soccer outbreak of the English club and as part of its recognized program of recruitment of young promises. From the first moment he began to stand out among the players of his category and was cataloged as one of the greatest promises in the world. This made him even do the preseason with the first team of Manchester City, and then return to the reserve team.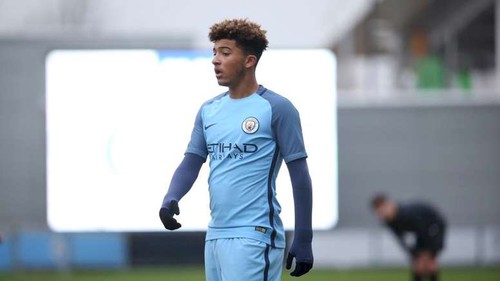 In the summer of 2017, there was a golden opportunity to show off to the world for Sancho when he played for England at the U-17 World Cup. Along with Foden, Brewsther, Hudson-Odoi and others, Sancho was crowned world champion U-17, as part of a new English golden litter that promises to give many joys to his country during the next decade.

However, back to Manchester Sancho was unhappy, because although the lower categories were too small for his overflowing talent, he still did not have a chip with the first team and had not even received the opportunity to debut with the team. Manchester City in first division.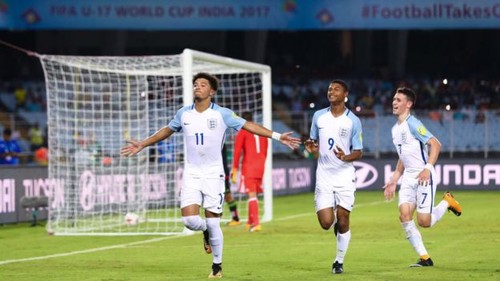 After his masterful World Cup, Sancho immediately entered the radar of some of the largest clubs in the continent, who dreamed of taking their services. However, this was something that seemed complicated due to the mistrust with which Manchester City looked at the biggest pearl of its juvenile academy. But what the City leaders did not count on was the growing discontent of Sancho, who was convinced that he needed his chance in the elite of football.

It was here that Borussia Dortmund appeared and immediately began to negotiate with the English player and his family. The negotiations came to fruition and the German club presented an offer of 8 million euros for Sancho, which Manchester City had no choice but to accept. Finally, on August 31, 2017, Jadon Sancho was presented between drums and cymbals as a new player of Borussia Dortmund, where he immediately received shirt number 7. What convinced the English footballer to move to Germany was the Dortmund project, where he has very good handling of young players like him; also that they assured him from the first moment a position in the first team.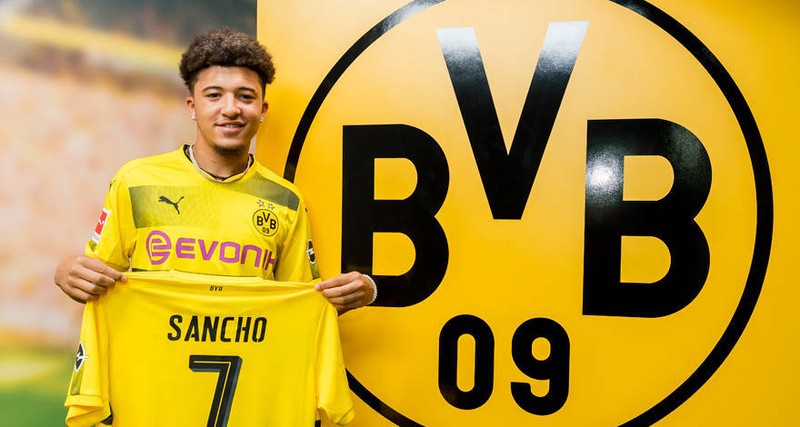 Why Borussia Dortmund was desperate to pay 8 million euros for a player who had not even debuted in the first division? The answer is simple: Sancho is a phenomenon. After having debuted last season scoring 1 goal and giving 4 assists, until now, all he has done is dazzle. Not only did he consolidate as the undisputed starter for Lucien Favre, but he has also become one of the team's biggest stars, even over another promising player like Pulisic. In addition, he has become one of the top assistants of the Bundesliga, after distributing 7 passes of goal in the current season; Not to mention his 6 goals. If Borussia Dortmund is going to be crowned champion of the Bundesliga, it is partly thanks to the undeniable offensive contribution of the very young Sancho.

But leaving the numbers and statistics aside, I prefer to let myself be guided by what I perceive and by my sixth football sense. And when I see Sancho, I perceive that he is simply a spectacular, different player with an indescribable talent. When I see him play Sancho, I feel the same way I felt when I saw Ronaldo, Ronaldinho, Zidane, Messi, Iniesta; that emotion that what those players were doing with the ball was something unique and unrepeatable, something that nobody else could do and that I would never see again. That's the same thing that I feel when I see Jadon Sancho and that of his generation only Kylian Mbappé has made me feel.

The past month of November was the moment in which I convinced myself that Sancho was the chosen one to be the contender. It was specifically in the game against Bayern Münich, which Dortmund rallied to finish taking the victory. Obviously I already knew Sancho a long time ago and was aware of the disasters I was doing in the Bundesliga, but I still had my doubts. But that was when the English had that wonderful performance before the almighty Bayern that is ecstatic with his football. Sancho's match was simply brilliant. Particularly I have recorded a fire in memory a play with which I stayed while watching the game.

It was a pass for Sancho that went long and Hummels was covering the ball. Then Sancho with an incredible pique and in a great physical demonstration surrounded Hummels and gained him in speed. At that moment I asked myself if I was seeing Jadon Sancho or the first Cristiano Ronaldo of Manchester United. But there I did not finish the play, because seeing that the Englishman would win the ball, Neuer immediately left to bail. In the blink of an eye, the English made an impossible dribble in a tiny space to leave pulled and humiliated one of the best goalkeepers in history. After seeing that dribble I rubbed my eyes and got to question if Messi was wearing the Dortmund shirt, but no, it was Jadon Malik Sancho in a demonstration of pure talent and football of the highest level. This boy was born with a star, who can not notice it is because he is blind and does not understand anything about this sport.

Since that day I am completely convinced and I can say without fear of being wrong that Jadon Malik Sancho is the one chosen by the gods of football to be the contender, that play that can compete in a dignified way with an inheriting prince like Kylian Mbappé. If you do not believe me, spend a weekend at the Signal Iduna Park and see how Jadon Sancho destroys any opponent that gets in front of him. If not, wait for the Final Four of the League of Nations and see how Sancho stands out with the English national team on a world stage. We are talking about a player who in a matter of months will be worth more than 100 million euros, in addition to consecrating himself as the best young player of 2019.

But here I want to clarify something, my point of view about French does not change one iota; I still believe that he will win more than three Gold Balls and will undoubtedly be the best player of his generation. But he will have in Jadon Sancho a worthy rival with which to compete to be the best in the world and that at least a Golden Ball is going to snatch him from his showcases. And when Sancho won that one (maybe it could be more than one, but never more than Mbappé) but deserved the Golden Ball, it will be because he had one of the most spectacular seasons on an individual level throughout the century. Jadon Sancho is destined to win everything at the individual and collective level during his successful career, write chapters in the history of this beautiful sport and star in a vibrant rivalry that will keep us on the edge of our seats for the next decade; as we were used to by Lionel Messi and Cristiano Ronaldo.