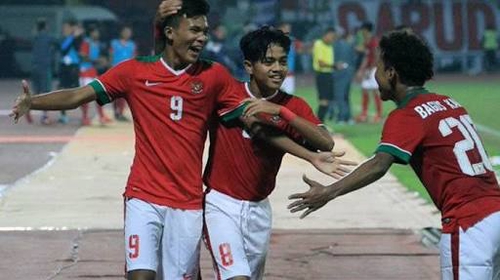 The Indonesian National Team U16 made it to the finals of the AFF U16 2018 event after defeating Malaysia U16 1-0 in a semifinal match held in Sidoarjo on Thursday (9/8). Amirrudin Bagus Kahfi's single goal from the white point became the home team's winner.
Match Details
Rivalry between Indonesia and Malaysia is one of the main objects that heat Southeast Asian football, and the same thing happened again when the two teams met in the AFF U16 2018 semifinal round.
The match between the U16 teams from the two countries took place tightly. Indonesia and Malaysia created several dangerous opportunities throughout the initial 40 minutes.
The absence of a goal at the end of the first half left the score 0-0 lasted until the interval, throughout that period, the support of the home team's supporters made the atmosphere in the stadium look like a senior team match and not an ongoing match between two age group teams.
Tempo matches did not experience significant changes in the next round. The change seen from the Indonesian U16 game is the bait of more mature players.
This situation made them get a chance in the 73rd minute after a quick move made the Malaysian goalkeeper break his opponent in the forbidden box.
Amirrudin Bagus Kahfi who advanced as an executor successfully carried out his duties perfectly to make the home team excel with seven minutes remaining in the second round.
Until the end of the second 40 minutes, there was no change in score that ensured Indonesia U16 qualified for the AFF U16 finals and will face Thailand in the match to be held on Saturday (11/8).