Schalke 04 means 7 German championships, 5 cup victories and one UEFA Cup winner. The S04 is one of the most traditional German football clubs. Schalke 04 is pure tradition.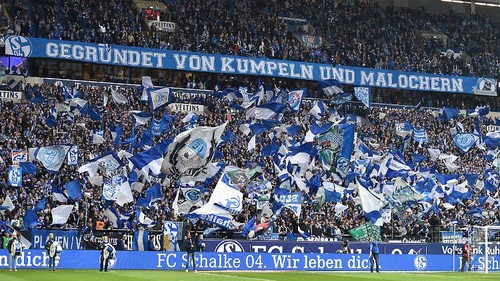 FC Schalke 04 has also experienced many dark times and scandals. Nevertheless the S04 belongs to the biggest German clubs with fans far beyond Gelsenkirchen and the Ruhr area.
The financial view of the association was already worse in the past. With the participation in the Champions League and some lucrative player sales as well as a financially strong sponsor the club has the possibility to offer a competitive team.
In the 2017/2018 season the squad also celebrated the runner-up championship. Now the question arises why the S04 has such big problems in the current season and is stuck in the table cellar of the Bundesliga.
The vice-championship 2017/2018 was also not achieved splendidly, but rather "he is building walls". Many games were won by a narrow margin. However, coach Domenico Tedesco stuck to his defensive style. With only 27 goals scored, they scored less than Fortuna Düsseldorf. On the other hand, with 44 goals you don't necessarily have a defensive bulwark, which should be a basic prerequisite for a defensive style of play.
The dismissal of coach Tedesco after the embarrassing 0-7 in the CL against Man City came very late from those responsible. The purchasing and sales policy is also very questionable. With the extremely successful "Knappen Schmiede" you have a very good foundation. Why doesn't the S04 manage to bind his talents to the club on a long-term basis and thus build up a team or squad that can tie in with the old times of the famous Schalker Kreisel.
Young players like Manuel Neuer or Mesut Özil, Leroy Sane and Max Meier leave the club early to the top clubs in Europe. Often because of better earning potential, but also because of the prospect of being able to play titles - which they don't seem to believe the S04 is capable of.
With the manager's vacant position, after Heidel's departure in summer and a vacant trainer's chair for the new season, there is not necessarily any planning security for the coming season.
The lack of international business in the next season does not necessarily speak for the S04 either. This does not detract from the hype among the fans - Schalke is cult, no matter how the team plays. When on Saturday afternoon the riser sounds in the Veltins Arena, thousands of throats sing fervently with the miner's greeting "Glück Auf - Glück Auf".
Ciao
Tomtheone