Ligue One side Rochdale made their new record after allowing Luke Matheson, aged 15 years and 336 days, to came on as first-half substitute in the Checktrade Trophy game against Bury to became club's youngest ever player. The fun (and absurd as well) fact is Luke came out just few hours after he returned to school after summer holidays. Even more, teenage defender had a great game for Dale – he deservedly earned the Man of the Match award after helping his side to secure 2:1 win over local rivals.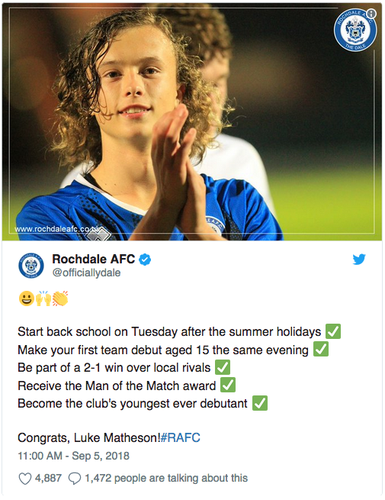 Dale manager Keith Hill praised player's preformance after the game:
That first-half was a little insight into what we see on the training pitch. Jim McNulty came over when it was obvious Connor Randall had a serious injury, asked me if I was putting Luke Matheson on. We know what he can do. It's not a leap of faith, because we know what he can do.

The supporters were receptive to Luke, and the players are and were as well. He's been training with the first team whilst he's not been at school during the summer and I'm really pleased for him that he got his chance. They're special nights when that happens.

He was outstanding.
Congrats to the lad who definitely have a great future ahead. But isn't professional third-tier clash isn't little too much for such young players, no?