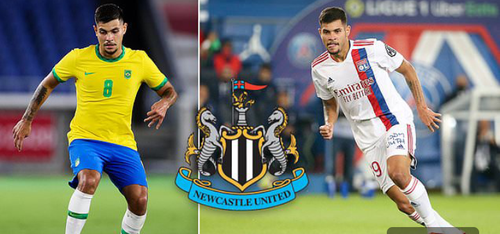 Lyon and Brazilian midfielder Bruno Guimaraes has been Newcastle's major priority this January transfer window. So, the news concerning an agreed deal would come as an exciting one for the Magpies, and according to reports from France, Newcastle have now agreed a deal with Lyon to sign Bruno Guimaraes. The details of the deal suggests in could cost them about 33 million euros. For the time being, Guimaraes is with his national team and he's expected that he would round up his medicals there and qualify to play and the start of February.
Guimaraes quality
In terms of playing quality, Bruno Guimaraes is one man with lots of those. Over the months, he has proved to be a key player for the Lyon side even going on to have some caps for his national team. Concerning his role on the pitch, he comes in more from the angle is a deep-lying playmaker. Enabling him to distribute and influence the game more.
Newcastle's interests
Considering their performances in the first-half of the season, the coach believes the addition of a deep-lying playmaker would be essential to the team. Hence the long-week interest and pursuit of Bruno Guimares.
With the money now flowing in the ranks of Newcastle, the addition of Bruno Guimaraes did not prove to be much of a tough nut to crack. The issues lay with if Lyon were willing to sell.