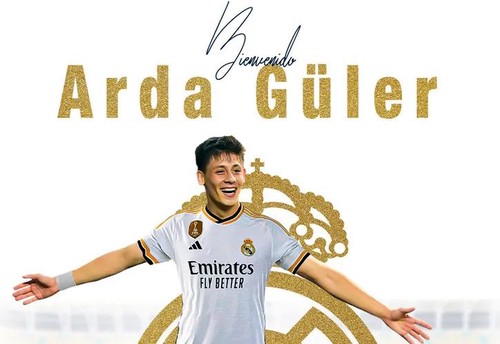 Fenerbahçe Forması giyen Arda Güler, günlerdir süren transfer pazarlığı mutlu son ile bitti.
Barcelona'dan aldığı teklifi ret eden Arda Güler tercihini real madrid yönünde kullandı.
Bu transfer sonunda transferi yapılan en pahalı geç oyuncu rekorunu elinde bulunduran Arda Güler diğer bir rekor ise Real Madrid sosyal medyasında en çok beğeni alan post olma rekorunu elde etti.
Dün akşam saatlerinde Madrid'e giden Arda Güler bir çok Barcelona taraftarı tarafından ağır eleştiriye tutuldu.
Katalan ekibi taraftarları hakaret derecesine söylemler ile tweet atarken, Real Madrid yaptığı paylaşımın altına Türkler tarafından tebrik mesajları ile tam destek verildi.
Başarılar Arda Güler.
Arda Güler, wearing the Fenerbahçe Jersey, ended the transfer negotiations, which lasted for days, with a happy ending.
Arda Güler, who rejected the offer he received from Barcelona, ​​used his choice in the direction of real madrid.
Arda Güler, who holds the record for the most expensive late player transferred at the end of this transfer, has another record of being the most liked post on Real Madrid social media.
Arda Güler, who went to Madrid yesterday evening, was heavily criticized by many Barcelona fans.
While the supporters of the Catalan team tweeted with insulting rhetoric, the Turks gave full support to Real Madrid's post with congratulatory messages.
Good luck Arda Guler.