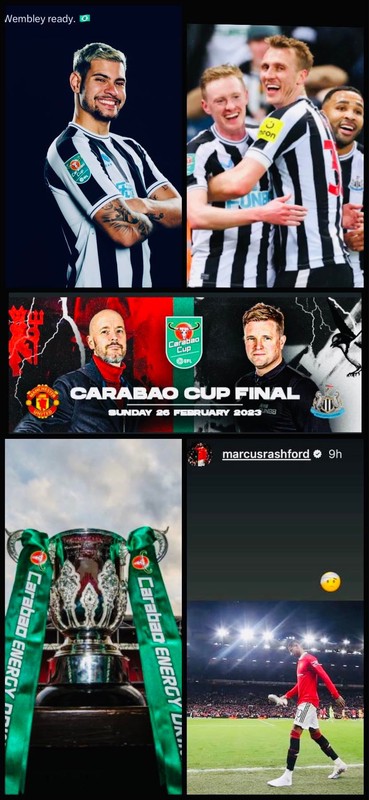 Newcastle United and the club's legion of Geordie fans head to London looking for capital gains at Wembley Stadium on Sunday evening for The Carabao Cup Final to end their quest for major silverware after 54 years when they play Manchester United, who last won trophies in 2017 when they lifted both The League Cup & Europa League.
The Magpies are currently fifth in The Premier League table eight points behind third-placed Man United yet with a game in hand and the pair also meet at St James' Park later in the season and its certainly true that if Newcastle got the favourable refereeing decisions the Red Devils get and Man U the scraps Newcastle get from officials, Eddie Howe's men would be streets ahead.
Last time the sides met was in October at Old Trafford when The Magpies were starting a good run that would take the club to 3rd place and gave a good account of themselves in a 0-0 draw that could have been all three points if a stonewall penalty had been awarded to Callum Wilson after Raphael Varane cynically chopped him down in the penalty area:
There's plenty of football to be played and Premier League points to be won still yet Sunday is all about The Carabao Cup and a golden chance for the new Newcastle United since the Saudi-backed takeover in October 2021 under the guidance of the new owners Amanda Stavely, Mehrdad Ghodoussi & Jamie Reuben to win their first trophy and they have an excellent chance to do so with a first major trophy Wembley Final since 1999:

After overcoming Tranmere in the Second Round back in August, Newcastle have successfully overcome four Premier League teams - Crystal Palace, Bournemouth, Leicester and Southampton and beating a fifth in the shape of Manchester United would start rolling back the glory days that were oh so close back in the mid-1990s & 00s:
And Newcastle are well-placed to do exactly that enjoying their best season since Alan Pardew's Magpies finished 5th in 2011/12 including a 3-0 thrashing of Man United at St James' Park to qualify for European football for the first time since 2005, a win against The Red Devils which was kickstarted by Yohan Cabaye's superb free-kick:
A parallel with that side is how reliant Newcastle were on the French midfield maestro in the same way the modern team are much better when Bruno Guimaraes plays.

The Importance of Bruno G In the Middle
"We've got Bruno in the middle" sing Newcastle's fans in celebration of their star Brazil international midfielder and with very good reason.
Bruno Guimaraes the £32.5M signing from Lyon is the Magpies' lynchpin who transforms Newcastle United from an average team that would finish mid-table in The Premier League into one that is capable of qualifying for The Champions League - or even winning the title on a level officiating playing field - as evidenced by the club's Top 4 form since buying him in January, 2022 & stark contrast in form with and without him:
Guimaraes is a top-class modern midfielder who can do everything - pass, tackle, dribble, score and create - & is Newcastle's playmaker & since Bruno's red card vs Southampton, Newcastle have picked up just two points in nine in The Premier League and on Sunday lost only their second game of the season - both to Liverpool and both without the Brazilian in the team.
Furthemore, it is only in the Brazilian's absence that Newcastle have dropped out of the Top 4 of the Premier League and even now The Magpies would still be in The Champions League spots had the club not been robbed of two points by now disgraced Greater Manchester VAR official Lee Mason, who wrongly denied the club a good goal in September against Crystal Palace which The PGMOL admitted was an error.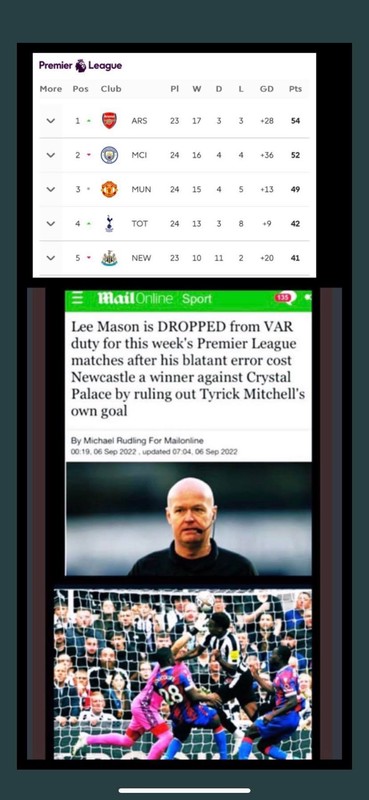 Mason's sacking came months later yet among a litany of errors before he finally got the chop, he was also at fault for not awarding a penalty to Newcastle at Wolves when Sean Longstaff was fouled so The Magpies could and should be comfortably be in the Top 4 places and Bruno has stated his intention to end Newcastle's trophy drought and rewrite a positive modern history at St James' Park:
Sunday's VAR official is Peter Bankes, who was the referee who 'missed' the Longstaff penalty on the pitch and its one of several anti-NUFC decisions he has made even when equipped with instant replay technology in the VAR room so his decisions will be under even greater scrutiny than normal from anti-corruption and police authorities:
If Newcastle have had a wobble in terms of Premier League form since the turn of the year, The Magpies' form in The Carabao Cup has been completely different and they have put Leicester City to the sword in the Quarter-Final thanks to Big Dan Burn:
and beat Southampton in The Semi-Final to earn the club's first major trophy final since 1999 thanks to a brace from fellow local lad Sean Longstaff:
The fact that two local Geordie lads Dan Burn and Sean Longstaff have fired Newcastle to The Cup Final makes the Cup run all the more special and it seems that knowing what the club and silverware would mean to the club, city and the Newcastle fans has inspired even greater efforts from the pair to put the club within a win of the club's first major trophy astonishingly since The UEFA Fairs Cup in 1969:
It'ss high time the famous black & whites won a major trophy in the colour television age and Eddie Howe's men will be fully fresh and fit after a week's rest in comparison to Man United who have played twice in the eight days since Newcastle's match against Liverpool which might be a big factor when the sides meet on Sunday.
In his pre-match presser at the Newcastle training ground on Monday, the Newcastle manager started with the pressing issue between the posts after Nick Pope's dismissal against Liverpool which means that Magpies third choice goalkeeper Loris Karius is the favourite to start in goal making his competitive debut for the club with the only serious option available to him being Geordie keeper and Newcastle fan Mark Gillespie:
Howe's outfield selection dilemma if a Trippier, Schar, Botman, Burn back four picks itself is whether to play the fit again Joe Willock in midfield alongside the returning Bruno Guimaraes and Sean Longstaff with Joelinton on the left-side of attack with Callum Wilson central and Miguel Almiron, who today signed a three-and-a-half year new deal at the club, OR play Allan Saint-Maximin left-attack with Joelinton back in the engine room in midfield but whoever gets the nod, the importance of impact subs could be paramount.
Howe spoke of his pride to be leading his new club to Wembley and was up for the Cup:
Man United A Team In Form (Aided and Abetted By Dodgy Refereeing Decisions)
It certainly won't be an easy task at Wembley Stadium with Man United on a very good run of form of 11 wins in 15 games and just one defeat to Arsenal in all competitions yet due to a packed schedule, they have had sticky performances and draws in games played just several days after games so facing a fully fit, rested and fresh Newcastle United will be their biggest test of 2023 yet.
Also, it was a good run of games somewhat aided and abetted as usual by choice refereeing decisions in their favour such as the inexplicable decision in the Manchester derby to allow Bruno Fernandes' equalising goal after Jack Grealish had given Man City the lead despite Marcus Rashford being yards offside and interfering with play:

New PGMOL Chief Howard Webb - who has faced accusations of pro-Man Utd bias throughout his career as a referee and since his return to The Premier League - admitted on a live interview on SKY Sports at half-time in a game at Stamford Bridge that Fernandes' goal wouldn't be allowed going forward after the up-in-arms reaction of people in 'The Game' as Webb put it with it being universally seen as no goal.
Those pro-Man U bias accusations flared up again on Sunday when Man United played Leicester and new Red Devils' German midfielder Marcel Sabizter somehow escaped a red card for a karate kick on Foxes' defender Wout Faes from the same VAR official - Greater Manchester's Paul Tierney - who sent Newcastle's Bruno Guimaraes off when referee at St James' Park in The Carabao Cup Semi-Final against Southampton and interestingly, the referee Stuart Atwell on Sunday was the same man in the middle in the Manchester City derby yet the pro-Man U result was no Cup ban for the Man U man.
Manchester United refereeing bias aside, England's Marcus Rashford who looked excellent in The World Cup especially against Wales when Gareth Southgate picked him, has been proving since that he should have been given more game time with an electric run of goalscoring form of 16 goals scored in 18 games since returning from Qatar:
Yet against Barcelona last night, Rashford went down for treatment after rolling his ankle & eventually hobbled off the Old Trafford pitch and is a doubt for Sunday's Final:
In his post-Barcelona presser, Ten Hag said Rashford's injury would need to be assessed before Sunday's game and the Dutch manager had the temerity to warn Carabao Cup Final referee David Coote about Newcastle's potential for "time-wasting" which was a ludicrous statement in a world in which Man United traditionally have been transparently favoured by the officials dating back to Alex Ferguson and 'FergieTime' and its no coincidence the Scot is back at Man U & Howard Webb is running the PGMOL.
It has certainly lit the blue touch paper between both sets of supporters on social media and The 2023 Carabao Cup Final promises to be a special game and Wembley occasion and one that will see Newcastle finally end their 54-year wait for a major trophy.
Prediction - Newcastle 3 Man United 2
Potential Line-Ups: