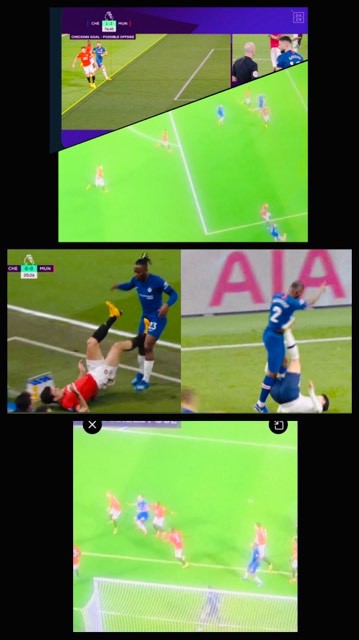 "Decisions are crucial. Maguire should get a red. I think that is what VAR was brought in for. I think the Zouma one should have stood: Azpilicueta was shoved.
"It is just the wrong decision. That is what it was brought in for. It is very confusing. I think everyone I have spoken to has said it."
Frank Lampard, Chelsea manager via NBC
Chelsea were robbed tonight at Stamford Bridge as Harry Maguire escaped a definite red card and Chelsea were denied two goals and were beaten by the 13 men of Manchester - the 11 players on the pitch for Man United and the referee Anthony Taylor and Video Assistant Referee Chris Kavanagh, both of whom hail from Manchester
Clearly, this is a conflict of interests that should not be allowed as immediately pointed out on Twitter by Liverpool sportswriter Paul Tomkins, Liverpool fan and neutral tonight:
Onto the game itself and England international and Man United defender Harry Maguire should have been sent off early in the match for clearly kicking Chelsea striker Michy Batshuayi in the groin after he is muscled to the ground:
It's a very similar incident to one that occurred in the Tottenham Hotspur Stadium late last year when Spurs' Son Heung-Min kicked out at Antonio Rudiger and received his marching orders from, coincidentally, referee Anthony Taylor following a VAR review.
The two incidents were almost identical - the upward, aggressive movement of the leg of the player on the floor at the opponent they believed has used excessive force yet in Maguire's case, the VAR official the decision is referred to hails from Manchester, the same city as the club that he plays for so he is not sent off for clear violent conduct.
Chelsea are furious but the match progresses only for their anger to increase further when Willian is booked for a supposed dive when he could have been given a free-kick, so blatant a foul that the only question in Gary Neville's mind is if it was in or out of the box:
In front of an infuriated Stamford Bridge crowd, another Anthony, Martial, scores a good header just before half-time to take the lead for Man U. After the interval, the contentious decisions versus Chelsea continue with a goal by Kurt Zouma ruled out for a push on Brandon Williams by Cesar Azpilicueta, who himself had been pushed by Fred:
Insult is added to injury shortly after when Harry Maguire, who should not have been on the pitch still, scored Manchester United's second goal.
Olivier Giroud comes on and scores for Chelsea and that, too, is ruled out by VAR for Offside which looks the correct decision from the supposedly decisive VAR angle shown on SKY TV in the UK.
Yet a video emerges on Twitter taken from a live feed from a different TV channel showing a better angle and an earlier frame showing Giroud IS onside along with this interesting dialogue from Chelsea & Man U legends John Terry, Owen Hargreaves & Paul Scholes discussing the incident with a TV presenter:
"Terry - 'He's never offside...'
Scholes - 'I'm just saying that picture at the end of it though when he's showing him offside, the ball's not in the picture...
Terry - 'Would you be happy to put that on the screens?"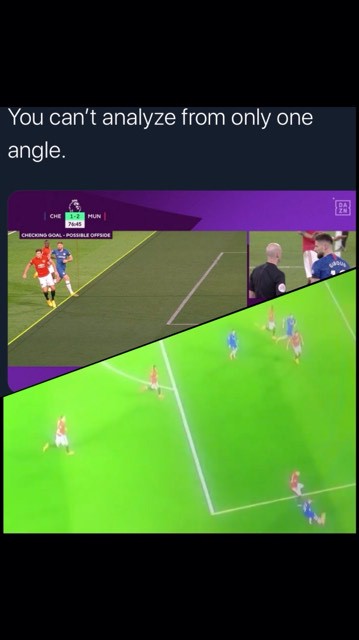 There was an unprecedented level of social media outrage at the decisions - not at VAR which most sensible fans know is necessary to the 21st century evolution of the sport with technological advancement - but at the incompetence or clear bias of the officials who happen to hail from the same city as the club they favoured.
Across the board from journalists to neutral fans, pundits and presenters, the only people who seemed to think Maguire's kick was not a red card was the VAR official Chris Kavanagh and as Scholes rightly pointed out that while Batshuayi was receiving treatment and the game was stopped, why didn't Taylor look at the VAR monitor?
Former Chelsea player Gavin Peacock was in doubt as to the official's influence:
Questions need to be asked as to why two officials from Manchester were taking charge of a Manchester United game worth potentially hundreds of millions of pounds as the race for The Champions League hots up; Taylor is officially an 'Altrincham' fan...
For the record, I am a supporter of VAR when used properly by competent officials but not the incompetent ones that necessitated its introduction in the first place yet tonight The Fix certainly seemed to be in and there were a handful of game-changing decisions awarded the way of Manchester United by officials from Manchester and that is unacceptable in a global sport watched and loved by millions expecting fair play not daylight robbery.