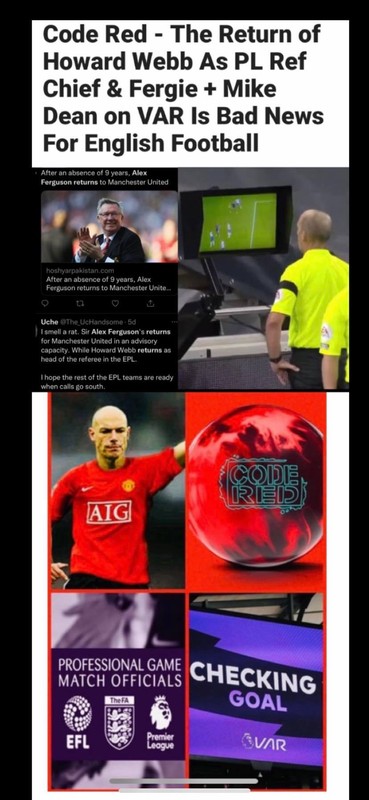 When it was announced in late June that former Premier League referee Howard Webb was to return as The Premier League's Chief Refereeing Officer replacing the much-maligned Mike Riley in a change expected to happen by December, football fans across England and the football world reacted as one across social media.
"Man United's first signing of the summer" chorused hundreds of football fans alluding to the years of bias towards The Red Devils that Webb showed during a successful refereeing career that took him to the pinnacle of the game taking control of every major football final including World Cups and Champions Leagues.
There's many a true word spoke in jest and for thousands of supporters to react the same way - sharing the image of Webb wearing a Man United shirt whilst officiating that first received popular appeal back in 2011 when then Liverpool player Ryan Babel tweeted the image after a controversial Webb refereeing performance in an FA Cup game between The Reds and Red Devils showed that the beliefs about the referee's bias also pervaded the professional game - demonstrates there's no smoke without fire.

It became a clear pattern in Man United games that Webb would award the Red Devils early advantageous decisions and big calls when Sir Alex Ferguson's men needed them as evidenced in that FA Cup game of 2011 in which Babel came on as a substitute after witnessing the unfairness of the unfolding drama from the bench. As commentator Martin Tyler narrates in the highlights clip below, "It was really down to the first half decisions by Howard Webb that it was Liverpool" (that went out) awarding a controversial penalty that should never have been given after a clear dive by Dimitar Berbatov and sending Steven Gerrard off for a tackle on Michael Carrick despite not even looking at play:
Those were not the worst decisions that Webb made when officiating Man United games with the whistler admitting in an interview with The Athletic in May 2020 that the one major wrong decision - from a career littered with them including the ridiculous decision not to give Nigel De Jong his marching orders after a kung-fu style kick on Liverpool's Xabi Alonso of Spain in The World Cup Final in 2010 - was the incorrect decision to award The Red Devils a penalty at Old Trafford with Fergie's men down 2-0 against Spurs and the penalty give the home side a lifeline in both the game & the Premier League title race, which they would clinch over Liverpool.
I could see Carrick got there first and then the goalkeeper clattered into him. It was really an easy penalty award," Webb told The Athletic.
"I was expecting the usual cursory appeal that you get from the players, not the huge look of absolute astonishment and amazement and incredulousness on the look of Gomes.
"It was obvious within seconds I'd got the decision wrong. There was something more to this.
"I was left with the decision I had taken with no independent evidence that I'd got it wrong other than a gut feeling, and I was just hoping that [Cristiano] Ronaldo would miss the penalty. But he didn't."
It was a huge game-changing wrong decision that meant Fergie's Man United pipped Rafa Benitez's Liverpool to another Premier League title despite The Reds beating The Red Devils 4-1 at Old Trafford, with the win restoring Man United's 2 points advantage.
Just like the statistically-proven advantage of Sir Alex Ferguson enjoying more seconds of injury time than rival teams competing for the title to the tune of an extra 79 seconds when losing games, over the Scot's 24 year reign in English football, he would regularly receive the benefit of big calls from referees frightened of his wrath and influence in the corridors of power at The Premier League.
So it was no surprise to this writer that almost exactly a month after Webb's return was announced (give it a month, nobody will put two and two together..) shock horror in the football world, it is announced that Sir Alex Ferguson is returning to a formal advisory role at Old Trafford to help Manchester United get the club back on track.
Manchester United enjoyed favouritism from referees throughout the Ferguson era and essential reading on the subject especially in the last decade of his tenure at Man United is by DimmyBad - read his blog: https://diminbeirut.typepad.com/my-blog/corruption-and-influence-peddling-in-english-football/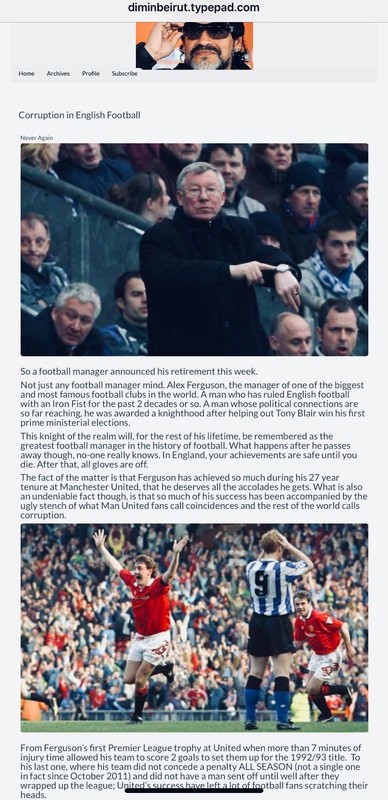 In a since deleted Tweet, Sheffield Wednesday forward Mark Bright who played in the game in which that first Man United title that Ferguson won was clinched deep into injury time corroborated the suspicions about FergieTime and a 97th minute winner that set the template for how The Red Devils would win their trophies from that point on.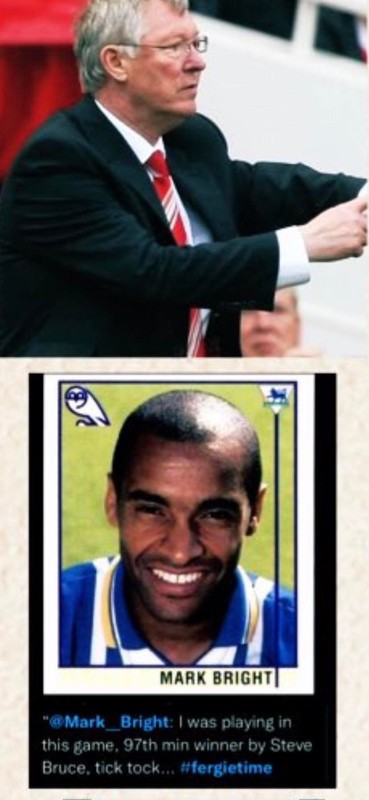 DimmyBad, a writer from Beirut, expounds at length about the relationship between Ferguson and referees and offers this particular stat about Howard Webb & Man U:
Webb's history in Man United games are well known and documented. All I have to say on the matter is that more than 18% of the penalties he's awarded in his ENTIRE premier league refereeing career have gone to Manchester United. Over a 9 year period, that's a huge percentage.
When asked about his favouritism for Fergie and Manchester United, Webb naturally strenuously denied it saying "I've never shared a bed with Fergie..."
Who he does share a bed with, however, is Bibiana Steinhaus, his new wife who has just been appointed the chief of women's football in the Britain, meaning that the Webb household oversees every single refereeing appointment at the highest levels of both the men's and women's game, in which Man U have a reformed team from 2018. Cosy.
Don't think for a second that the relatively fledgling women's professional game isn't subject to the same machinations as the men's game - with the increasing popularity of women's football comes greater financial rewards plus better sponsorship deals and kudos brands and names emblazoned UK-, Europe- and worldwide across strips and stadiums not just the sporting channels but on the national and international news so the prizes for pole position are increasingly lucrative and subject to corruption.
Back to the men's game and the danger of Man U benefitting from a reformed network involving Howard Webb and Ferguson is plain to see for the rest of the Premier League and it doesn't take much for Man U to be 'Back' as it occasionally appeared they were under Ole Gunnar Solksjaer when they benefitted from egregious refereeing decisions in their favour in both The Champions League when they received a dodgy last minute penalty in the Parc De Princes to eliminate Paris St Germain from the competition:
and also in the Covid-affected 2020/21 season played largely behind closed doors when they racked up a new Premier League record of penalties awarded:
in a ludicrous run of penalties that was beyond doubt evidence of corruption.
Indeed, data via the CIES Football Observatory & InStatFootball showed in January 2022
that Manchester United had been awarded a penalty with greater frequency than any other team in Europe's 5 major Leagues - handy that they had bought penalty specialist Bruno Fernandes, whose goal stats and contributions fell away remarkably following the exposure of the penalty scam that was called out by Jurgen Klopp and others.
In his very first press conference as Man United's new boss Erik Ten Haag vowed:
"An era can come to an end..."
meaning the end of Man United's mediocrity and the end of the dominance of Man City and Liverpool, a bold claim which will be easier to achieve with referee support as if he can prove himself the coaching equal of Pep Guardiola, whom he worked under at Bayern Munich, and Jurgen Klopp in the rarefied atmosphere of The Premier League then the club who get the key decisions when it matters will triumph.
Manchester United is not just a football club, it is a huge corporate entity and Ten Haag is charged with the task of making it competitive at the top level on the pitch again...
Mike Dean On VAR

After rumours he was potentially joining the Celebrity Jungle, The Premier League confirmed that veteran referee Mike Dean who was retiring after 22 years officiating in England's top flight would instead be staying on a VAR official.
Already a controversial figure, news that alongside his VAR duties, Dean will be a columnist for The Daily Mail has been greeted with both support and scepticism -
with high profile ex-referee and Referee Chief Keith Hackett immediately questioning how Dean can juggle the football and media roles citing "integrity" and time issues:
Chief among these for most football fans apart from the fact he makes it all about himself and occasionally celebrates goals teams score from his decisions to play advantage is the fact that Dean hails from Merseyside yet conveniently supports Tranmere Rovers so was free to referee games involving near neighbours Liverpool and Everton resulting in decisions oddly benefitting the clubs and people he lives among.
A case in point last season was Newcastle's game at Anfield when, after taking the lead through JonJo Shelvey, The Magpies conceded an equaliser when Dean failed to stop the match despite having a player down with a head injury -
before a classic Dean moment needlessly involving himself in the play for Liverpool's killer third goal crossing the path of Shelvey and goalkeeper Martin Dubravka:
Arsenal fans' problem with Dean is well documented yet the official also seems to have it in for Newcastle - somehow giving this potentially leg-breaking challenge on Matt Targett as a free-kick to Brentford before being advised by VAR to send Josh Dasilva off:
Sadly, reports that The Premier League would be broadcasting conversations between on-pitch referees and the VAR officials in Stockley Park next season proved premature but its certainly on the table for the future and is hopefully a matter of when not if now to gain crucial transparency and insights into the decision-making process of big calls.
So, the new Premier League season is upon us & as well as the great football, goals and glory that a new football season promises, another season of refereeing controversy & inexplicable decisions is inevitable until an independent regular cleans up the game from the hands of the usual suspects whom everybody knows make the rules...
"Everybody knows that the dice are loaded
Everybody rolls with their fingers crossed
Everybody knows that the war is over
Everybody knows the good guys lost
Everybody knows the fight was fixed..."