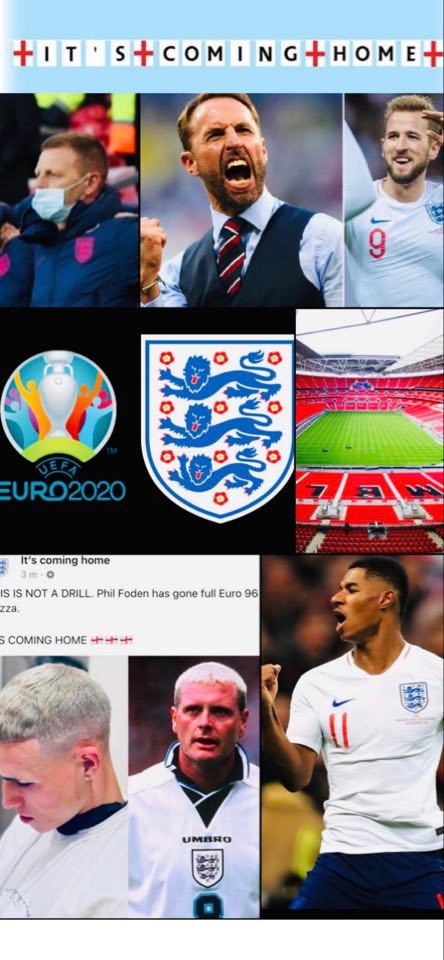 "There's no point in going to tournaments not trying to win, its got to be the reason of being there. Football is about dreams & aspirations and its important we all have that."
Gareth Southgate, 'Daring To Dream - England's Story at The 2018 FIFA World Cup'
Its 45 years since England won our only major international trophy, the 1966 World Cup, but football is definitely coming home this year at least back to London and Wembley as the famous stadium, the birthplace of modern football, is one of the hosts of Euro 2020, and as well as hosting England's Group D games, Wembley stages the Semi-Finals and Final and that home advantage could count enormously a la 1966 and 1996 as Gareth Southgate's Three Lions look to bring the trophy home.
Join me down the rabbit hole of an alternative football universe - football's version of Robert Harris' 'Fatherland' - when the England national side in 1986 managed by Sir Bobby Robson saw Diego Maradona's handball goal in The Quarter-Final of the Mexico 1986 World Cup disallowed, go on to defeat Germany in the final and win the tournament, a first for 20 years since the 1966 triumph and then with a winner's confidence flowing, go all the way again in 1990 and go on to be a major international football force for decades to come collecting trophies for fun, like, say, Germany did.
Instead, in reality, England - robbed of at least a Semi-Final place in 1986 (Maradona's feted second 'Goal of the Century' was also a foul on Glenn Hoddle which should have stopped play before the move began) - have become tarnished with the reputation of plucky losers, also-rans who blow it when it matters, usually in penalty shoot-outs, and stumble home from tournaments in underachieving ignominy.
Yet now Diego Maradona has been buried after dying aged 60 in November last year, its time for The Three Lions to lay to rest the ghost of that injustice and everything that has gone against England in the past 35 years and emerge victorious from Euro 2020 - the first UEFA European Championships to be played with Video Assistant Referees.
Just as the Spanish La Roja had a truly golden generation 2008-12 winning back-to-back Euros in 2008 and 2012 with the 2010 World Cup in South Africa the crowning glory (again, England were robbed in a pre-technology age of an equalizing goal by Frank Lampard yards over the line against Germany), The Three Lions are an emergent force that dominated world football at U17, U19 and U20 levels in 2017 and can reign supreme at the senior international pinnacle four years later.
While England's reputed Golden Generation of the 2000s failed for myriad reasons, the team of egos and club rivalries starring Wayne Rooney, Steven Gerrard, Paul Scholes, David Beckham, John Terry, Rio Ferdinand, Ashley Cole et al lacked the team spirit, cohesion & unity necessary to win a tournament failing to gel and off the pitch, the current squad is a happy camp of togetherness willing to put the team before the individual, recognizing ultimately that success can only happen through the collective, something Southgate has instilled in them.
Since unexpectedly becoming England manager in 2016 in the wake of Sam Allardyce disgracing himself, Gareth Southgate has surprised everybody by reshaping the England team beyond recognition from the team that crashed out of Euro 2016 to Iceland and accelerating the revolution of England's national football side into the modern, youthful, hungry Three Lions side who took the World Cup in Russia 2018 by storm.
If the draw was kinder than previous tournaments, England took maximum advantage and proved it wasn't just a flash in the pan by following it up with a 3-2 win against Spain in Spain for the first time in 31 years in The Nations League in 2018 in an energetic, attacking and comprehensive display fielding a front three of Raheem Sterling and Marcus Rashford flanking Harry Kane that were 3-0 up at half-time, stunning Luis Enrique's men before qualifying in customary winning style for The Euros.
Its a front three that Southgate could revert back to when England open their Euro 2020 fixture list against Croatia at 2pm on Sunday afternoon with a likely midfield trio of the hopefully fit Jordan Henderson, Declan Rice and Mason Mount behind them and a back four rather than the back three that has been widely reported as being practiced in training yet smells like a red herring designed to put Zlatko Dalic's men off the scent as a back three employed against Croatia at 2018 were knocked out of the tournament.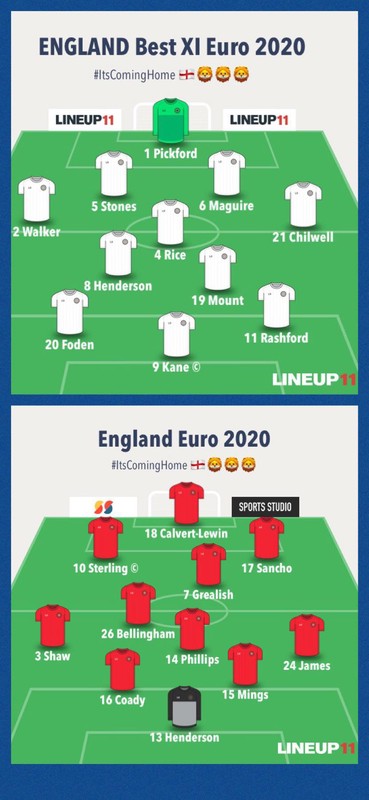 Yet one of the strongest elements of Southate's England is the plethora of attacking talents at his disposal and he shows a ruthless streak many didn't know he had to discard players who have done a job for him in the past - think Dele Alli and Jesse Lingard at The World Cup in 2018 - to blood the next generation of players - the likes of Jadon Sancho, Jude Bellingham and the new jewel in England's crown - Phil Foden.
Phil Foden channeling Euro 96 Paul Gascoigne with a white-hot hair-do to match his dazzling form in 2020/21 for Man City is the confirmation I needed that this is the year that The Three Lions can win its first major trophy since The World Cup in 1966.
The 21 year-old, named PFA & Premier League Young Player of the Year after scoring 16 goals and assisting a further 10 - a young man Pep Guardiola no less has called 'the best talent I have ever seen' from the stable of top class players he's coached including Lionel Messi - enjoyed World Cup success with England U17 and a Golden Ball, said with matter of fact confidence that The Three Lions 'could win it':
"Of course, we have the experience of Harry Kane and Jordan Henderson around the team too which is important. I think we have a great balance. I think we'll look really strong in this tournament and why not? We could win it."
The confidence, the audacity, the youthful fearlessness to celebrate and emulate Paul Gascoigne, one of the football gods this blessed isle has ever produced, and then proclaim unhesitatingly that The Three Lions can win it has tipped the balance of belief from one of slight trepidation to one of healthy confidence that this could be our year.
In an instant, any doubts or dampened expectations caused by England's last two underwhelming friendlies at The Riverside Stadium, Middlesbrough - which will be remembered more for the controversy surrounding the taking of the knee gesture than the football of lack of it on display from a second string England including cut players - were rinsed away by Foden's hair-stylist and replaced by his beaming confidence.
Gareth Southgate eloquently expressed his belief in a letter to written to the nation that England's team members are role models representing the best of the country and as such must stand up for higher causes off the pitch as well as play to their ability on it and certainly young inspirational men like Marcus Rashford are carrying the belief that:
"It's their duty to continue to interact with the public on matters such as equality, inclusivity and racial injustice, while using the power of their voices to help put debates on the table, raise awareness and educate."
Rashford's maturity shines on and off the pitch - he recently Captained the team, scoring the winner from the penalty spot and spoke about the importance of the squad - game-changing impact substitutes from the bench that compliment the starting XI:
"Don't get me wrong, everybody wants to be in the first XI - but I think from my experience of being in tournaments you need a squad," he said.
"You have to have players capable of coming on at different moments and giving that extra spark. I think in our squad we have that all over the pitch, so to be honest it (starting against Croatia) is not at the front of my mind.
"We go there as a squad that's trying to win a tournament. Whether or not you're starting in the first XI you've still got a massive role to play if we want to win the tournament.
"You're being deluded if you expect 11 players to win seven games - and you're playing games in a short space of time. The squad's going have to be utilised and to be honest I'm excited and looking forward to it."
While Tyrone Mings has stressed the importance of being 'streetwise' and employing 'The Dark Arts' especially defensively, one of Southgate's England's strongholds, its in attack England need to step up the to plate and shine in all their collective glory and Foden looks eager to lead the way and grab the tournament by the scruff of its neck - attacking to win as he does at Man City exemplified by his performance, assist and goal at Anfield in January that swung the balance of power in English football back from Liverpool to the blue side of Manchester and almost delivered The Champions League - with Aston Villa's effervescent playmaker Jack Grealish also injecting the vital creativity and flair in the final third that England lacked against Belgium and Croatia in 2018.
In Harry Kane, England have one of world football's best striker's and crucially, one hungry to win the trophies so far denied him in his career, a desire for success and silverware that have seen him express his desire to leave Spurs this summer for pastures new after plundering 33 goals in 49 games for Tottenham including 23 in The Premier League and 8 in Europe and he'll be determined to keep up his excellent England scoring record after his six in Russia that won him The Golden Boot.

England's secret weapon may not even be a player but coach Graeme Jones, the only member of the English entourage to have won a full World Cup medal at Russia 2018 - a bronze from helping guide Belgium to 3rd place at as no. 2 to Roberto Martinez, whose Red Devils side beat England twice, whom Southgate has known for a long time and offered him the assistant manager's job for the England Under 21s which Jones turned down but jumped at the chance with the seniors.
England have the players, the fresh tournament experience from Russia 2018 including critically the burying of the penalty shoot-out hoodoo against Columbia, home advantage for up to five of the seven games needed to win it, a level playing field finally ensured via VAR , the 'Gateshead Guardiola' in Graeme Jones, and a level-headed manager whose refusal to get carried away like the rest of us is perhaps his biggest asset - as long as he lets The Three Lions truly Roar their loudest and attack.
England always expects but the class of 2020 have the right stuff necessary to deliver.
Prediction - England to Win the tournament.