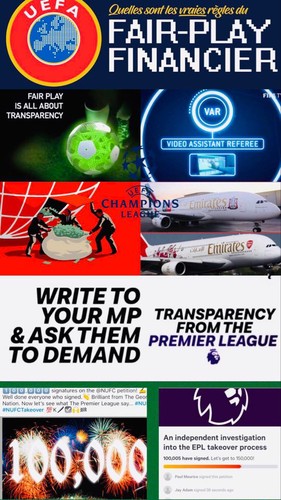 The notion that 'Football without fans is nothing' has been a recurring theme of football since Covid19 shut down the season before its restart in Germany and elsewhere yet, truly, football without fairness is nothing.
As the 2019/20 season of 'the beautiful game' reaches its unusually late conclusion, the issue of whether it even deserves such a title is again in jeopardy after a series of on and off the field issues that brings the integrity of the sport into serious question.
A glance at the Champions League results over the weekend would suggest an easy win for Barcelona over Napoli 3-1 and Lyon deserving of a two-legged victory over Juventus.
On closer inspection of the key decisions in both games, a different picture emerges of a Juventus side robbed of victory with Lyon gifted the vital away goal in the tie due to surely the most dubious penalty in the competition this season:
Referee's mistakes are forgivable when you consider the high-octane velocity at which the game is played yet that is the reason why the Video Assistant Referee exists and has been brought into every major competition and he should have reversed the call.
Instead, despite Cristiano Ronaldo's best efforts including this wonder strike in the second half, one of the greatest players to ever play the game is robbed of the chance to win another Champions League trophy and football fans worldwide are denied the chance to appreciate his talents in the last eight of the competition:
Meanwhile Barcelona, for whom Lionel Messi scored that wonderful Peter Beardsley-esque goal above, enjoyed a series of VAR decisions in their favour from the allowing of their opening goal despite this clear push:
...to the incorrect award of this penalty when Messi sneaked up behind Napoli defender Kalidou Koulibaly - who was already swinging his leg to clear the ball up the pitch - placing himself in front of his kicking leg and claimed the foul and penalty.
In the interest of fairness, here is the goal Messi had disallowed for handball which was the correct decision:
yet Napoli suffered at the hands of two game-changing decisions and crashed out with both Italian clubs feeling rightfully aggrieved to go out the way they did.
Emirates-Sponsored Arsenal Win A Fourth Emirates-Sponsored FA Cup In Seven Years
Meanwhile, in England a week ago, Arsenal won another FA Cup Final this time against Chelsea with a display of controversial, if not plainly horrendous, refereeing not being lost on the global audience of millions watching around the world although for some very strange reasons, not all were given access to replays of key incidents like this:
For those that missed it, here is the softest red card of the 2019/20 football season:
The Gunners went 8 seasons from 2005 to 2013 without winning a single trophy yet have monopolised The FA Cup since the 2014 sponsorship of the competition with the same company Emirates whom their Emirates Stadium is named after. Coincidence?
No, its beyond a joke if you look at both the key decisions in their FA Cup games and games affecting their route to victory as well as the easiest of 'random' FA Cup draws.
Best League In The World Or Most Corrupt?
In The Premier League, the fixed outcomes seem just as bad with Manchester United benefitting from some horrendous officiating in the second half of the season as the refs & VAR seemed intent on securing the Old Trafford club a Champions League place.
I've written extensively on this subject previously. Read it by clicking here.
VARchester United has entered the football lexicon such is the clear favouritism and bias with Ole Gunnar SolskVAR set to replace FergieTime as the managerial moniker.
Biggest losers Sheffield United, whose march for European football in March looked a serious prospect, were seriously impeded in their game in hand versus Aston Villa which happened to be the first game of Project Restart when an inexplicable Hawkeye failure wasn't corrected by VAR as it should have been.
Lost momentum meant Sheffield United certainly didn't start Project Restart where they left off and they missed out on Europa League football never mind a dreamt of Champions League spot due to a series of VAR errors against them all year and Jose's Spurs can also feel hard done by with several VAR calls against them in the run-in.
Aston Villa were the chief beneficiaries of not just the Hawkeye decision but this wrongly-disallowed goal which would have given Crystal Palace a lead in their game and, although they were victims of a horrendous penalty call against VARchester United, they stayed up at the expense of Bournemouth, who were relegated by one point.
Hopefully next season when FIFA directives take precedence over the Premier League's own unique interpretation of certain rules comes into play, we might see more fair play.
Toon Saudi Takeover - To BeIN or Not To BeIN?
Last but certainly not least, my own club Newcastle United are at the centre of a potential corruption storm at the moment after the long-anticipated Saudi Arabia-backed takeover of the club was withdrawn after an interminable 17-week wait for a decision from Richard Masters, the Premier League's Chief Executive who was responsible for overseeing The Owner and Director's Test process that normally takes three to four weeks.
Its a burning issue that has United Newcastle as one from owner Mike Ashley, who is desperate to sell the club to make up for financial losses caused by Covid19, to all of the normally disparate fan groups who have worked in furious unison in the last seven days to get 100,000 signatures on a petition asking for UK Prime Minster Boris Johnson's support for an 'Independent Investigation Into The Premier League process.
Happily for Geordies everywhere who reached the 100,000 target on Saturday night, the PM answered the call saying:
"I appreciate that many Newcastle fans were hoping this takeover bid would go ahead and can understand their sense of disappointment," he said.
"I have seen the recent email sent to Newcastle fans from the Independent Football Ombudsman and agree with their conclusion that the Premier League should make a statement on this case. I am pleased that the Ombudsman has committed to advising the Premier League to provide a statement.
"There must be clarity on why there was a significant delay in a decision being made, and on the reasons why the consortium decided to withdraw their bid."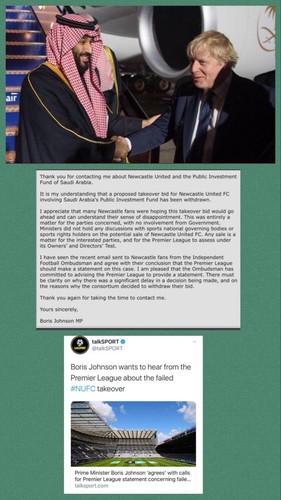 As well as the 50,000 Geordies who have constantly backed the club with thousands of pounds season in, season out for the hope of better days to come which greater investment in the Saudi money would bring, the PIF-backed deal also promised significant investment in Newcastle upon-Tyne as a city and is potentially transformative to the region's economy in the wake of the impact of Brexit and Covid19 after it emerged the Reuben brothers had invested in the fans-led FoodBank:
Exactly why the Premier League refused to make a decision to approve or reject the takeover despite 17 weeks of deliberation has raised all kinds of speculation after the entire saga was played out against a backdrop of allegations about television piracy and human rights as Newcastle United became a political football in a geo-political war involving Saudi Arabia, Qatar, BeIn Sports & Barclays Bank.
Most worrying from a football perspective was the allegation that Liverpool & Spurs led a cartel of clubs from the top flight who persuaded the Premier League to reject the deal for several cited reasons but clearly because the clubs and their representatives and high-profile fans in both media politics didn't want a wealth fund as limitless as the Saudi Public Investment Fund making Newcastle a competitive challenger as they were in the 1990s and 00s when title challenges and Champions League football were the order of the day.
Football is about passion and glory no matter what the money men may tell you and there is no fair game or sport at all without open-ended opportunity and a truly meritocratic system at all levels rewarding excellent play built on a level playing field on and off the pitch. Without a fair sporting chance in all football competitions with real, not steered outcomes no matter which team prospers and absolute integrity of refereeing decisions, football is a mere sham like the wrestling and not worth watching.
Football without fairness is nothing and football without fans is also nothing but it is not Corona Virus that will keep football fans away but constantly being taken for fools.