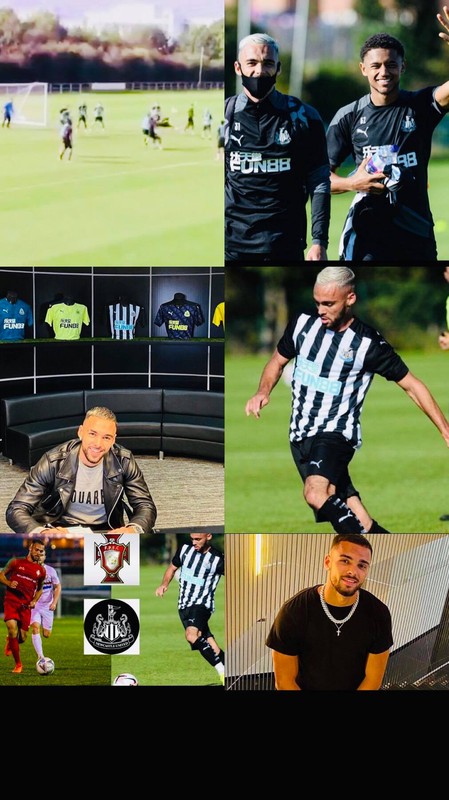 Newcastle United today signed French attacker Florent Indalecio for the Under 23 squad following a trial on the recommendation of pal Allan Saint-Maximin.
Indalecio had been playing at Fraser Park in the Australian fifth tier after being released by St Etienne having proved a disruptive influence which he readily admits now but is now a Premier League Two player following a twist of Covid-19 related Fate and following his experience outside the football bubble in the real world, has a renewed determination to make it in the professional game and realize his potential.
Fellow Frenchman & Fraser Park captain Alexis Wenzel said of his former teammate:

"A lot of people say 'I played at this level' and when you see them play, they're not good enough..But with almost his first touch of the ball, everyone could tell Indalecio had something special... you could see his quality, straight away. He just needed the time to get back into the groove of things. I honestly thought in the second half of the season, he'd be scoring at least a goal a game for us as a 10. He was that good...
When you look at him [play], it's just so easy. The way he takes the ball, when he passes, when he crosses - it just looks so easy. All the squad liked him because he gave everything on the pitch. He was so motivated. He wasn't playing for fun."
Clearly along with that history of bad behaviou comes a real attacking edge and he quickly wowed teammates and staff at The Benton Training Ground with this overhead kick goal that was filmed and put on Instagram by the watching Allan Saint-Maximin:
Like last week's signing Rodrigo Vilca, he will begin life at Newcastle with Chris Hogg's Under 23 squad playing in Premier League Two yet, like the Peruvian, has been told if he impresses and adapts to English football quickly, he will get a chance to break into the first-team squad and live the Santiago Munez dream of obscurity to the big-time at St. James' Park:
In the modern mega-money age when Newcastle are not able to financially compete at the very top of the game for transfer fees for finished article players like they were in the heyday of The Entertainers under Kevin Keegan bankrolled by Sir John Hall before the likes of Roman Abramovich and Sheik Mansour changed the financial landscape, a reliance on finding and polishing diamonds in the rough is one way to bridge the gap.
And Steve Bruce is a Head Coach with the experience of doing just that, plucking Harry Maguire and Andy Robertson from the relative obscurity of then League One side Sheffield United and Dundee United on the advice of his trusted scout and legendary figure in the game Stan Ternent and ex-Magpie Charles N'Zogbia vouches for his former boss' coaching ability:
Of course the hard yards still lie ahead of Indalecio but a massive club like Newcastle taking a chance on your football ability means you've got it and in a city where miracles still take place - as evidenced by Newcastle raising £21000 last week for the NUFC Fans' FoodBank as a Charity Not PPV protest took off in spectacular fashion and made it onto American TV with other clubs fans now following suit - anything is possible:
Indalecio had this message for all of his new fans via Instagram:
𝙄 𝙖𝙢 𝙚𝙭𝙩𝙧𝙚𝙢𝙚𝙡𝙮 𝙚𝙭𝙘𝙞𝙩𝙚𝙙 𝙖𝙣𝙙 𝙜𝙧𝙖𝙩𝙚𝙛𝙪𝙡 𝙩𝙤 𝙖𝙣𝙣𝙤𝙪𝙣𝙘𝙚 𝙩𝙝𝙖𝙩 𝙄 𝙝𝙖𝙫𝙚 𝙨𝙞𝙜𝙣𝙚𝙙 𝙢𝙮 𝙁𝙞𝙧𝙨𝙩 𝙋𝙧𝙤𝙛𝙚𝙨𝙨𝙞𝙤𝙣𝙖𝙡 𝘾𝙤𝙣𝙩𝙧𝙖𝙘𝙩 𝙬𝙞𝙩𝙝 @nufc .
𝙄 𝙬𝙖𝙣𝙩 𝙩𝙤 𝙏𝙝𝙖𝙣𝙠 𝙂𝙤𝙙, 𝙢𝙮 𝙁𝙖𝙢𝙞𝙡𝙮 𝙖𝙣𝙙 𝙁𝙧𝙞𝙚𝙣𝙙𝙨 𝙛𝙤𝙧 𝙜𝙪𝙞𝙙𝙞𝙣𝙜 𝙢𝙚 𝙩𝙝𝙧𝙤𝙪𝙜𝙝 𝙩𝙝𝙞𝙨 𝙡𝙤𝙣𝙜 𝙪𝙣𝙪𝙨𝙪𝙖𝙡 𝙟𝙤𝙪𝙧𝙣𝙚𝙮 𝙖𝙨 𝙬𝙚𝙡𝙡 𝙖𝙨 𝙩𝙝𝙞𝙨 𝙖𝙢𝙖𝙯𝙞𝙣𝙜 𝙘𝙡𝙪𝙗 𝙛𝙤𝙧 𝙜𝙞𝙫𝙞𝙣𝙜 𝙢𝙚 𝙩𝙝𝙚 𝙤𝙥𝙥𝙤𝙧𝙩𝙪𝙣𝙞𝙩𝙮 𝙩𝙤 𝙖𝙘𝙝𝙞𝙚𝙫𝙚 𝙢𝙮 𝙙𝙧𝙚𝙖𝙢.
𝙄 𝙬𝙞𝙡𝙡 𝙙𝙚𝙙𝙞𝙘𝙖𝙩𝙚 𝙢𝙮 𝙖𝙡𝙡 𝙩𝙤 𝙖𝙘𝙝𝙞𝙚𝙫𝙚 𝙨𝙪𝙘𝙘𝙚𝙨𝙨 𝙬𝙞𝙩𝙝 𝙩𝙝𝙞𝙨 𝙘𝙡𝙪𝙗.
𝘾𝙖𝙣'𝙩 𝙬𝙖𝙞𝙩 𝙩𝙤 𝙜𝙚𝙩 𝙩𝙤 𝙬𝙤𝙧𝙠, 𝙩𝙝𝙚 𝙗𝙚𝙨𝙩 𝙞𝙨 𝙮𝙚𝙩 𝙩𝙤 𝙘𝙤𝙢𝙚 .
Don't Stop Believin'...