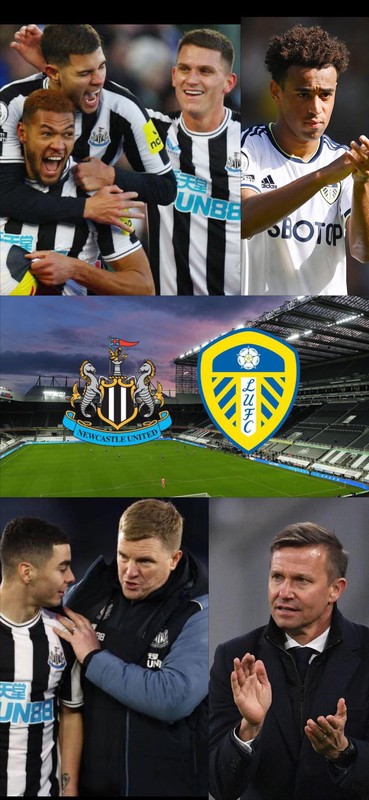 Newcastle United are THE in-form team in The Premier League and are absolutely flying in third place after demolishing Leicester City 3-0 inside half an hour last Saturday on the club's return to top flight action following The World Cup Winter Break:
It was Newcastle's sixth straight Premier League win & eighth victory in nine top flight games and the Magpies were briefly second in the table for the first time since 2003 until Man City won last night away to Leeds but the signs are looking very good that Eddie Howe's men are the real deal:
What the challenge now is to keep that form going and maintain the momentum in the final game of 2022 and into 2023 where the club have a title clash away to Arsenal, a League Cup Quarter-Final at Leicester and an FA Cup Third Round tie at Sheff Wed before two Premier League games at home to Fulham & away to Crystal Palace.
In contrast to the high-flying Magpies, Leeds are 15th in The Premier League table with 15 points from 15 games having won just four times this season but one of those was their only away victory at Anfield when they beat Liverpool 2-1 so Newcastle can't take anything for granted or any team lightly:
Although Newcastle's home form in 2022 and the return of 'Fortress St James' is so impressive so it's a very difficult task for American manager Jessie Marsch's men, who have had just 64 hours to prepare for the game after their 3-1 loss against Man City at Elland Road that kickstarted their Premier League campaign after the World Cup:
Despite the score, Leeds looked very competitive until Man City's opener and set up the game with a tight defensive plan that may be replicated at Newcastle and Marsch spoke of the need to keep that "disciplined" match plan at St James' Park:
Eddie Howe began his post-match press conference paying tribute to the legendary Pele, who passed away aged 82 on Thursday night, and is believed by many to have been the greatest player to ever play the game having won 3 World Cups with Brazil:
On the Newcastle front, Howe revealed that no. 9 striker Callum Wilson has "improved" and will be in the squad for the Leeds game although Chris Wood is likely to start:
Newcastle have the momentum and confidence to record a seventh straight win and collect another three points on the club's quest for Champions League football or even the Premier League title that Eddie Howe won't say Newcastle can't win....
Prediction - Newcastle 3 Leeds 1
Potential Line Ups: