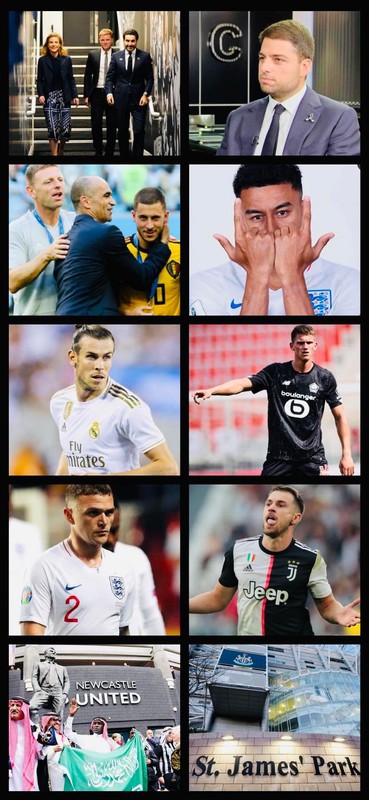 Newcastle United are the new richest club in the football world having been taken over by a consortium backed by the Saudi Arabian Public Invesment Fund in October and can approach the January transfer window in a different vein to any of the previous 14 years under former owner Mike Ashley with mega bucks to potentially spend on new players to keep the club in the division under the guidance of new Head Coach Eddie Howe.
Newcastle have come into money as the rest of the football world is experiencing a post-Covid-19 financial depression so now is the absolute opportune time to test the resolve of clubs all over the world by bidding for their saleable soccer assets:
A detailed Twitter thread by business of football expert blogger Swiss Ramble outlined how The Magpies are not just now rich but in a great spending position vis a vis Financial Fair Play due to the careful money management of Mike Ashley, who actually had the club turning a healthy profit allowing instant big spending sprees:
Although the new owners have stressed the need for a slow and steady approach & Eddie Howe is believed to favour evolution rather than revolution and growing a squad, Newcastle must spend enough to absolutely ensure they stay in The Premier League and eschew any ludicrous notion that it will in anyway be in the club's interest so get relegated and regroup in The Championship as Martin Samuel warned midweek that it would be a totally wasted year or more & delay Newcastle competing at the top.
As it stands after the weekend's games when Newcastle lost 4-0 to Leicester after an utterly disgraceful penalty decision, Newcastle must be under no illusions of the task ahead with Liverpool, Manchesters City and United up next followed by a trip to Everton and former manager Rafa Benitez's men before the January window opens as they are up against a corrupt Premier League system that is desperate to see the club relegated:
A daunting run-in to the season featuring Liverpool, Man City and Arsenal in the final four matches means Newcastle need to buy as early as possible in January and bed players in to harvest the points needed for Premier League so players with experience in the division must be a priority in order to keep Newcastle up and kick on next season.
As well as survive this season, Newcastle need to plant a marker that shows the ambition of the club going forward in order to attract the bigger names in the game so signing a Galactico like Man City did with Robinho when taken over by Abu Dhabi can have lasting value how the club is viewed & how they've arrived in the big time.
So along with names that would still be a step up to a Newcastle squad in urgent need of refreshing after two windows with only Joe Willock arriving, signing some fantasy footballers that will whet the appetite of football fans around the world will restore Newcastle's global appeal plus England internationals with crucial Premier League experience & some of the hottest young prospects in European & world football.
Up against the entire football world who would love to see Newcastle relegated, Newcastle need to strengthen the team all over the pitch from at least one top class centre back & full-back, quality in wide and central attacking positions, central midfielders and the goal-scorers needed to fire us to safety. These will do for starters:
Sven Botman - Lille - £40M - Centre Back
Transfer expert Fabrizio Romano has confirmed genuine Geordie interest in one of the hottest defensive prospects in the game - 21 year-old Dutch centre back Sven Botman, who is on the brink of making becoming a full Netherlands international. At 6ft 4in, the stopper has the physique to make the transition to The Premier League as well as the pace, reading of the game and a defender's instinct to defend first and foremost.
The list of clubs who weren't brave enough to make a move for Virgil Van Dyk is legendary and Newcastle should take a chance on the new great Dutch defender.
Gareth Bale - Striker - Real Madrid - £10M
Newcastle United desperately need goals and a new talisman to give the new era backed by The Saudi Consortium true lift off and real chance of survival in January and there's few better to inject both hope and goals than Wales Captain Gareth Bale.
Currently surplus to requirements on the bench at The Bernabeu and Real desperate for money with debts approaching a billion euros with a new stadium, Bale was an inspired signing for former club Tottenham Hotspur last January scoring 11 goals in 20 games & had some of the best goal-contribution stats in the Premier League including assists: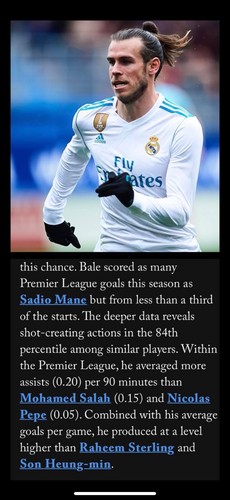 Real Madrid want him off their wage-bill and the four-times Champions League winner needs a club to get match-fit for the Wales World Cup Play Offs in March so it could be mutual match-made in heaven. A genuinely top class player, give him whatever he wants to let him become a Welsh hero at St James' Park like the late, great Gary Speed.
Eden Hazard - Playmaking Attacker - Real Madrid - £40M
West Ham United's 'derisory' bid of £20M bid for the former Chelsea man was rejected out of hand by Real Madrid, who paid £89M for the Belgian wizard at the peak of his Premier League-winning powers in the summer of 2019, but if Newcastle double that fee along with a £10M sweetener for Bale and two Galacticos could be leading the Newcastle line next year which would instantly transform the club's prospects.
For different reasons, Hazard hasn't hit it off with Real or La Liga scoring only 5 goals in 55 games as he has battled with injury but a return to the Premier League where he has shone in the past might be the new start he needs to reignite his club career in 2022 to ready himself for The World Cup with Belgium in Qatar. A reunion with Graeme Jones whom he knows from international duty and who has likened him to world-class matchwinner Lionel Messi in the past -
"If you look at the FA Cup Final between Chelsea and Manchester United, Eden won the trophy on his own for Chelsea that day," he said in June 2018.
"They won 1-0, Eden won the penalty and then scored it.
"He is at that stage in his career where he has become a match-winner. There aren't many in international football. Messi is also one of them."
could provided a much-needed spark for both his own career and The Magpies.
Jesse Lingard - Forward - Manchester United - Loan or £25M
The 28 year-old England international who helped fire The Three Lions into the Semi-Finals in Russia has became a bit-part player lost in Man Utd's galaxy of stars despite excelling on a loan spell at West Ham in which he scored 9 Premier League goals in 16 games for The Hammers including a penalty at St James' Park against Newcastle.
Scoring 40 goals in a club career spanning 200+ games and a further 6 for his country shows he has a great eye for goal and his spell at West Ham indicated a desire to prove himself though after being overlooked by both Ole Gunnar Solksjaer & new manager Ralf Rangnick, its time to seek pastures new - in fact, pastures Newcastle, where The Magpies will be building one of the most formidable squads in world football.
Aaron Ramsey - Central Midfielder - Juventus - Free Transfer, £40M in Wages
Newcastle could acquire Wales international midfielder Aaron Ramsey on a free in January if they match the £200,000 per week Juventus contract he has until 2025
The experienced 30-year-old dynamic all-round midfielder is a cut above Newcastle's midfielders so if he swapped the black & white stripes of The Old Lady for the New Newcastle, he'd add quality and goals to The Magpies survival battle and beyond.
Kieran Trippier - Full Back Left/Right - Athletico Madrid - £30M
The 31 year-old England international full back who can play both sides and takes an excellent free-kick as he demonstrated for The Three Lions in The Semi-Final of The World Cup against Croatia is as keen on a move back to England as Eddie Howe is keen on him, having signed him for Burnley as The Clarets boss back in 2011 and would add instant, versatile quality to the Newcastle back-line in January.