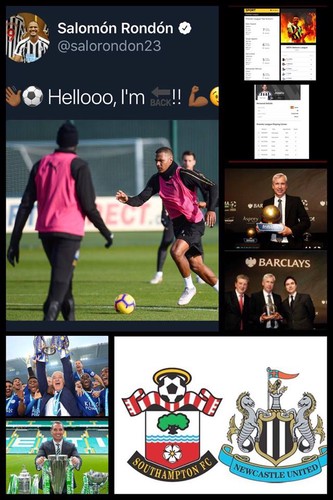 While its been argued in some quarters among Newcastle fans, pundits and journalists about who could do a better job than Rafa Benitez this season for Newcastle - in truth it would be difficult on current results to find a manager who could do a worse one and the club would be foolish not to have a Plan B to replace Rafa Benitez - who at the moment, doesn't even appear to have a Plan A on the pitch - unless there is a dramatic turnaround.
Its accepted football wisdom that a manager should not be judged until ten games into a new football season and Rafa Benitez leads his Newcastle side into their 10th game of the 2018/9 campaign anchored to the bottom of the table with just two points after the club's worst start to a season since 1898.

Mark Hughes' Southampton side are just four points ahead with six points in 16th place and its not too early to be talking about six-pointers and must-win matches in an increasingly tight and competitive English top flight.
Rafa Benitez and Newcastle must start winning matches or the club will get relegated and the next three fixtures after the trip to St. Mary's - Watford and Bournemouth at home then Burnley away - are all games the Magpies contrived to lose last season and dull, defensive football will not be tolerated for long if it isn't producing results.
Former Newcastle player John Barnes has stressed the need to forget talk about the future, takeovers and a possible change of manager and concentrate on the next game:

"It is too early to start panicking but they will realise they are going to have to start turning it around sooner rather than later,"


"It's OK talking about it possibly being Rafa's last year and talking about links with Brendan Rodgers but next year doesn't matter.

"They need to survive in the Premier League this season. So rather than thinking about either Mike Ashley not being there, Brendan Rodgers coming and Rafa going, they need to concentrate on the next few months. They need to pick up some points."
Yet it is surely dangerous for Newcastle to have a manager like Rafa Benitez is, so inoculated from any job pressure or questioning of his decisions and tactics as his future career or reputation doesn't depend on what he does with Newcastle this season and the general sloppiness and lack or urgency that has characterised the season reflects this.
Failure to score a single goal or gain a single point nevermind register a single win against newly-promoted Cardiff City, Crystal Palace, Leicester City and Brighton should have alarm bells ringing around St. James' Park especially as the striker Benitez forced out of St. James' Park, Aleksandar Mitrovic, is sitting near the top of The Premier League scoring charts with 5 goals in 9 games while Newcastle as a club have only mustered six.

Continuing to play former Stoke reserve Joselu up front despite the striker not having started a game Newcastle have won in 2018 is especially galling to fans of former favorite Mitrovic, who notched at The World Cup prior to his sale and has since fired himself to the top of the striking charts of both The Premier League with Fulham and on the international stage in the UEFA Nations League with Serbia.
Finally realising the futlity of playing a former Stoke reserve up front, Benitez changed it in game eight and, lo and behold, his replacement Japan international Yoshinori Muto scored within 10 minutes of his full debut at Old Trafford as well as Kenedy yet, uncharacteristically, Benitez could not get his defence to shut up shop and grind out any sort of result.
A lack of goals has resulted from Benitez's attempts to replace Mitrovic with first Joselu then Islam Slimani and now Salomon Rondon, whose only goal so far in Newcastle colours was a late strike in The Carabao Cup at Notts Forest yet the loan man has barely been fit this season and is touch and go for a return for Saturday's match.
Newcastle are due a change of luck from both injuries - losing Florian Lejeune to another serious injury was a major blow - as well as referees - the following denied penalty shout at Old Trafford would have made it 3-0 Newcastle and was a pivotal decision.

And Newcastle were given a hellish start to the Premier League season playing Spurs on the opening day then Chelsea, both Manchesters and Arsenal in the first eight games.
Yet the abject manner of the majority of the performances against five of last season's top six teams didn't bode well especially at St. James' Park with a starting eleven against Spurs on the opening day not featuring any of the club's seven new summer signings until Salomon Rondon came on as sub to the loudest cheer of the day:
Putting ten men behind the ball against Maurizio's Sarri's Chelsea in just his third Premier League game instead of going for it against a new manager inexperienced in England in front of 52,000 screaming Geordies at St. James' Park was another missed opportunity.

That was what Alan Pardew did when beating Rafa Benitez's Chelsea 3-2 in 2013, ignoring any perceived wisdom that the more expensively-assembled Blues could not be beaten by Newcast's more modest signings ( a trick he followed up in 2013 beating Jose Mourinho's unbeaten Chelsea side in November as a heroic NUFC XI ran out 2-1 winners)
While Mike Ashley is not going to win Owner of the Year anytime soon, one of his former Magpies managers Alan Pardew won Premier League Manager of the Year and the League Manager's Association award in 2011/2 in his second season after promotion - the same stage Benitez is at now - after fashioning an exciting, attacking, goalscoring and most importantly, game-winning black and white side on a limited budget who finished fifth narrowly missing out on a highly-coveted Champions League space.
So it is possible to make a success of the Newcastle job under the Mike Ashley regime and Pardew followed that up with a Europa League Quarter-Final placing losing to Benfica, who ironically lost in the competition's final to a Chelsea-led Benitez, perhaps clearly more suited to enjoying a massive financial advantage and better players.
The Newcastle job has proven a poisoned chalice since Bob Moncur lifted The Fairs Cup in 1969 and its no secret that the modern Newcastle United job is an extremely hard one and especially so under Ashley's book-balancing regime yet even Kevin Keegan and Sir Bobby Robson under Sir John Hall and Freddie Shephard's ownership with bucketloads of cash for transfers ultimately failed to pull the St. James' Park sword from the stone.
Starting Saturday, Benitez must start earning his £6M per year salary and remind people why he is a current Premier League manager not just one with a world-class reputation.