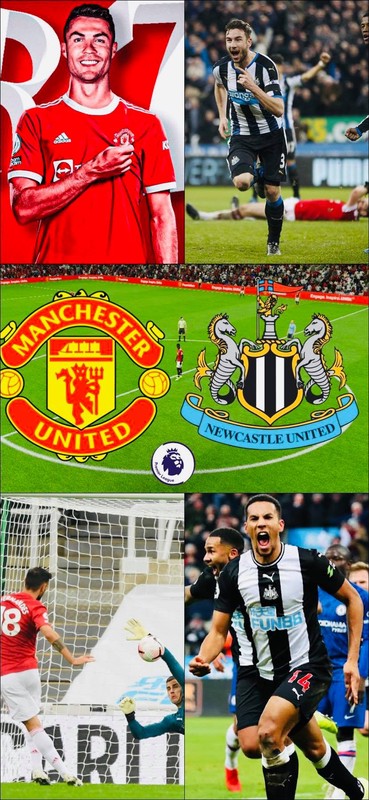 "Frank Abagnale Sr.:
You know why the Yankees always win, Frank?
Frank Abagnale, Jr.:
'Cause they have Mickey Mantle?
Frank Abagnale Sr.:
No, it's 'cause the other teams can't stop staring at those damn pinstripes."
'Catch Me If You Can' (2002)
Newcastle United must play the game not the occasion at 3pm at Old Trafford on Saturday in order to get a result against Ole Solskjaer's Red Devils, who are bolstered by the return of one of the greatest players to ever play football, Cristiano Ronaldo.
To think of playing against a Man United who spent in excess of £100M on Jadon Sancho and Raphael Varane from Borussia Dortmund and Real Madrid in the transfer window this summer before re-signing a player many consider THE GOAT in world football at the Theatre of Dreams in front of a 75,000 capacity crowd seems a daunting prospect for a winless Newcastle side currently down on their luck.
Yet its 11 men against 11 men - give or take the fact that the referee Anthony Taylor also hails from Wythenshawe, Manchester approximately 6 miles from Old Trafford and has shown Red Devils bias in the recent past in games against Newcastle:
- and both Newcastle and Man United have played Southampton already this season and both drew with The Saints so if Newcastle can retain a sense of perspective and do their jobs without being swept away with the occasion of the start of Ronaldo's attempt to replicate Michael Jordan's Last Dance at the Chicago Bulls, points may be accrued.
After a impressive 5-1 win vs Leeds on the season's opening day, Solskjaer's side drew 1-1 away to Southampton at St. Mary's before unconvincingly stuttering to a 1-0 win against Wolves & the goal that won the game should have been disallowed for a foul in the build-up by Paul Pogba which had Graeme Souness apoplectic saying its "more than worrying, its alarming" that senior referee Mike Dean doesn't see it as a foul:
"It's a foul, Paul Pogba doesn't make any contact with the ball whatsoever and he makes contact with the shin and shin-guard of Neves and he doesn't make any contact with the ball so how isn't it a foul? Watch how high Paul Pogba's foot is here. Look at the referee's position, I just don't see how he doesn't see it...We shouldn't even be discussing it..it's a clear and major error by the referee...That is a leg-breaker and look how close the referee is..That referee has deemed that a foul , that is impossible for anyone who know anything about football to say that's not a foul, he's 2 yards away."
It's exactly the kind of refereeing favouritism that Man United have enjoyed since the Premier League's inception in the 1992-3 season, a rebirth of English football as a super league top flight that is the subject of new documentary series, 'Fever Pitch' on the BBC, which showed how two Steve Bruce headers against Sheffield Wednesday clinched the Red Devils' first top flight title in 26 years. What it didn't show was that the crucial winning goal arrived deep in injury time minutes that should not have existed:
"Having equalised in the 85th minute from Irwin's corner, he (Bruce) headed the winner in what was generally agreed to be the 96th or 97th minute."
according to Paul Campbell's article on "FergieTime" which he defined as-
"that special allowance when (Man) United are behind."
Steve Bruce, of course, is now Newcastle United's manager 37 years later and has been on the receiving end of some very bad decisions already this season with a crucial non-penalty against West Ham going against his side and The Magpies' Callum Wilson not receiving the attacker's advantage meant to be given by linesman this season to stop goals or in the case against Aston Villa, a penalty, being disallowed by toenails etc as enjoyed by Man United against Leeds United and Man City against Norwich City: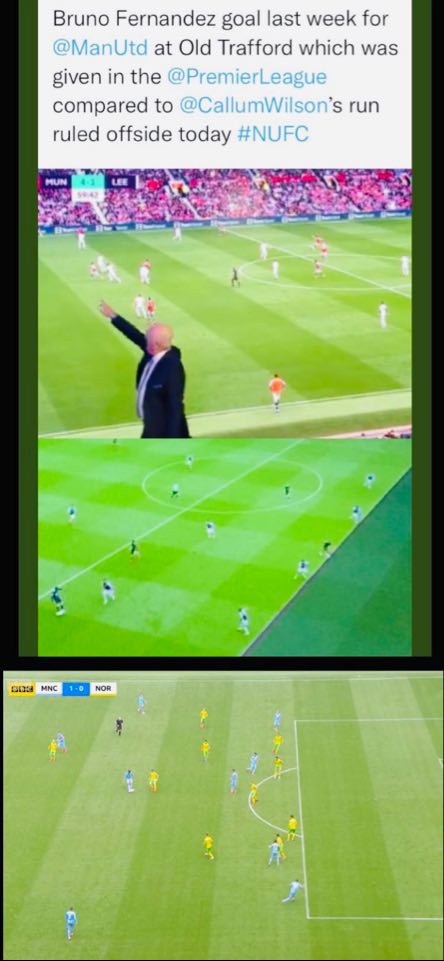 On a level playing field, Newcastle have the quality and character to beat any side on their day having enjoyed wins against Chelsea 1-0, Man City 2-1, Leicester 4-2 and Man United 1-0 in the last few seasons and many of them under Bruce including that 1-0 away win at Spurs, Newcastle's only away win at a Top 6 club since promotion in 2016:
As ever, Newcastle are overdue a positive result at Old Trafford, the last win coming in 2013 when Yohan Cabaye scored this winner against David Moyes' Red Devils:
In his presser, Steve Bruce confirmed fears top scorer Callum Wilson will miss the trip to Old Trafford but Miguel Almiron can play after a unique club vs country battle affecting a host of Premier League players due to the need to quarantine due to Covid-19 and that Karl Darlow has put himself into contention for the game after recovering from the virus.

Stats web-site WhoScored.com had some positivity for Newcastle in the wake of news no. 9 Wilson will miss the trip and in Newcastle's good end to last season he completely missed the draw against Spurs, wins against Sheff Utd and Fulham & spirited 3-4 loss vs Man City while was only a sub in the draw at Liverpool & win at home vs West Ham.
Its likely Joelinton, who had one of his best games at Old Trafford last season and who was instrumental in that excellent end to 2020/21, will take his place in the starting line-up and pick up where he left off last match helping set-up Allan Saint-Maximin's goal against Southampton last match with a deft skill that made Soccer AM's showboat reel:
Overall, Bruce was relishing the occasion of playing at the ground he made his name at:
"Its something that we're all in it for - these are the big stages, the big atmosphere, the big carnival which it will be tomorrow - Have we got a pair of..?...no I shouldn't say that... to go and really compete and make it as difficult an afternoon as we can and relish it really. It's what we play for, its what we're in it for, to take on the biggest and the best & that's what we're up against this weekend."
Prediction - Newcastle 4 Man United 3
Potential Line-Ups: