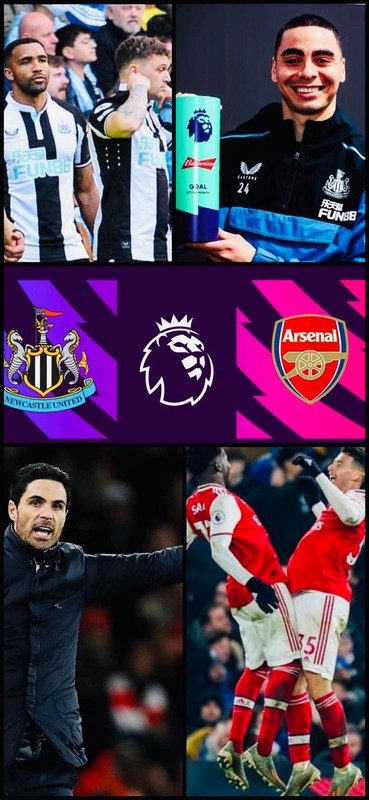 Newcastle United play Arsenal at St James' Park on Monday night football in their last game at St James' Park of the season mathemetically safe from relegation after becoming the first club to beat the drop having not won any of their opening 14 games for which Eddie Howe has been nominated for Premier League Manager of the Season:
It was a nomination that came hot on the heels of Paraguay star Miguel Almiron winning the April Premier League Goal of the Month award for his winner against Crystal Palace:
Adding some personal silverware to his mantlepiece would be the icing on the cake for Howe, who masterminded Newcastle's surge up the table with that nine-game unbeaten run from February plus six straight Premier League victories at St James' Park for the first time since Sir Bobby Robson, a restoration of "stability" at the famous Geordie club that hasn't escaped the notice of one of Sir Bobby's managerial proteges, The Special One Jose Mourinho:
Currently 14th place in the table on 43 points with two games to go - at home to Arsenal and away to Burnley - Howe's side could still theoretically finish 9th with two wins yet Brighton, Leicester, Crystal Palace, Aston Villa and Brentford are all vying for a Top 10 finish and most have games in hand on The Magpies so although its not an impossible mission, beating last year's points total of 45 points is a more realistic target.
Opponent's Arsenal are still battling for the final Champions League spot in a fight for fourth place with North London rivals Spurs, whom they thrashed 3-0 by at The Tottenham Hotspur Stadium last night in front of Spurs fans in the new arena for a local derby for the first time after Rob Holding received an early red card for persistently fouling Son:
Arsenal are still in pole position for the lucrative last Champions League spot that would put them into Europe's premier club competition next season and £100M in TV, prize and sponsorship money, which would be reduced to £30M and the hassle of playing Thursday night football if they were to finish 5th and qualify for The Europa League.
UEFA announced this week a reorganisation of The Champions League from the 2023/34 season onwards meaning five Premier League teams could regularly play in the competition from the 2024/25 season based on performance coefficients of English clubs in Europe from the previous season so if Man City, Liverpool & Chelsea continue to excel in the competition, the race for Top 4 effecitvely becomes a race for the Top 5:
That is an enticing carrot for upwardly-mobile clubs like Newcastle, who since the Saudi Arabian takeover are looking to rub shoulders with the upper echelons of Europe's elite and a fifth-placed finish season like Alan Pardew enjoyed in 2011/2 at the St James' Park helm would see The Magpies back where they belong with the creme de la creme:
Arsenal last played in The Champions League in the 2016/17 after enjoying 19 straight seasons in the competition under Arsene Wenger's guidance yet have failed to qualify for it since and even the French Professor failed in his last two seasons to finish Top 4.
After a bad start to the 2021/22 campaign with three consecutive defeats against Brentford, Chelsea and Man City, Mikel Arteta's side roared back into form to put notable doubtors like Piers Morgan back in their box yet very recent struggles & the goalscoring form of Pierre-Emerick Aubameyang at Barcelona has reignited grumblings.
Only Champions League qualification will keep Arteta's most vicious critics at bay and The Gunners will need two victories against Newcastle and relegation-threatened Everton to accomplish that or Antonio Conte's Spurs, who are a point behind Arsenal and play Burnley and Norwich in their final games, will pounce and finish fourth.
Arteta's post-match interview after the Spurs game when he refused to answer questions 'truthfully' in case he was "banned for six months" spoke volumes about his unhappiness with some of the refereeing decisions in the North London derby but for once, the Arsenal Manager didn't have much of a case to suggest refereeing bias.
When asked if the Spurs loss and the manner of it would affect the Newcastle game, a still spiky Arteta said Arsenal will be "fine" insisting he'd already lifted his players:
"I have already done," he told the BBC. "This game is history and now it's Newcastle and we're all focused. It's Newcastle, Newcastle, Newcastle.
"I said I'm so proud of them and if we do what we did in the first half-hour here, we will be fine against Newcastle."
Manager of the Year nominee Eddie Howe, meanwhile, has no pressure on himself from Newcastle fans delighted to have secured safety and a likely mid-table finish but spoke of his desire to end the season well and "be professional to the end" after defeats against "world-class teams" Liverpool and Manchester City in the previous two games.
Howe was quick to praise his opposite number Mikel Arteta, who he said has done exceptionally well to "gain consistent results" during a "big transition of players" and with one of the youngest squads in The Premier League.
After confirming that midfielders JonJo Shelvey and Joe Willock will miss the final two games, Howe welcomed Scotland winger Ryan Fraser back to training this week who could feature on Monday night as well as Kieran Tripper and Callum Wilson, who both came on as substitutes against Man City in difficult circumstances.
And the Newcastle manager was looking forward to the final two games of the campaign and a chance to leave Magpies supporters on a high looking forward to an exciting new season next year:
Prediction - Newcastle 2 Arsenal 1
Potential Line-Ups: