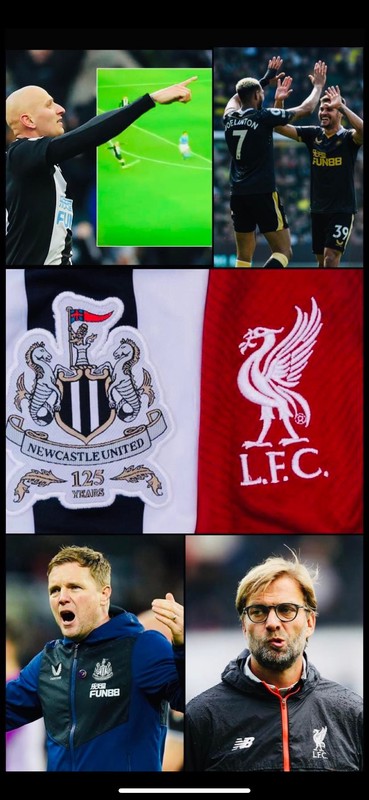 Newcastle United are on a four-game winning streak after beating Norwich 3-0, The Magpies' first away victory in The Premier League by a margin of three goals since Eddie Howe's own Bournemouth were on the receiving end of a 4-1 Toon tonking in lockdown in July 2020 and now NUFC manager, Howe took the shackles off his disciplined team and gave them a licence to attack that paid off and how.
Two goals from Newcastle's Player of the 2021/22 Season shoe-in Joelinton playing once again in a more forward role starting as a no. 9 central striker before ending up on the left side of attack and another goal from fellow Brazilian Bruno Guimaraes put paid to The Canaries, who are now facing certain relegation to The Championship.
Next up at St James' Park, it is Quadruple-chasing Liverpool, who are competing for the Premier League title, the Champions League and FA Cup having already banked The League Cup beating Chelsea at Wembley on penalties but if anything seems possible at Anfield, there's renewed optimism at a revitalised and confident Newcastle United.
Indeed, Howe's Magpies were very unlucky not to get a result at Liverpool back in December after Jonjo Shelvey scored to give Newcastle an 8th minute lead:
Against a Liverpool side without defensive talisman Virgil Van Dyk, Newcastle had a real chance of a much-needed three points before some typically dodgy refereeing from Merseyside man in the middle Mike Dean, who ignored a head injury to Isaac Hayden, who had gone down in the box following a corner clearly holding his head allowing Liverpool to equalise with an opponent stricken:

It was a decision or lack of the right one that was widely condemned for the total lack of concern for a head injury especially in the modern game and current climate

and one that had Eddie Howe scratching his head when interviewed after the game, a "key moment" that the game "hinged on":

Newcastle are facing a double officiating whammy of Andrew Marriner as referee, another official who has previous against Newcastle in games involving Liverpool including in Rafa Benitez's final home game as United manager in May, 2019 which was decided by a header from a free-kick that resulted from a clear dive:
Thankfully, Mike Dean is retiring at the end of this season and, surprisingly, not joining the PGMOL's VAR team as it was widely believed he would and hopefully the stain of the extremely dodgy preponderance of officials from Liverpool and Manchester claiming to support the minor clubs like Tranmere and Altrincham while being allowed to officiate and manipulate games in Premier League clubs local to them will start to be wiped from Premier League football. Australia's Jarred Gillett is the only non-English official not on this map of where the referees of The Premier League hail from: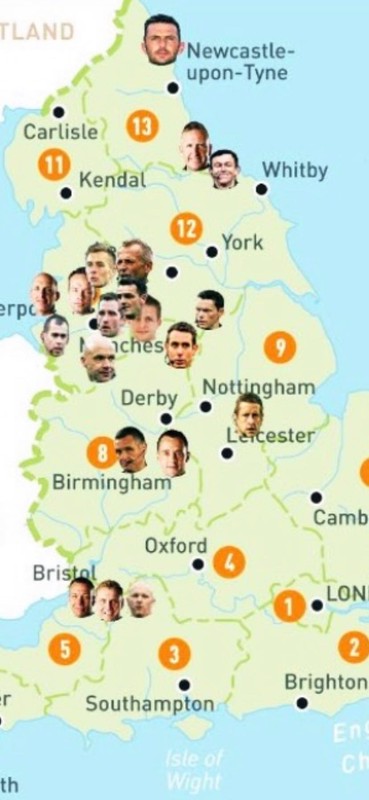 Liverpool One of World's Most Dangerous Sides
Liverpool have been boosted if they needed one with news that Manager Jurgen Klopp has signed a two-year extension to his Liverpool contract which now runs to 2026:
Liverpool play their 34th game of the Premier League season against Newcastle which saw manager Jurgen Klopp complaining about the 12.30pm kick off in in a failed attempt to have the match rearranged for later in the day - sandwiched as it is between two Champions League Semi-Finals against Villareal, the first of which they won 2-0 last night - with The Reds desperate to win and go two points ahead of Man City, who play Leeds United in the 17.30pm Saturday evening kick off.
Klopp mentioned it again in his post-Villareal presser saying ""Now we play in a few hours against Newcastle." although Virgil Van Dyk smirked about the matter when questioned about it suggesting he has confidence in Liverpool's fitness levels.

Looked at positively from a Reds point of view, its a chance for Liverpool to exact some pressure on Man City for the title by winning all three points before their rivals play five hours later before the scenario's reverse when Man City play their game in hand against Wolves a week prior to Liverpool's rearranged game with Southampton in May.
Newcastle's next two games, however, are against Liverpool and Man City so Eddie Howe's Magpies could have a significant bearing on the title race as well as having a real chance to see how far they have developed as a team since being beaten 3-1 by Liverpool and 4-0 by Man City in December albeit with the usual choice refereeing, the kind that scuppered a deserved win away at Chelsea prematurely ending Newcastle's unbeaten run that threatened to storm the club into a genuine race for Europe.
Liverpool have been the no. 1 form team in 2022 having splashed out £37.5M for Colombian international Luis Diaz from Porto and the incisive winger-forward has already scored 3 Premier League goals in just 9 games for Klopp's men to continue the red hot form he was in for Porto and he has been been hailed by Jamie Carragher viewing him as pivotal in The Reds' potential quadruple charge:
He's certainly injected new momentum into Liverpool as well as goals and assists aplenty and at times is a joy to watch producing moments of skill and magic and has refreshed the Reds' forward line and given Klopp renewed attacking options in the same vein as Diego Jota did when he signed for £45M in September 2020. Both have excelled.
In fact, the only January Premier League signing who has outshone Diaz is Newcastle's Brazilian international Bruno Guimaraes whose career on Tyneside began as a slow burner as Howe eased him in with substitute appearances before flaring into life with a volleyed back-heel first goal for The Magpies and three more since including a brilliant brace against Leicester to seal all three points:
Newcastle are second only to Liverpool themselves in the Premier League form table of 2022 with the impact of the biggest January spend in Europe really being felt:
so Howe and The Magpies will approach the game with confidence. In his pre-match presser the Newcastle manager paid tribute to Switzerland international defender Fabian Schar, who has signed a 2 year deal with the club:
Howe is fully aware of the danger Liverpool pose and said Newcastle have to be 'perfect' defensively if they are to get anything out of the game:

The Magpies boss might be tempted to go with five at the back after the 5-goal defensive disaster class at Tottenham and the alarming ease with which Norwich opened up Newcastle's back four only to spur good chances to take the lead which Liverpool will almost certainly not miss and he reiterated last week's clarion call to his players that standards will be maintained until the end of the season:
Prediction - Newcastle United 2 Liverpool 1
Potential Line-Ups: