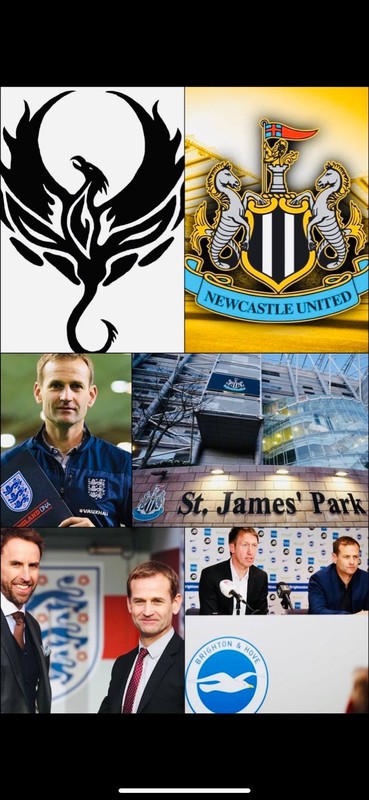 Newcastle United are on the brink of appointing Dan Ashworth as the club's new Director of Football, a man widely regarded as the mastermind of the England National teams' renaissance in recent years leading to tournament success at various youth level and The Three Lions' first team's World Cup Semi-Final in Russia in 2018:
Ashworth left his position as Technical Director at Brighton today to spearhead The Magpies' project to dominate club football backed by Saudi Arabia's Public Investment Fund, a role he will take up in due course after a period of "gardening leave".
The 50 year-old is very highly regarded in the football world and was linked with the role of Technical Director at Manchester United in 2018 before he joined Brighton from his position as Director of Elite Development at The Football Association and after four years at The Amex Stadium, is ready to take on the job at Newcastle that will be able to fulfill all of his trophy-winning and club-building ambitions at St James' Park.
Newcastle today officially unveiled new Brazil international signing Bruno Guimaraes, who spoke of his and Newcastle's ambitions to play in and win The Champions League:
Ashworth's appointment is being spoken about as a "statement signing off the pitch"

which is testimony to how highly regarded he is in the football world with many onlookers expected a transformative summer of transfers directed by him.
Yet its his work in so many different departments of a football club that singles Ashworth out as he is on record as saying his the role of Director of Football or its closely-related cousins of similar titles is a multi-faceted one:

There's a great deal of confusion about what the role is, partly because of all the different titles. Seventeen of the 20 Premier League clubs have this sort of position and they're called Technical Director, Sporting Director, Director of Operations, Director of Football, so there's lots of different versions and with that come different job descriptions.
and at Brighton, he described himself as being the "spoke" of a wheel around which the rest of the club revolved and he knitted together the various people and departments:
"I sit in the middle of a wheel and my job is to bring together seven departments, connecting those spokes. And when one of those head of departments leaves, you keep the wheel spinning and find a replacement.

The seven department heads are: Graham Potter, the first-team men's Head Coach; Hope Powell, who runs our senior women's team in the WSL; Paul Winstanley, Head of Recruitment; John Morling, Head of Academy; Adam Brett, Head of Medical Services; David Weir, who is in charge of our loans programme' and James Bell, who is in charge of our psychology and mental wellbeing."
Brighton boss Graham Potter expressed his disappointment at Ashworth's departure, the second Dan after defender Dan Burn to swap the South Coast club for Newcastle and the Saudi-backed revolution but testimony in part to Ashworth's influence, says the Seagulls will carry on as "a really well run club":

Newcastle's own director's model will be unique to the St James' Park club and the extent of the project of transforming a football club which has battled relegation in the last five seasons since promotion back to the top flight in 2017 into genuine contenders in the upper echelons of not just English but European football as well is a huge task and one which 1990s Entertainers legend Robert Lee says will take several key appointments in the vein of Ashworth to achieve:

"It has been in decline for so long and I think the owners have realised they have to get it right on the pitch first, but behind the scenes there are quite a few appointments that they need to make."
Ashworth's experience at England will be crucial as he joined The FA in 2012 when The Three Lions was in the doldrums amidst recurring questions of a national football identity or rather the lack of one but a root-and-branch review and revitalisation by Ashworth at all levels of the national side from grassroots to boys and the first team centre at the National Football Centre at St George's Park has worked miracles.
Overhauling the scouting network and deepening the pool of talent for selection, Ashworth's innovation laid the foundations for success at the U17 World Cup in 2018:
after winning the U19 European Championship a year earlier in 2017:
plus the World Cup Semi-Final placing for Three Lions First Team in Russia in 2018 and despite Ashworth leaving the FA in 2018, can take some credit for the 2021 Euro Final.
Naturally, a close working relationship with Newcastle's Head Coach Eddie Howe will be all-important in the rise and rebirth of The Magpies as a global soccer power and, interestingly, Howe's name was on a short-list of candidates to succeed Gareth Southgate as England Manager when he left England for Brighton in 2018 along with Sean Dyche, Frank Lampard, Steven Gerrard, Phil Neville and Aidy Bothroyd, a list that will now doubt be updated to include the former Brighton manager Graham Potter.

Newcastle fans can look forward to a thorough, all-encompassing rebuild of their club at levels as Ashworth masterminds the Geordie phoenix rising from the flames.

More to follow on this developing story of another exciting St James' Park signing as it happens...