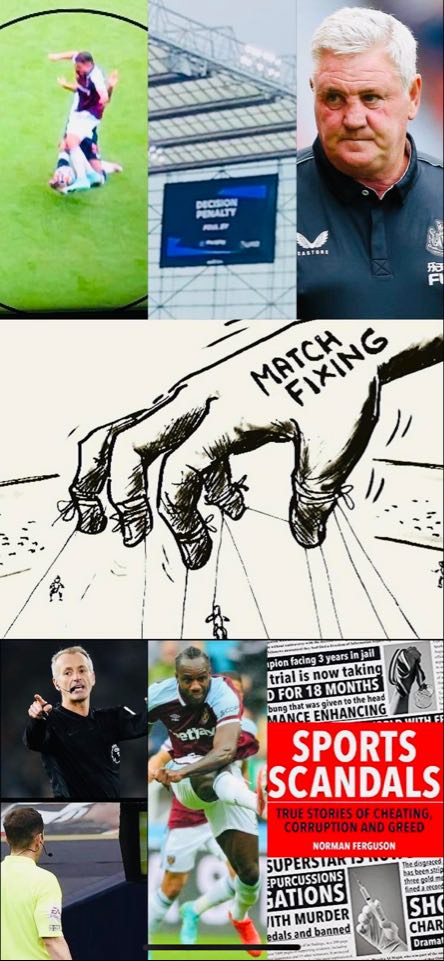 Newcastle United were the victims of a robbery in broad daylight yesterday at St. James' Park with 50,000 witnesses as Video Assistant Referee Peter Bankes failed to overturn the erroneous decision by referee Martin Atkinson - an official who is gaining a reputation for presiding over Hammers victories - to award West Ham a penalty for Jacob Murphy's ball-winning tackle on Pablo Fornals.
It was a game-changing wrong decision at 2-2 that meant Newcastle, who had taken the lead twice to go 1-0 up and 2-1 up, fell behind for the first time in the match switching the momentum and points to West Ham, a team Steve Bruce's Magpies had enjoyed three wins and a draw against in their previous four encounters against and was a huge wrong call the Newcastle manager believed was the "big turning point" of the match.
"In the Premier League, it's fine margins. Once we went chasing the game we made it very difficult for ourselves.
"Why didn't the referee have a look at the monitor rather than someone else 300 miles away? If he'd have done that after looking at what I've seen four or five times he might have turned round and said 'that's a bit harsh'."
Watching pundits from Alan Shearer to Micah Richards & Graeme Souness unanimously agreed with him that it was definitely not a penalty with Sky Sports' Michael Dawson going further and describing the decision to give the spot-kick as "criminal". With the amount of money involved in football now, these are decisions that have to be right and the video replay technology is on hand supposedly to ensure they are.
Its by no means the first time Newcastle fans have witnessed horrendous refereeing decisions at St. James' Park - notable absurdities included the disallowed penalty against Burton when Keith Stroud forgot the rules in 2017 & Cheick Tiote's thunderbolt against Man City wrongly ruled out in 2014, the list is endless - yet it is the first truly inexplicable call going against Newcastle since VAR was introduced in 2019/20.
Generally over the Premier League opening weekend, Premier League officials have been praised & rightly for employing the new 'light touch' approach letting games flow & the result was a goal-laden weekend of exciting action across the top flight yet this was a call the officials got so dreadfully wrong it is highly suspicious with one Newcastle fan pointing out its the club suing the Premier League who are hard done by and neutral supporters lamenting the fact that the non-penalty "tipped" the game to West Ham.
In many ways it was a return to the dark days before VAR was introduced when The Magpies were clearly screwed over regularly by Premier League officials, going a ludicrous 155 top flight games between 2014 and 2019 without seeing an opponent sent off until Huddersfield's Tommy Smith and playing over a full calendar year between December, 2014 and January 2016 without being awarded a penalty kick.
Steve Bruce was right to question why VAR Peter Bankes didn't just ask referee Martin Atkinson to check the pitch-side monitor and review his decision himself and it will be interesting to see what Dermot Gallagher's verdict on SKY's RefWatch today will be.
After 18 months without full crowds at football matches during the Covid-19 pandemic and a brilliant first half with goals and excitement at St. James' Park in front of 50,000 people, all-too familiar failings by the officials leave a bad taste in the mouth for Geordie fans who have been ripped off too many times before by the men in the middle.
Hopefully Joe Willock's return - the player who scored a last minute winner against The Hammers in April who was unveiled to a great reception by Newcastle fans before yesterday's match - can inject some inspiration & goals starting Saturday at Aston Villa.