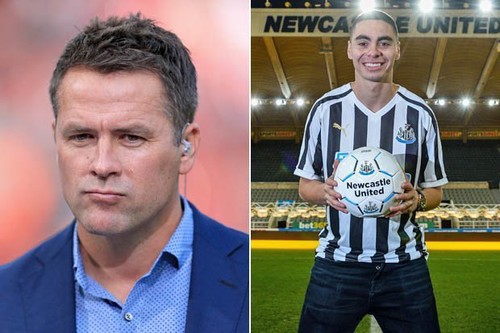 Newcastle United finally broke their 14-year-old transfer record on transfer deadline day signing attacking hot-shot Miguel Almiron from Atlanta United in the MLS for £20M all told with add ons and future payments.
The 25 year-old Paraguayan international is a playmaker whose dribbling, creativity, flair and goal-scoring from the no. 10 position can transform The Magpies' attack.
How and when the fee eclipses the £16M Newcastle paid Real Madrid for Michael Owen in 2005 is a matter of some conjecture yet the fact that Almiron represents the breath of fresh attacking air that Newcastle – who have failed to score in 10 of their 25 Premier League games so far in the 2018/9 season – desperately need is not up for debate.
Manager Rafa Benitez indicated the twin deadline day signings of Almiron and Italian Under 21 international left wing-back Antonio Barreca will enhance Newcastle's ability to attack teams, an approach that has been sorely lacking from Newcastle this season.
"These players, Barreca and Almiron, both are offensive players, they're fine on the ball, they go forward, they have some pace, and they bring us something that we needed. So, hopefully, they can help the team in attack."
Almiron's pace and forward-thinking play could unlock Newcastle as an attacking force and get the best out of no. 9 striker Salomon Rondon, who has too often cut an isolated figure up front this season without proper service scoring just 6 times in 18 games.
After a barren start to the season in 2018 especially at St. James' Park, Newcastle have enjoyed more attacking success in 2019 scoring four goals away to Blackburn in The FA Cup before three at home to Cardiff and two in a fantastic win against Man City.
Despite a narrow 0-1 loss at Wembley to Spurs last Saturday, Newcastle should be in confident mood heading to Molineux for Monday Night Football against Wolves especially with Almiron travelling with the squad.
Whether the Paraguayan forward will start the match or be an impact substitute for his Magpies debut remains to be seen but Geordie fans should get their first glimpse of their club's new record signing either way before the team jet off to Spain for a winter training camp before key home games against Huddersfield and Burnley when they return.
Newcastle may be looking for some revenge at Wolves after the two sides' meeting at St. James' Park earlier in the season was marred by Mike Dean's choice refereeing, sending off home defender DeAndre Yedlin for what looked only a cautionable offence at worst before failing to send off Wolves' defender Willy Boly for an elbow on Ayoze Perez.
Nurising a bloody nose after the game, the Spanish forward said:
"I've been a couple of years here and, always, sooner or later, these kind of strange things keep happening...We just can't wait for next season...VAR...everything is going to be improved and hopefully The Beautiful Game gets better as this League needs it."
"We need VAR right now" were Benitez's strong words in an impassioned speech after the game amid strong calls for Video Assisted Replays from the Newcastle manager and his aggrieved players, who looked set for at least a point if not all 3 before Dean intervened:
'When you care and are fighting to do the best for your team, you cannot believe this type of situation can happen in the Premier League.
'(Jota) was in the corner of the box, with the ball two or three metres away, he was pulling DeAndre and DeAndre was pulling him, and Lascelles was close enough. I cannot believe that every time he would put the ball in top corner and it's a clear chance to score, I cannot believe that.
'Then, it was an elbow in the face (of Perez), he was bleeding. It was so obvious. I have seen the replay, you can see the face of the player (Boly) and after what happened, which is a penalty and a red card. You can see the two incidents in the video - it was unbelievable.
'But I'm wasting my time when you try to explain things (to the fourth official) in a polite way, it seems it's not working. Everything you've done in terms of hard work with the players and managing the game against a good team, now it means nothing. We need VAR, right now.'
Those decisions are the tip of the iceberg in terms of Newcastle getting a raw deal from Premier League officials and its an astonishing 154 top flight games since Newcastle have had an opponent sent off. Only unfashionable Wimbledon in the 1990s have had a longer run of Premier League matches without enjoying a man advantage adding to the growing belief on Tyneside that NUFC are persona non grata in The Premier League.
Whether this is because NUFC owner Mike Ashley blew the whistle on The Football Association's involvement along with JJB, Umbro, Manchester United et. al. in a football strip price-fixing scam before he bought Newcastle is yet to be confirmed yet the days when The Magpies played on a level playing-field are long gone. If you can fix a price...

Benitez himself is no stranger to refereeing controversy and clashing with officials as evidenced by his infamous 'Facts' rant in 2009 when he was Liverpool manager competing for the Premier League title with Sir Alex Ferguson's Manchester United:
This season, Newcastle United faced a very tough, momentum-sapping start to The Premier League season facing Spurs, Chelsea, Man City, Arsenal and Man United in their first 8 games, the second time in 3 years they've had the hardest start to the FIXture list.
Newcastle have also played 14 consecutive Monday night games away from St. James' Park despite the upheaval to Geordie fans but ended their 10-game Monday Night Football losing streak in late November with an impressive 2-1 victory away to Burnley. A similar performance and result at Wolves, who have already been beaten at Molineux by Huddersfield, Crystal Palace and Watford this season, and fans will be glad to travel.
If you can beat Man City - who trounced Chelsea 6-0 at The Etihad yesterday - you can beat anyone and Newcastle should have no fear heading into the Wolves' den especially with a new firecracker in their pocket ready to explode on The Premier League scene.