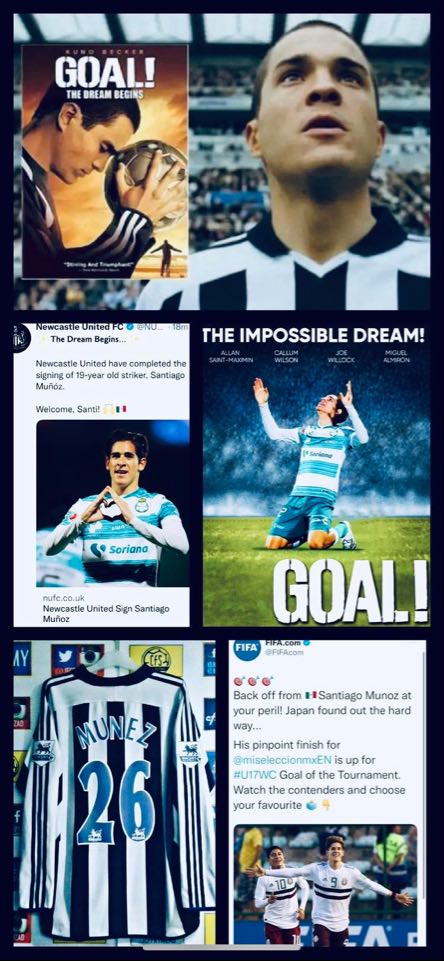 ""I was immediately drawn to the film because it's a football movie and because of the (character's) name," he said. "I've seen it so many times since I was a kid. It's a top movie."
Santiago Munoz (via The Athletic)
In a move in which reality followed Hollywood, Newcastle United today clinched the signing of Mexican/American striker Santiago Munoz, the almost namesake of the fictional Mexican footballer Santiago Munez who signs for Newcastle in the film Goal! to grab their fare share of the social media headlines on 2021/22 transfer deadline day.
The real-life Santiago Munoz, an U23 Mexican international who is still eligible for Mexico & The USA's national teams as an uncapped dual nationality citizen who turned 19 on the 14th of August (sharing a birthday with Newcastle's record buy Joelinton), arrives from Santos Laguna on an 18-month loan deal in order to make his dream in football's big time a reality like the fictional Munez, who thrives at St. James' Park.
Munoz plays down comparisons between his real life career and the movie, saying:
"It's a dream that I've had since I was little. Just like one of my dreams was to come to Santos and debut in the first division. But (going to Europe) is also a dream that I've had since I was kid, a dream that I want to fulfil.
"I've known about the links to the movie, but that's something that's peripheral to what I want to accomplish. It'll be another source of motivation though."
He is a promising, young forward with an eye for goal - he scored 8 goals in 16 games for Mexico U17 including five in the 2019 CONCACAF U-17 Championship victory including FIFA's Goal of the Tournament in the Final against Japan & notched three goals in 19 games for Santos Laguna in Mexico's Primera Division last year.

Munoz may yet choose to play for The Stars and Stripes and his Head Coach at Santos Guillermo Almada has no doubt a player who models his game on Robert Lewandowski is heading for the very upper echelons of the beautiful game:
"He has the ability to become one of most important strikers in the world. I have no doubt about that. Unquestionably, we're witnessing a player who will be a major contributor for Mexico's U-23s and with the senior national team in the future, or with the United States, depending on his decision. "
He will join NUFCs's U23 set up under new manager Gary Caldwell to establish himself at Newcastle, as one of their other promising stars, Peruvian Rodrigo Vilca, heads to Doncaster Rovers on loan for some crucial English football league experience:
Newcastle were linked heavily with Hamza Choudhury on transfer deadline day and briefly with Bournemouth's David Brooks but there were no new arrivals for the first team in the transfer window except last year's loan star Joe Willock, whom the club bought for their second highest ever transfer fee of £25M from Arsenal.
Newcastle's next match is away to Manchester United in The Premier League on Saturday September 11th and it will be Cristiano Ronaldo's first game since his high-profile return from Juventus after leaving Old Trafford for Real Madrid in 2009.
In 'Goal 2 - Living The Dream', the movie sequel, Santiago Munez took a similar path from The Premier League to Real Madrid from Newcastle United swapping St. James' Park for the Santiago Bernabeu and when told about this, the real life Santiago Munoz simply laughed and said:
"Well, then that's what will happen."
Dreams come true & maybe Life really can be stranger than fiction. Maktub, Santiago.