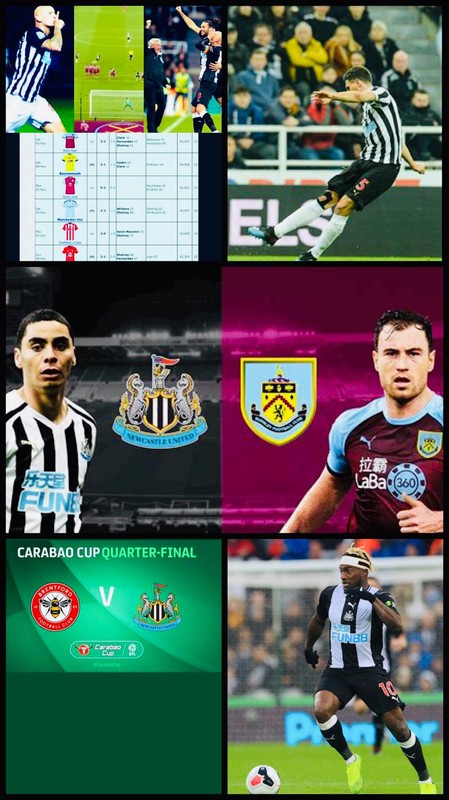 A JonJo Shelvey special against a stubborn Newport County side who had taken a fortunate lead early in the game was the equalizer that meant The Magpies weren't the latest team to succumb to the Welsh Giant-Killers after Leicester, Leeds and Watford, as they went through on penalties to set up a Carabao Cup Quarter-Final tie with Brentford in December.
Shelvey said after the game:
"I just got the ball off (Joey) and just chopped the fella. Then I chopped him again, brought it back on to my right, I saw that end of the goal and tried whipping it to the far post. It's gone in."
The second half introduction of Joelinton and Callum Wilson saw Newcastle seize control of the match and it was the Brazilian who fed Shelvey, who seemed to just decide that he was going to score and did so with superb skills to outfox the defender before curling it into the stanchion.
Undoubtedly Newcastle will face a sterner test in The Premier League on Saturday night against Burnley, whom The Magpies entertain in the 8pm kick off and Head Coach Steve Bruce was cautiously optimistic when asked whether a win and seven points out of the opening 12 would make it a good start to the season:
"If we can do it...
"I am never one for excuses and it's been difficult.
"It's been difficult in terms of matches played, that was our sixth in 30 days.
Newcastle's defence has been hit by injuries to Jamaal Lascelles & Emil Krafth yet returning is Fabian Schar, who played 30 minutes against Newport & rolled in a classy penalty in the shoot-out to remind people of his quality. It was former Swiss banker Schar who scored a wonder strike of his own versus Burnley two seasons ago as Newcastle won 2-0 & his goal won the Premier League Goal of the Month award and Newcastle's Goal of the Season:
His defensive mettle is likely to be tested tomorrow night against Chris Wood as Burnley go in search of their first Premier League win of the season after a difficult summer in the transfer market and start to the season and Bruce will be hoping Burnley give more away then Sean Dyche gave away in his pre-match conference:
In a thinly-veiled dig at the Burnley board he is at loggerheads with, Dyche said the summer loss of Jeff Hendrick to Newcastle 'could have been avoided' but was very complimentary about the Republic of Ireland international midfielder:
Hendrick, who scored the winner for Burnley against Newcastle three years ago, said it would be a "very good start" to the season if Newcastle could make it seven points out of 12 in the Premier League plus that League Cup Quarter-Final:
It's probably not destined to be a classic when Newcastle meet Burnley tomorrow night with both sides more renowned for their defences rather than attacks lately - not helped by the fact that out of all the clubs in all 35 European leagues, only Burnley (every 2,363 minutes) get penalties less often than Newcastle United (every 1,890 minutes).
Yet Steve Bruce, whose side broke Newcastle's All-Time Away Win Record vs Morecambe recently, hopes to welcome back Allan Saint-Maximin to his attack and came out all guns blazing in his pre-match conference to defend himself:

"What do you not understand? (in response to endless Qs about style and tactics)
We were stylish against Morecambe (7-0) and West Ham (2-0). We had 27 attempts against Newport (won on penalties). That's what we're trying to achieve. I think that would be pretty obvious if you were balanced about it...
'If we win against Burnley (on Saturday) we might go into the top six, and it's now because I'm lucky, I'm lucky! Wow!' he said.
'So I've been lucky for 20 years, have I? I look at the clubs I've managed and they were in a far healthier state than they are now - Sunderland, Hull, Birmingham.
'To say now that I'm lucky, I just find that a little insulting. But I'll keep trying to improve us and make us play better. That will take a bit of time unfortunately."
If Newcastle win & go into the international break with 7 points from 12 in The Premier League as well as that League Cup Quarter Final, it will have been an excellent start to the season, the best in top flight & a Cup since Alan Pardew in 2011/2.