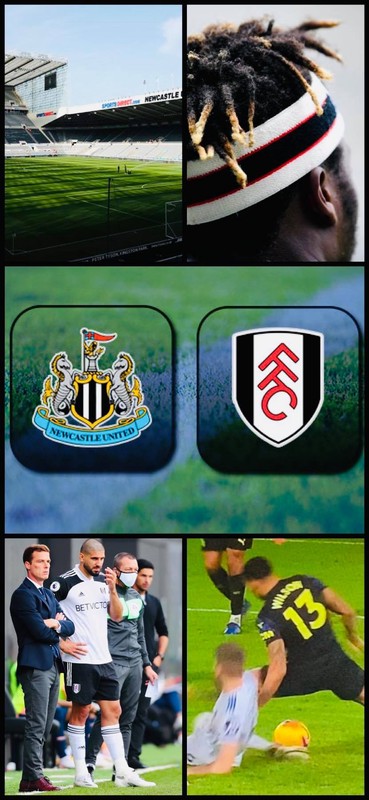 Newcastle have a chance to instantly bounce back from defeat at Leeds when former NUFC midfielder Scott Parker brings his newly-promoted Fulham side to St. James' Park on Saturday night for the Premier League's 8pm kick off at his former stamping ground.
After heroically returning from a serious bout of Covid-19 that infected half of the squad to beat West Bromwich Albion on Saturday, Newcastle's beleaguered players definitely showed signed of exhaustion and interrupted training caused by the Corona virus as they succumbed 5-2 to Leeds with three goals conceded in the last 12 minutes.
Newcastle didn't use it as an official excuse post-match but will have to monitor the physical after effects of Covid-19 to players who have had it, with Paul Pogba of Man United revealing his fitness problems due to the bout of the virus which affects the respiratory system suffered in the summer, and rest & rotate players accordingly:
After taking an early lead through Jeff Hendrick that was equalized by Patrick Bamford, Newcastle were denied a certain penalty in referee expert Mark Clattenburg's opinion when Callum Wilson was fouled from behind by Liam Cooper which Steve Bruce bemoaned as a game-changing moment that would have restored Newcastle's lead:
"I honestly was all for VAR when they brought it in to make sure the clear and obvious mistakes that the referee misses, that's what the VAR is there for.
"If anybody looks at the challenge you understand that it's a clear penalty. We might not have gone on to win the match but certainly when you take the lead in the Premier League then the outcome could be very, very different."
Its at least the second time VAR has not done its job against The Magpies since Mike Ashley's legal action against The Premier League was confirmed publicly after failing to rule out Chilwell's goal against Chelsea after an infringement against Fede Fernandez and Newcastle fans will be hoping its not VAR for the course from now on.
Yesterday's announcement that The Premier League have signed an extended TV deal with BEIN Sports added further to the intrigue surrounding the collapsed takeover.
Newcastle were left focusing on the positives of defeat at Elland Road, the major one being the return of winger Ryan Fraser after a spell on the sidelines with injury who managed 75 minutes and made an instant impact crossing for partner in crime Callum Wilson whose header was slotted in neatly by Jeff Hendrick:
Centre-back Ciaran Clark, whose vital presence if often overlooked was very good bringing the ball out defence and playing into midfield and he grabbed a goal like fellow Republic of Ireland international Hendrick from a Magpies set-piece:
That was as good as it got for Newcastle on the night after succumbing to match fitness issue against the hard running of Leeds, the worst team they could have played in the circumstances of a second game in four days following Covid-19 but they'll be hoping to put it behind them and win against a somewhat resurgent Fulham side who drew with Liverpool last Sunday and Brighton midweek.
In his pre-Newcastle presser, The Cottagers manager Scott Parker said of Newcastle:
"They've picked up some good results this year with good personnel with Premier League experience and its always a tough game at St. James' Park and the challenges that brings...Steve Bruce has done a fantastic job..."
and he reflected on his own time as Captain of Newcastle United:
"It was a good experience, I went up there and enjoyed myself, played in a good team and played some good stuff but nothing but fond memories of the club & people."
The return of Newcastle fans favourite Alexander Mitrovic adds extra spice to the game although, surprisingly, the Serbian striker has had to accept mainly a bit-part role as a substitute so far this season but reveals he expects him to be ready when needed:
"He is in a good place and getting up to speed and no doubt that with a lot of games coming up he is going to be in and around it when called upon,"
Newcastle are eight points ahead of Fulham going into the game and Steve Bruce will be hoping his side get back to winning ways before that crucial Carabao Cup Quarter-Final against Brentford on Tuesday night to make it a black and white Christmas:

Bruce revealed Newcastle still have five players missing due to the Corona Virus outbreak and paid tribute to both Scott Parker and Alexander Mitrovic yet was upbeat about the fixture and told the media in his presser on Friday morning:
"I would've loved the opportunity to work with him. (Mitrovic) He was great up here & you can understand why he's a cult hero. He's different. Big, tough, strong, fiercely competitive, has a bit of an edge to him, a bit like the North East."
"The one thing you want after a defeat like we've had is to have two huge games coming up. What an opportunity to get 20 points by Christmas, which isn't the halfway stage this year, & to be in the semi-final of the cup. All to play for & let's hope so."
Prediction - Newcastle 3 Fulham 1