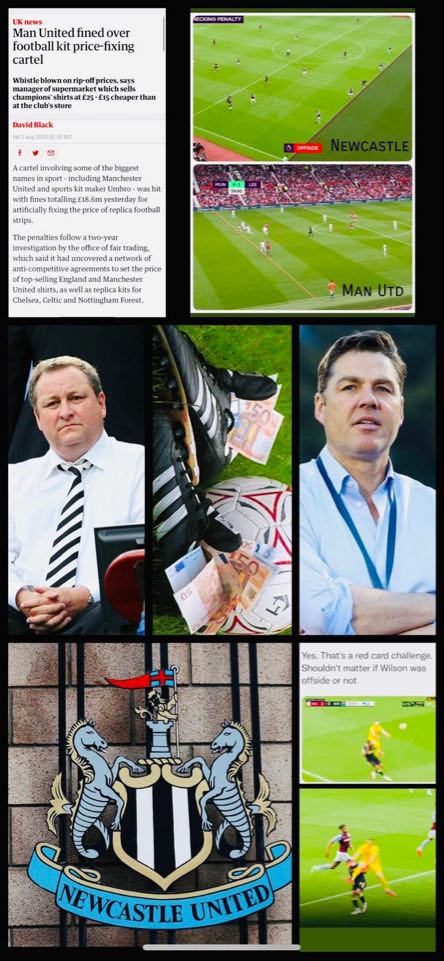 "Once is happenstance. Twice is coincidence. Three times is enemy action."


Ian Fleming
Newcastle United, a football club who are taking the very Premier League they play in to court, have already been the victim of three controversial VAR calls in just two matches played this season & have 0 points from a possible 6 & the Premier League has Newcastle fans right where it wants them - blaming Steve Bruce & Mike Ashley but conveniently not The Premier League who are denying the club a potential takeover.
Before he became Newcastle United owner, Mike Ashley was a successful businessman who blew the whistle on a football shirt price-fixing cartel involving Man United, The Football Association, Umbro and JJB then owned by Wigan owner Dave Whelan for which they were fined £1.6M, £158,000, £6.6M and £8.4M respectively - "the club in the North" had attempted to block Ashley's attempt to lower the prices of strips for fans.
If you can fix the price of a football strip, what can else can be fixed in football?
Newcastle supporters may have got a glimpse yesterday as the decision to rule striker Callum Wilson offside after he was through on goal before an "assault" in Richard Keys' words by Aston Villa keeper Emiliano Martinez for a certain penalty and definite red card (he actually received a yellow) was in direct contrast to Bruno Fernandes' identical incident for Man Utd against Leeds last week for which he as an attacker was given the benefit of the doubt and declared onside as per the new rules and guidelines.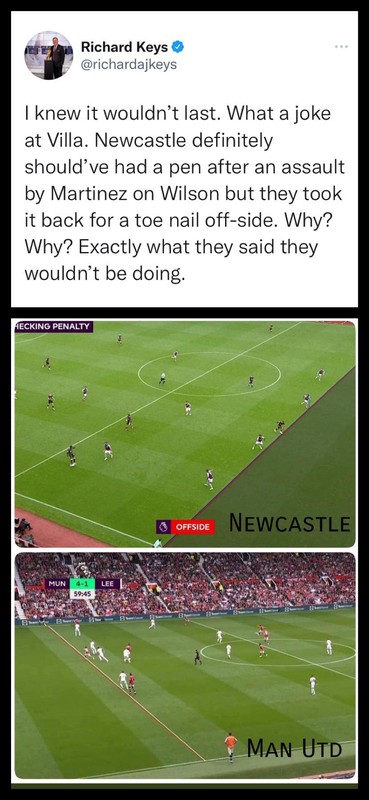 As The PGMOL - Professional Game Match Official Limited - Chief Mike Riley had said before the start of the season about the new thicker VAR rules and favouring attackers:
"Effectively what we have done is given back 20 goals to the game that were deemed offside last season by using quite forensic scrutiny.
"So it's the toenails, the noses of players that were offside - they won't be offside now."
Except they will be offside when its an attacking player from a club currently involved in legal action against The Premier League & not one of its cherished 'Big Six' clubs, who it should be remembered attempted to leave The PL to join a Super League months ago.
Last Sunday it was a dodgy penalty awarded to West Ham with the game poised at 2-2 with Newcastle taking the lead twice in a super first half with Steve Bruce looking good for a 4th win in five games against David Moyes' Hammers when the game was shunted in the Londoners favour with a penalty given that only the referee Martin Atkinson and VAR Peter Bankes believed was a spot-kick with every pundit & neutral fan disagreeing and even the player allegedly fouled Pablo Fornals playing on as if he hadn't been.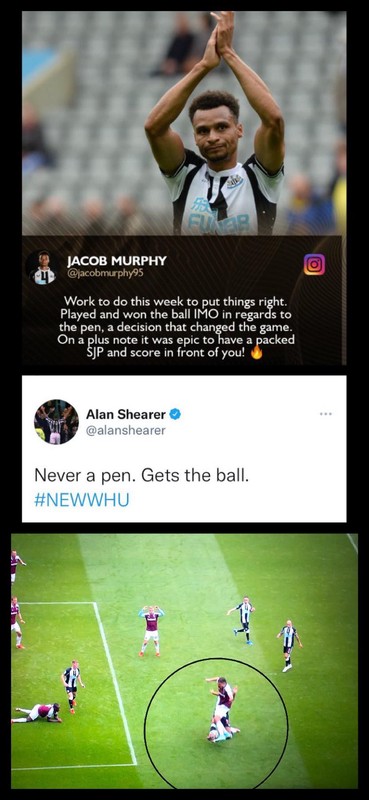 Also yesterday at Villa Park, a rather harsh penalty was given against Newcastle Captain Jamaal Lascelles for handball from Tyrone Ming's header despite his extreme proximity to the defender and no way of getting his arm out of the way while challenging earnestly for the ball with his foot up but its the Wilson incident that Newcastle can certainly feel most aggrieved about in the context of Premier League VAR consistency.
Assuming Wilson had stepped up to convert the penalty as he has done every other spot kick he has taken in a black and white shirt so far, Newcastle might have been good value for one of their famous late shows and comebacks under Steve Bruce like the spectacular Florian Lejeune brace at Everton deep in injury time in January 2019.
Jamaal Lascelles rescued a very late point against Aston Villa in the 94th minute the last time the teams met in March at St James Park and Joe Willock, who was making his second Newcastle debut after securing a permanent move to Newcastle, has scored a 95th minute equaliser against Liverpool as well as an 82nd minute equaliser versus Spurs and 85th winner against West Ham but all hope was snuffed out with the offside and any thoughts of Willock's record-breaking 8th goal in 8 games.
Newcastle's travails with referees are nothing new but having received a degree of neutral protection from VAR when it was introduced in the 2019/20 season, the rug has been pulled from under The Magpies again with the more "light touch" approach and subjective interpretation of the rules and if the evidence of the first two games of the season is anything to go by, it heralds a return to the dark days of pre-technology.
Former Newcastle manager Rafa Benitez led calls for VAR's immediate introduction in football after a match against Wolves in 2018 when The Magpies were screwed over by two terrible decisions and in the years before that, Newcastle went an astonishing 155 Premier League games without seeing an opponent dismissed between 2014 and 2019 and went a whole calendar year without receiving a penalty from 2014-2016.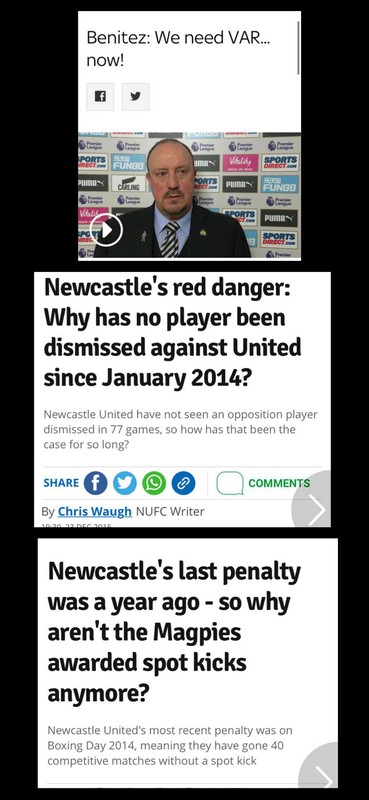 It has been a clear pattern of the past decade at least since Mike Ashley - who is persona non grata in football for reasons outlined at the start of this blog and is desperate to sell the club - took over Newcastle that The Magpies don't receive the big decisions they should do (and older Newcastle fans will cite FergieTime and Trelford Mills) but with VAR technology in place there is a absolutely no excuse for that to be the case any more and 50,000 Geordie fans are being ripped off on a weekly basis.
Following Covid-19, the entire world and world of football is experiencing a financial contraction and great losses with the possible exception of Man City, & PSG so every game, every decision, every point matters more than ever so its an essential time to stay in the lucrative Premier League, who are treating NUFC as a persona non grata.