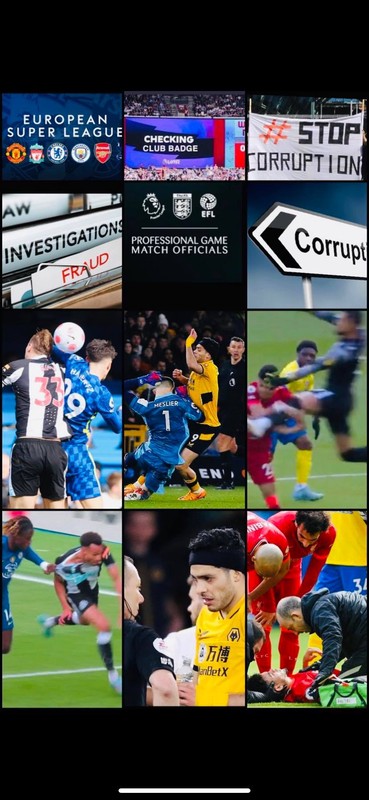 What a refreshing weekend where totally inexplicable VAR decisions in The Premier League didn't dominate the sporting headlines - not because the officials at Stockley Park had got their act together and the standard of refereeing had dramatically improved or better yet that foreign officials had replaced the current bunch that officiate England's top flight but simply because there was no Premier League games.

The previous 'GameWeek' like every other Premier League football weekend of the current campaign saw another raft of ludicrous and inexplicably bad VAR decisions that has been the story of the 2021/22 season and something must change for the future of English football to remain credible.
Everyone watching the decisions can scarcely believe them and its beyond question that the decisions are not just wrong but suspiciously wrong and The Premier League is attempting to pull the wool over the eyes of its highly knowledgeable fan base in football's modern version of The Emperor's New Clothes where no explanation by Peter Walton of a "high bar" or other convoluted nonsense can persuade any right-minded viewer that the matches & the Premier League itself are being manipulated by officials.
At football stadiums across England on a weekly basis, up to 75,000 fans are being ripped off by dodgy decisions by people who know exactly what they are doing.

A week ago, the decision in the Wolves - Leeds game to send off striker Raul Jimenez for absolutely nothing - watch the footage below and Leeds goalkeeper Illan Meslier flies out of his area and gets to the ball first before colliding with Jimenez who is in no way endangering him - transformed a match that Wolves were winning 2-0 to the amazement of everyone watching the game and subsequently the ex-referee experts.

Suddenly a man up, Leeds had an advantage they scarcely deserved & their all-energy game that had already seen four of their own players injured in an hour paid off spectacularly as they pulled one back, levelled & found a winner in injury time to win 3-2.
Wolves boss Bruno Lage, whose side were comfortable at 2-0, was naturally furious as the key decision in the match cost his side three points and the chance to go sixth in The Premier League and threaten the European places after a terrific season.

Lage told SKY Sports (via Mail Online Football)

'It's a body contact, Raul tried to win the ball. Bad decision – and he continued with the opinion he did a good decision.

'In the 45 minutes I think we were the better team. We were a much better team than our opponents. I am very proud of my players.'
His Wolves Captain Connor Coady agreed saying such decisions are "killing teams":
'It's a game we should win. We should still stay in the game but it is not a red card. I could go mad and kick off but for me it's not red. It's a fair challenge there was nowhere else it could go. These decisions are killing teams...

We don't feel like we were fairly treated.

'I don't know where he's meant to go – he's not invisible, he can't go through the keeper. I don't know where he's meant to go or what he's meant to do.

'For me this is happening every single game for one team or another – it's happening to different teams – where these sort of decisions are happening and killing teams, and that's what it has done for us.

'We still created the odd chance on the counter-attack but the red card plays a massive part in it [the result] – if somebody tells me it doesn't, they are lying.

'It was a fantastic game of football and, again we are talking about referees and it should never be the case in this league."
Mexico international Jimenez, who almost died on a Premier League football pitch after a clash of heads with Arsenals's David Luiz in 2020 - the subject of a BBC Documentary:

and knows more than perhaps any other player in The Premier League not to go in recklessly, has more reason to feel aggrieved than most as its the second time this season he has been sent off in controversial circumstances, the first being at The Etihad against Man City when he was bizarrely booked twice inside 48 seconds:

That wasn't even the most controversial refereeing decision of that game as in a tight match with Wolves doing superbly to hold Man City 0-0, an extraordinary intervention by VAR awarded Pep Guardiola's men a penalty that wasn't for handball & ultimately 3 undeserved points with Wolves missing out again on any Premier League points:
So that's twice Wolves have been "killed" by refereeing decisions at least in the 2021/22 campaign but these terrible and inexplicable decisions are not isolated incidents that happen to just one club like Wolves in these instances but are part and parcel of every Premier League weekend baffling fans and leading to all kinds of theories and speculation about The Professional Game Match Officials Limited, an organization set up to improve refereeing standards in 2001 but on current form, would be relegated.
"Its not the VAR protocol, its the operative..."

If Jimenez's 'challenge' produced the softest second yellow and red card of the season then a week earlier, Premier League fans witnessed the opposite - the most reckless and dangerous challenge of the season that didn't receive any card at all when Liverpool's Luis Diaz was smashed in the face by Brighton keeper Roberto Sanchez after bravely scoring a header to give The Reds a lead at The Amex Stadium:
Bizarrely, the VAR operative that day, Stuart Atwell, was the only person in the football world who didn't think it was a straight red card so somehow Sanchez stayed on the pitch despite a challenge that seriously endangered an opponent and required medical attention and the pundits were aghast at the disconnect between the referee and the VAR, who this season in the Premier League have abdicated their posts time and again.
It was even compared to the Jimenez Code Red head injury incident on BT Sports by Peter Crouch who added "He could have been seriously, seriously injured there" and Rio Ferdinand described it as "WWE that" and the panel unanimously agreed 100% red.

Even ESPN's VAR 'expert' Dale Johnson who very, very rarely contradicts the Premier League's official ruling and position thought it a sending off which suggests how bad the final decision or non-decision by VAR Stuart Atwell actually was.

Even Stranger Decisions At Chelsea vs Newcastle - Sunday, March 13th, 2022

As a Newcastle United supporter, the number of downright horrendous decisions to go against my club this season has been too many to believe anything other than that the officials are against the club and its been the case from the first game of the season when an horrendous penalty was given against Jacob Murphy against West Ham:
This killed Newcastle's chance of a winning start to the season after ending the 2020/21 season as one of the form teams with 17 points from the final 9 games to last week's utter debacle at Chelsea when the same player - Jacob Murphy - wasn't given one of the most blatant penalties of the season when Trevoh Chalabah fouled him multiple times including a clear shirt pull and this was after Kai Havertz somehow stayed on the pitch after thrusting an elbow straight into Dan Burn's face leaving the player bleeding on and off for the rest of the game and with a scar on his forehead: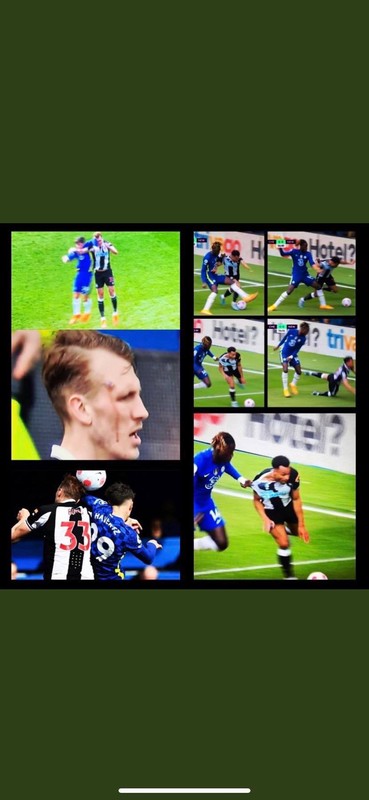 All five on SKY's Soccer Saturday panel including presenter Jeff Stelling, who today announced he will be staying on to present the show for 2022/23, unanimously agreed that both Havertz should have been dismissed instantly and Murphy should have won a penalty and were as amazed as everyone that the VAR - the Video Assistant Referee who has video replays at his disposal to make the right decision can have made the decisions he did - unless something is seriously rotten in the state of Denmark.

Newcastle actually benefited from a few rare decisions from VAR on their recent 9-game unbeaten run including an opponent dismissed against Brentford although Mike Dean initially gave a Bees free-kick for a potentially leg-breaking challenge on Matt Targett but as soon as The Magpies' surge up the table out of the relegation zone threatened to spill into the Top 10 and potentially Europe, the rug was pulled by the officials at Stamford Bridge and momentum unfairly stopped.
Each week in The Premier League the patterns are obvious with Man City always benefiting and getting some ridiculous decisions like the penalty not given to Everton and other clear and obvious favouritism given to certain teams and denied others as the chosen few are boosted up the League table and the rest are held in check.

Big Six Bias - Are Wolves Being Kept Out Of the Lucrative European Places?
Exactly why these dodgy decisions are taking place is a matter of much speculation and conjecture yet its generally accepted by Premier League fans that the current 'Big Six' teams - Man City, Man United, Chelsea, Liverpool, Arsenal and Spurs - get the lions' share of decisions in their favour but why should this be the case?
'Follow The Money' is always a useful mantra in these matters and these six clubs - also known as The Greedy Six, who attempted to join the ill-fated European Super League in the summer of 2021, a move to a breakaway, closed shop cartel of a competition that spectacularly fell through within 48 hours after an unprecedented backlash from fans & stakeholders of the beautiful game in England - yet they were only fined a paltry collective £20M between the six for attempting to sell the soul of English football.
As 'SuperGreed' details, in the case of Real Madrid and Florentino Perez, it was motivated as much by self-preservation as naked greed following the Covid-19 pandemic and its effect on the income and bank balances of football clubs worldwide and these six English clubs are just as desperate to refill their coffers following a season of half without the matchday revenue that maximises their profits.
Estimates suggest Premier League clubs lost between £1BILLION and £2 BILLION collectively due to the lost revenue caused by COVID-19 and the long period of behind closed doors football that England's top flight was forced to adopt to continue first the end of the 2019/20 season from March onwards & the vast majority of 2020/21 season.
Big clubs with larger grounds like Manchester United and Spurs lost more than most - £118M and £69M respectively in 2019/20 alone - due to the nature of their income based on big crowds - 75,000 at Old Trafford & 80,000 at Spurs - & matchday revenue:

Naturally the figures worsen for the 2020/21 season when all clubs missed almost a full season of playing in front of paying supporters and only the temporary nature of the close of football business kept the clubs financially afloat with a lucrative future ahead:
Tottenham Hotspur, for example, were placed in such dire straits by the Covid-19 pandemic that they were forced to seek a £175M loan from The Bank of England after splashing out for a new stadium anticipating capacity crowds from Spurs games as well as commercial deals to stage NFL games of American football, special events and music concerts which like football had to be cancelled due to the Corona Virus.

So this season, qualifying for lucrative European competitions which generates revenue and prize money not just from the competitions themselves and the TV rights etc but from the increased stature of playing in The Champions or Europa League is absolutely essential for clubs hoping both to recoup the loss of guaranteed income banked upon but also get back onto the financial gravy train which was denied them in 2019/20:

Its been a feature of past seasons that whenever a club like a Wolves or a West Ham threatens to break into the European spots of The Premier League especially the coveted Champions League places where the real money is made then the wind is pulled from their sails with a series of dodgy decisions like they are both experiencing:
There was some good news today from The European Club Association General Assembly in Vienna as their President Nasser Al-Khelaifi has assured football fans that the European Super League will 'not happen':
The European Super League's latest plan was foiled by lovers of football across England showing the collective power of football supporters & lovers of fair play everywhere but already a tightening of the financial strangehold at the top of football's pyramid has gone through the back door with the expanded Champions League format.

While UEFA are said to be on the brink of ruling out rules that forbid 'historically successful' teams from leapfrogging those who qualified on merit by finishing in a higher Premier League position for entry into The Champions League,

the desperation for money remains a hallmark of the clubs at the top of The Premier League and European pyramid and the football world must be constantly vigilant.
That should begin with an investigation into the controversial & plain wrong decisions happening on a weekly basis in The Premier League & a true levelling of the playing field that VAR, with its video replay technology literally invented to clear up the 'mistakes' it still makes, should have brought about were it not for its highly suspect application.
We can only hope one is already under way...