"Everybody knows that the dice are loaded
Everybody rolls with their fingers crossed
Everybody knows that the war is over
Everybody knows the good guys lost
Everybody knows the fight was fixed"
Leonard Cohen
"Everybody Knows"
Jose Mourinho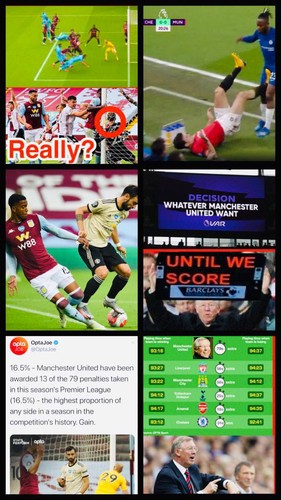 Its official - VARchester United is the new Fergietime - the completely blatant bias offered by Premier League referees to Manchester United Football Club and they are being allowed to get away with it all over again despite the presence of VAR.
It happened for years in the opening two decades of the Premier League when 'Sir' Alex Ferguson dominated referees and his side won favourable decisions & enjoyed statistically more added on time to score late goals than their rivals on a weekly basis and its happening again under Ole Gunnar Solskjaer's command.
The Red (Cheating) Devils have now been awarded a Premier League record 13 penalties in 34 games with 4 left to play in 2019/20 - more than my side Newcastle have received in The Premier League in 224 games since the start of the 2013/4 season.
Like everyone on Planet Football except referee Jonathan Moss and VAR Graham Scott, Dion Dublin and Tim Cahill on the BBC's Match of the Day were incredulous at the decision to award Man United a penalty for this incident when attacker Bruno Fernandes' 'Maradona' turn goes wrong and he actually fouls the Aston Villa defender at a time when the game was finely balanced at 0-0 with Villa having chances:
The first goal of a game in The Premier League is crucial & once that first goal went in, Man United grew in confidence and soon added a second by Mason Greenwood and went onto win 3-0 all but condemning Aston Villa to relegation to The Championship.
Collectively on social media, the watching football world howled as one at the clear injustice and ludicrous decision to give the penalty even former Manchester United greats like Peter Schmeichel plus Jamie Carragher, Matt Le Tissier & Dean Ashton: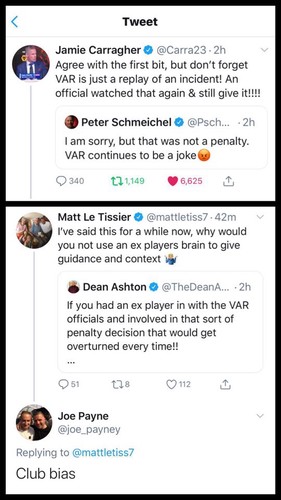 Sensible suggestions emerged to have an ex-player in the VAR room looking at the incidents but that overlooks the central problem of corrupt not incompetent officials at the moment who know only too well what they are doing and proceed to do it anyway.
"Everybody knows..." said Jose Mourinho at the astonishing decision NOT to award his side a penalty by first referee Paul Tierney and then VAR Michael Oliver at The Liberty Stadium in the Bournemouth - Tottenham game for a blatant push on Harry Kane:
There was also a non-penalty awarded to Southampton in their game vs Everton & The Premier League admitted after the games that all three of the decisions were wrong and news that FIFA are taking charge of VAR and ending The Premier League's rogue use of it will provide scant consolation to any club who have suffered this season.
"What good is that to Aston Villa?" asked Dion Dublin on Match of the Day and what good is it to Jose Mourinho and Spurs and all of the teams cheated this season?
VAR was brought into correct these decisions but as of yesterday, Manchester United led the Premier League in not just penalties but subjective VAR decisions +7 in their favour while European rivals like Sheffield United had the most subjective decisions against their club -5 and big decisions lead to changed results and football destinies.
At the start of Project Restart, Sheffield United could reasonably be said to be dark horses for The Champions League spots if they picked up in The Premier League where they had left off in March when the season was halted due to the Covid-19 outbreak.
Yet in their game in hand against Aston Villa which kicked off The Premier League's return, they faced the farce of a first ever goal wrongly disallowed by the previously infallible HawkEye technology system despite the fact that, again, the ball was clearly over the line to the entire watching football world but not referee Michael Oliver, who in his defence has to go with his wrist-mounted goal-line technology but how did VAR official Paul Tiereney not overturn it? A "Scandalous situation" according to Mark Clattenburg, the world's best referee and refereeing authority.
It followed a pattern of refereeing decisions in 2020 that benefitted Man United and worked against their rivals for The Champions League spots and the tens of millions of revenue directly for being in that competition plus hundreds of millions in sponsorship.
This dichotomy between Man U getting decisions & momentum and their rivals not getting them and losing momentum was best illustrated at Stamford Bridge in February when Red Devils Captain Harry Maguire should have been sent off for this kick out at Michy Batshuayi for which the England star was not even booked while Spurs' Son Heung-Min was given his marching orders for an identical kick out on Antonio Rudiger against Chelsea just two months earlier:
If a group of runners or cars are having a race and one of them is being rocket-propelled while the others are being dragged back then there is only going to be one outcome - in this case Manchester United in The Champions League. The word on street is that:
"Ole's at the wheel! He's doing his thing! Manchester United are back!"
Yet Rio Ferdinand's words after that night in Paris - that were a running joke until the recent run of remarkable VAR- and penalty-assisted results - was achieved by Man U benefitting from a horrendous handball penalty from VAR and it is referee favouritism that has clearly returned in the Red corner...
As Jose says, "Everybody Knows..."