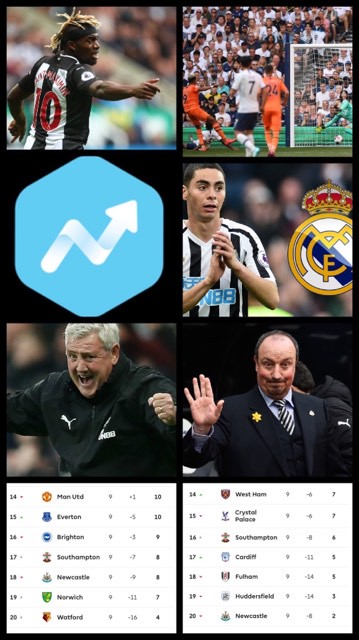 Newcastle United head into their tenth Premier League game of the season against Wolves on Sunday three months after facing them in the Premier League's Asia Trophy and being soundly beaten by a team well ahead of The Magpies in terms of fitness and preparation ahead of a Europa League campaign that continued with a win last night.
The Magpies will be especially delighted ahead of playing Wolves that VAR is finally in The Premier League after being robbed in both games last season against Wolves. At home in the 2-1 defeat, DeAndre Yedlin was wrongly sent off by Mike Dean while Wily Boly should have been sent off for an elbow on Ayoze Perez and in the return fixture at Molineux, Boly again mugged Newcastle by illegally covering the face and eyes of Martin Dubravka - who signed a new 6 year contract this week for Newcastle - when heading in the game's equalising goal deep into injury time.
Its a football truism not to judge a manager or club until 10 games into a new season and after 9 games played, Newcastle have 8 points from 2 wins and 3 draws with 4 losses knowing a win on Sunday against Wolves will propel them up the table. At the same stage last season, Rafa Benitez's Magpies had 2 points and 0 wins after a similarly hard start to the campaign which became the worst in the club's history.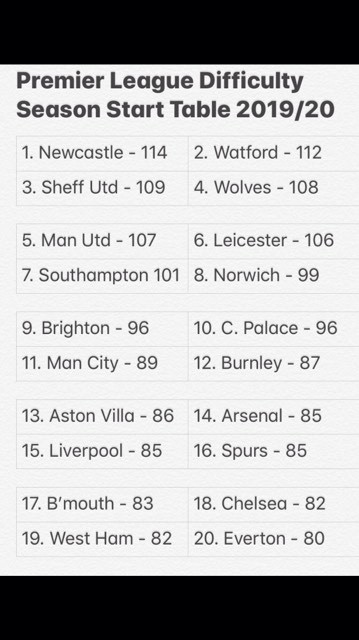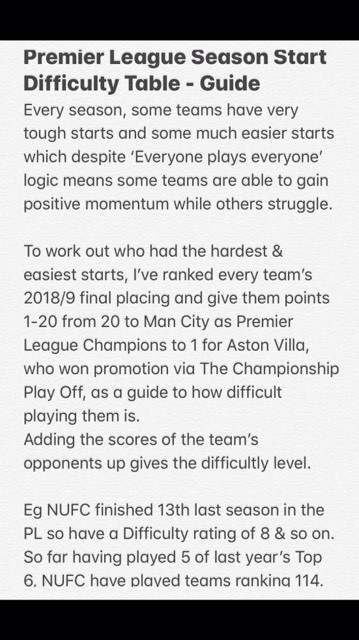 Steve Bruce's side lie 18th place in the Premier League after the toughest of fixture list starts that this season included all four European finalists in Champions League Champions and Runners Up Liverpool and Spurs and Europa League Champions Chelsea away from home plus Europa League Runners Up Arsenal at St. James' Park as well as another member of last's season 'Top 6' Man United plus 3rd-placed Leicester City, a club intent on joining the elite.
Newcastle have had statistically the hardest Premier League start this season as the table on the left shows with our overall opponent's difficulty rating based on last season's 2018/9 Premier League table being markedly higher than most teams in the division.
The Daily Mirror's Andy Dunn asked in an article in the summer, 'What did Newcastle United and Rafa Benitez (then manager) do to the Premier League fixture makers?' and points out that Newcstle play 7 Top 10 teams in our first 10 matches compared to Everton who play only two and leads the call to make the fixture list starts more even:
"How do you make the list fairer? Use the previous season's finishing positions as a form of guide. It might not, indeed, make much difference to the eventual outcome of the season, but it would eliminate the sort of disparity seen in the early programmes of Newcastle and Everton."
Naturally, a hard start to the season means a theoretically easier finish yet in football momentum is all important and a good start or bad start matter. Last time Newcastle had a relatively easy start, Alan Pardew's Magpies gatecrashed the European party finishing 5th in 2011/2 after a terrific run of early games that set the tone for the season but the gates to a good, momentum-building start have been locked down since with the norm now being a clutch of fixtures against Top 6 teams at the start of every season that leave Newcastle with an uphill battle. (Read more here)
Newcastle have also played Norwich City, Brighton and Watford amassing just two points from nine available from two draws at St. James' Park yet - compared to last season's Worst Start in the Club's Proud 126-year History Under Rafa Benitez™ when we were were rock bottom of the table with 2 points after 9 games , The Magpies are a win away from mid-table on 8 total points after wins against Spurs at the new Tottenham Hotspur Stadium thanks to record signing Joelinton & victory over Man United after a superb debut and goal from Matty Longstaff, the younger brother of Geordie Sean.

That Newcastle actually beat two of the above sides is quite a remarkable achievement for a new manager who was parachuted into the club halfway into pre-season in China closely followed by new signings arriving variously from Brazil via the Bundesliga in the shape of £40M front man Joelinton, Jetro Willems from Holland via the Bundeliga's Eintracht Frankfurt, Emil Krafth from Sweden and Allan Saint-Maximin from France.
Striker Andy Carroll, Newcastle born and bred, was the only signing both familiar with the area as well as the unique demands of The Premier League, the best League in the world as it widely-recognised to be, as well as new Head Coach Bruce, who could be forgiven for having to acclimatise to the rarified atmosphere of the top flight, one which he completed as a player with 3 winner's medals, yet hadn't managed in since 2015/6.
Benitez managed to find a winning formula in game 11 when Ayoze Perez broke the deadlock heading in a Ki free-kick to beat Watford 1-0 before Salomon Rondon opened his Premier League account in Game 12 at home to Bournemouth on his 6th game and the pair would score 24 goals between them in the 2018/9 to allay relegation fears.
Interestingly, Perez's Watford goal was the first time he demonstrated his Fingers in his Ears celebration indicating he wasn't listening to the Toon fans who were writing him off from the terraces and was shutting out criticism that came his way.
It is the same kind of criticism that is now raining down from all quarters on Newcastle's newly-formed strike force - Joelinton, Allan Saint-Maximin and Miggy Almiron from press, pundits and critical supporters alike who are quicky judging the trio not realising they have only started three matches together - Spurs, Man Utd and Chelsea - and Newcastle have won two of those and narrowly lost the other.
It was not exactly raining goals in Newcastle last season in the first half of the season when Newcastle really struggled - Rondon and Perez didn't disturb the score sheet until the 11th and 12th weeks of the Premier League respectively and were nowhere to be seen prior except in the League Cup when Rondon scored one at Notts Forest before the usual refereeing farce at The City Ground and after 19 games when Newcastle had played everybody once, Perez had two goals and Rondon four.
With more games and time spent on the pitch with each other, the JAASM front three has real promise and as results when they play suggest, give Newcastle a serious attacking outlet and cutting edge which will only improve with time as they gel and learn each other's games and adapt to life in The Premier League but with some more tasty games coming up against West Ham, Aston Villa, Bournemouth, Southampton, Crystal Palace, Sheff United and Burnley, more goals and wins may be forthcoming.
A lot has been made of Newcastle's Premier League-low Expected Goals yet the xG stats don't reflect the toughness of Newcastle's fixture list start and don't take into account the fact that £18M star man and playmaker, new no.10 Allan Saint-Maximin has only started three games and played 5 times including 2 sub appearances with his new teammates. Worth remembering is Alan Pardew's NUFC finished 5th with the 16th best xG in the Premier League in 2011/2 so its not as useful a measure of progress as Premier League wins and points are.
Only Joelinton of Newcastle's new strike force has currently notched yet its early days and he, like Newcastle and Bruce, have been on a very steep learning curve to adapt to Premier League football mostly against the division's top teams yet in the weeks.
Steve Bruce has said he expects to Joelinton to score more goals:
"He is only young and he has to find his feet. He's only 23. And I'm sure the longer it goes it will get better.
"We need him to be. If you are going to wear the number 9 shirt he's got to chip in with a few goals. He can only improve."
and again, this is a reasonable expectation now that the fixture list eases up somewhat.
Its only been a few months since Almiron's early form for Newcastle and international form for Paraguay were earning rave reviews and links with Real Madrid and opinions and form can change quickly in football . Look at the adulation Arsenal's £72M man Pepe is receiving after his free-kick brace against Victoria Setubal in the Europa League last night having been derided after he fluffed his lines with the Premier League miss of the season against Sheff United on Monday night.Expect Saint-Maximin and Miguel Almiron to score their first goals for the club in the near future and Newcastle to kick on back up the table where we belong.
After navigating the hardest start in the Premier League in a far healthier position than last season, hopefully Newcastle can catch a Europa beLeaguered Wolves cold on Sunday although they themselves are an aspiring football club who won't make it easy yet for those who believe Brucey's bonus wins against Spurs and Man United are based on luck more than anything, it has been said that Anomalies come in threes...#FHWTL
.