On Sunday UEFA announced creation of new tournament - UEFA Europa League 2. Also some changes in European club tournaments were announced together with new access list that describes team's path to all three tournaments in 2021-2024 cycle. In this post I will show you how this path will look like.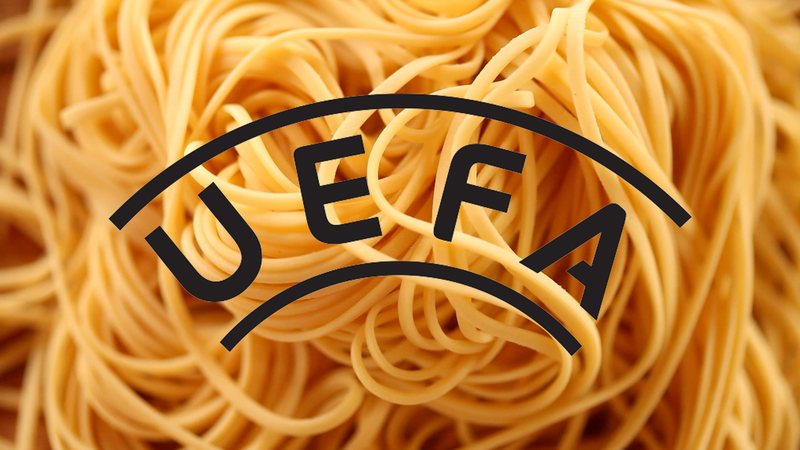 First of all it is necessary to mention two important moments. The first one - there are only 16 new places in European tournaments: now we have 80 places (32 in UCL + 48 in UEL), from the season of 2021-2022 the number will be 96 (32 in each of three tournaments). The second - total number of associations delegates will be approximately similar to current. I did not compare exact number of teams but the difference is small or absent.
Now it is time to look at new qualification scheme. I tried to make clear and understandable as possible. If you will have questions about it after reading this post you are welcome to ask in comments. On the top of table you can see qualification's rounds on the left - tournaments and paths.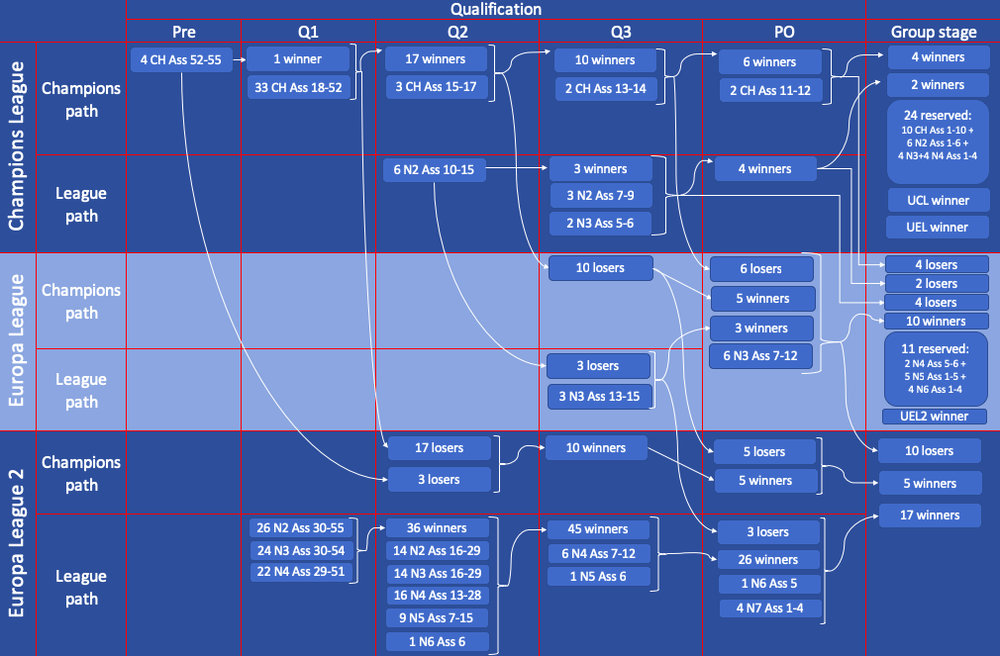 Some words about notation. Words "4 CH Ass 52-55" mean that four champions from countries whose associations are ranked on 52-55 places in UEFA associations rating take part in this round of qualification. Text "26 N2 Ass 30-55" means that 26 second teams from associations with 30-55 rank participate in round.
One more important thing. In previous access lists UEFA used abbreviation "CP" that means Cup winners. In analysed list "CP" is not present. It doesn't mean that cup winners wouldn't be invited to European cups. UEFA decided just to give numbers for all countries representatives because very often cup winner participates in eurocup not as cup holder but as team with high place in championship.
Main conclusions we can make from the scheme are following:
1. UEL qualification is very short and starts from the third round. It consists from just 2 rounds: Q3 and play-off. At a group stage at least 10 places are reserved for losers in Champions league qualification. 19 teams that will lose in UCL qualify rounds will go to Europa league qualifications and at least 10 of them will take part in play-off round. So, I think that UEFA made a mistake named the third tournament Europa league 2. They should rename Europa league to "Champions league 2" and third tournament shoul be named "Europa League".
2. Teams that will participate in Champions league Q2 round will play with 3 rivals. Victory in one of these round will guarantee the participation in eurocup group stage.

3. The most difficult path will have teams that will start from Europa league 2 qualification. 140 such teams will compete for only 17 places in group stage.

Now let's go to particular examples and look at path of teams from England, Russia, Ukraine, Greece and Belarus. We will use current UEFA Association Rating.

Belarus - 21st place.
Champion will start from second qualification round in Champions league, three other representatives will begin from Q1 in Europa league 2.
Greece - 14th place.
Champion will start from third UCL qualification round and guarantees place in at least Europa League 2. Second team will start in Q2 Chamions league round and in case of victory guaranties place in Europa League. Third team starts from Q3 round of UEL qualification. Two other teams begin their way from second qualification round in Europa league 2.
Ukraine - 8th place.
Champion has reserved place in UCL group stage. Second team starts from Q3 in Champions leagus and has guaranteed place in Europa league. Third team begin from Europa leagus play-off round and has guaranteed place in Europa league 2. The forth team starts from Q3 in Europa league 2, the fifth - from Q2 in this competition.

Russia - 6th place.
Champion and second team have places in UCL group stage. Bronze medallist starts from Q3 in Champions leagus and has guaranteed place in UEL group stage. The forth team has reservation in Europa league group stage. The fifth and sixth teams will fight for places in Europa league 2 group stage starting from third and second qualification round respectively.
England - 2nd place.
Four best teams have guaranteed places in Champions league group stages. The fifth and sixth teams take part in Europa League group stage. The seventh team starts from play-off qualification round in Europa league 2.