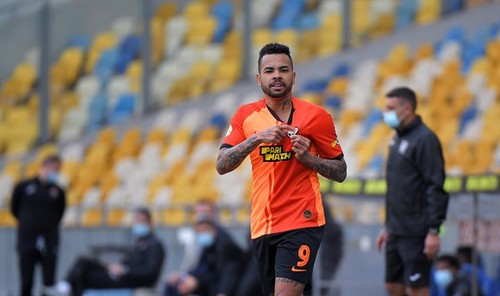 In the last round, Shakhtar hosted Dnipro-1. Despite the fact that the hosts lost the championship race, the intrigue persists until the last round. Zarya seeks to move up to 2nd place. Shakhtar was the favorite in the last round. For the last 4 meetings, Shakhtar managed to win only the 2nd. Dnepr-1 shows better results. In the last 4 meetings, he won 2 victories. I drew 1 time and lost the same amount.
Review of the match UPL Shakhtar-Dnepr-1
The miners started the match more actively. Although, the guests were not going to give up. On the 24th minute of the meeting, Dentinho opens the scoring. The guests played actively on counterattacks. Dovbyk hits the wrong target. Taylor falls into the box. Dnipro-1 players asked to view the VAR. The judge does not order the 11th. Even in the first half of the match on, in the 30th minute, Taylor receives a warning.
Interestingly, the miners already had a game advantage. On the 24th minute, Dentinho opened the scoring.
Taylor gets yellow for talking. Simultaneously with him, in the 30th minute, for indignation, receives a card from Di Franco. Interestingly, the referee started jerking again.
At 41 minutes, the defense makes a mistake. Bagatov gives a pass to the goalkeeper, not seeing that Dentinho runs into the penalty area. The attacking player does not shoot himself. A pass to Tete follows, scoring into an empty net. Dentinho becomes the best player in the first half.
The first half ended with a confident victory for the hosts.
After the break, the hosts continued to control the course of the meeting. On 55 minutes, Dodo shoots wide of the gate.
The second half of the meeting took place under the dictation of Shakhtar. They had territorial advantage. Nevertheless, at the end of the match Dnipro had 2 chances. On the first extra minute, Yarmolyuk shoots towards the goal.
At 90 + 4 minutes, Taylor takes the ball in the penalty area, but did not hit. He passes to Hoblenko. The latter reduces the lead. The result of the UPL Shekhter - Dnepr-1 match: 2 - 1.
Match statistics Shakhtar - Dnipro-1
Ball possession: 48 - 52
Shots on target: 3 - 3.
Shots off target: 10 - 2.
Out of the game: 2 - 3.
Corner kicks: 4 - 5.
Violations of the rules: 13 - 12.
Warnings: 1 - 4.
Deletions: 0 - 0.
Goalkeeper saves:
Dangerous Attacks: 2 - 1.
11-meter kicks: 51 - 40.
After the round, Shakhtar retains the 2nd line. In the next round, Shakhtar will visit Minai, the meeting will take place on Thursday. Dnepr-1 will receive Dawn on Wednesday.