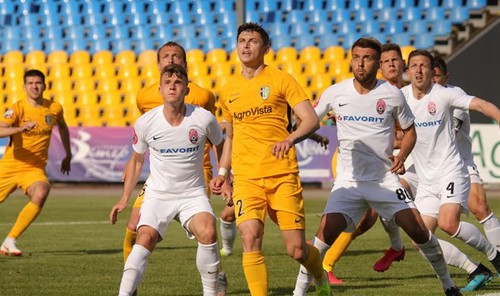 In this match, both teams have solved all their tournament questions. They played for prestige. Zarya in her field should show results without spending a lot of effort. They will play the final of the Cup of the country. Alexandria plays for fun.
Review of the match Zarya - Alexandria
The match began with a mutual positional struggle. In the first 30 minutes of the match, the hosts shot three times towards the goal and once on target. Nazarina was marked with an aimed blow. Smooth was more active. The guests twice threatened the gate of Dawn. Later, in the first half of the meeting, the teams were unable to show a productive game.
The main events took place in the second half. On 62 minutes Alexandria makes the first shot on target of the hosts. Zorya runs into a counterattack and on 63 minutes of the meeting Gladkyy opens the scoring. After 10 minutes Alefirenko doubles the home team's lead. The team continued to monitor the course of the meeting. But she missed the sharp attack of the guests.
On 86 minutes, Wantuh scores for Alexandria. The hosts answered almost instantly. At the 89th minute Alefirenko breaks through myo. On the 90th there is a shot on target. On this, the events in the match came to their logical conclusion. Zorya wins, gains three points and takes 3rd place in the Ukrainian Championship. Ahead of them awaits the final of the Cup of the country against Dynamo.