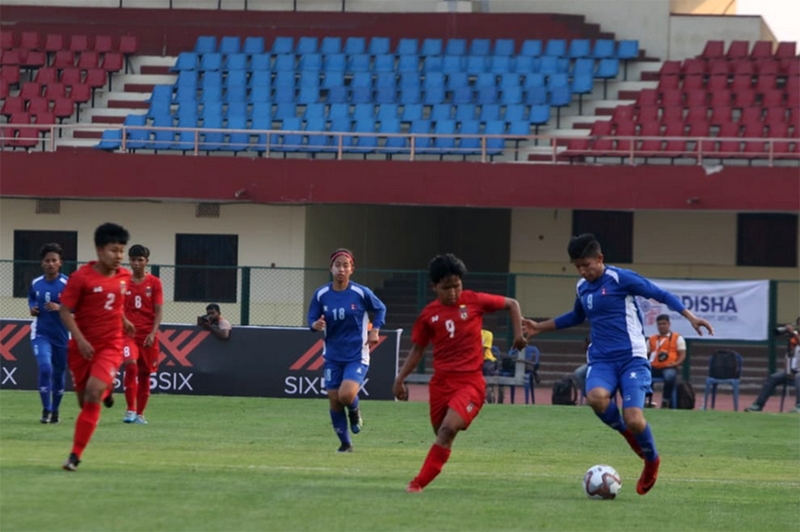 Now its the time for Olympics. It's the time for women's football. In the Olympics, women's football is also included. For the selection of teams in women's football, today Nepal will face organizer Myanmar in the first match of the second phase of this qualification.
The match between Nepal and Myanmar will be played in Mandlar Thiri Stadium. Nepalese girls will face the Myanmar girls in 5:15 pm according to the time of Nepal. Nepal is GMT +(5:45) ! You can adjust the time in GMT accordingly.
During the 1st leg, Nepal and Myanmar ended in a 1-1 draw. We will have to wait the result for the 2nd leg before they play other matches. Nepal, Myanmar, Indonesia and India are in the same group and they will play against each other for the selection.
After this match, Nepal will take on India on April 6. It will be a good chance to take a revenge to Indian Women's football for the Nepalese girls as they were defeated by India in the SAFF Championship. Since, India has a good and balanced team, Nepal has to work really hard if they want to earn this success.
Nepal will play with Indonesia on April 9 for the qualifiers. They will be a new team for the Nepal side.
Women's National Team of Nepal comprises the following members in the squad :
GoalKeepers :
Angila Subba, Usha Nath, Anjana Rana Magar
Defenders :
Geeta Rana, Punam JargaMagar, HiraKumari Bhujel, Kabita dhimal, Amrita Joshi, ManMaya Limbu, Puja Rana
Midfielders :
Manjali Yonjan, Renuka Nagarkoti, Saru Limbu, Anita Kc, Anita Basnet, Sharmila Thapa
Forwards :
Sabitra Bhandari, Rekha Paudel, Niru Thapa
Nepal will play under the captain-ship of Niru thapa.
Best Wishes To Nepal ! May the best team win.