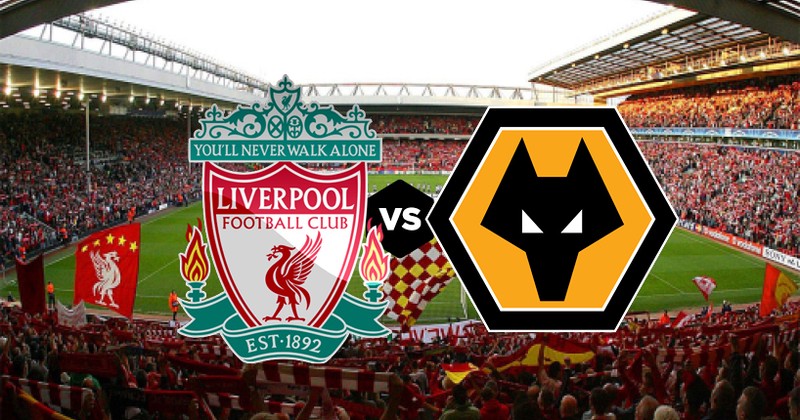 Good news! We are back with the Big Match Live this week with a very exciting match between Wolverhampton and Liverpool. The match will start in a rather unusual time @20:00 (GMT) on Friday (12.21) so make sure to set your alarm clocks and be here on time, or you will be at risk of missing some hot discussions and dramatic events both on Scorum and on the pitch in Wolverhampton.
It has been a while since we adapted to what you all want and changed our approach to this project. So far, our team is extremely happy with the results, and we hope that everyone else enjoys watching matches with us as well!
For anyone who is not aware of how this works, everything is pretty simple - tomorrow I will set up a new blog post in which we will provide updates on the match and encourage discussions in the comments section. Also, just as usual, there will be contests. Last week I tried to guess that Alisson will score the first goal against Manchester United and I lost. Hopefully, this week Alisson will do better!
There is no I in 'team', so let me remind you of all the guys who are responsible for the Big Match Live (of course, Tales remains our leader):

Wolverhampton - Liverpool Preview
Both teams are coming to this game with great expectations - Liverpool will do everything to finish the first part of the season as leaders of the Premier League while Wolverhampton will try to secure their spot as the best team after the top 6.
Wolves won their 3 previous games, including a home victory against Chelsea, so I am pretty sure that Espirito guys won't be scared of Liverpool. After all, Wolves also drew against Arsenal and Man City this year. The only team from the top 6 which beaten Wolves this season is Spurs. So, I guess no one would dare to say that Liverpool will have an easy game.
Talking about Liverpool, they survived the hell in the Champions League by winning their last game against Napoli. On top of that, they added 6 consecutive victories in the Premier League and I am pretty sure that Klopp won't want that to stop. The only thing that might bother Liverpool fans is injuries. Even though Alexander-Arnold is recovering faster than expected, he won't be able to start against Wolves. Gomez and Matip are absent as well, meaning that Klopp will have to rely on Clyne again. I have nothing against Clyne and he played well against Manchester United but with so little playing time this season, he might become a leaking pipe in Liverpool's defense. Of course, with Milner back to the rotation, there is a chance that Klopp will decide to play him as the right-back, leaving Fabinho in charge of the defending the midfield.
Expected line-ups
Wolves:
Patricio; Bennett, Coady, Boly; Doherty, Moutinho, Neves, Jonny; Costa, Jimenez, Cavaleiro
Espirito doesn't like to risk with his rotation and try to stick to his main guys, relying on Portuguese players in front. The only loss is Jota, who will not be able to help his team due to the thigh injury.
Liverpool:
Alisson; Clyne (Milner?), Lovren, Van Dijk, Robertson; Fabinho, Wijnaldum; Shaqiri, Firmino, Mane; Salah
I am pretty sure that Shaqiri deserves to start the game against Wolves after his wonderful performance against Manchester United. Also, he will be needed against Wolves from the first minute because he is one of the best creators against teams which decide to play defensive. Other than that, the only question remains if Klopp will choose Milner or Clyne. I would probably go with Clyne as he played well against MU and Milner will be needed in the near future against Arsenal and Man City.
Betting predictions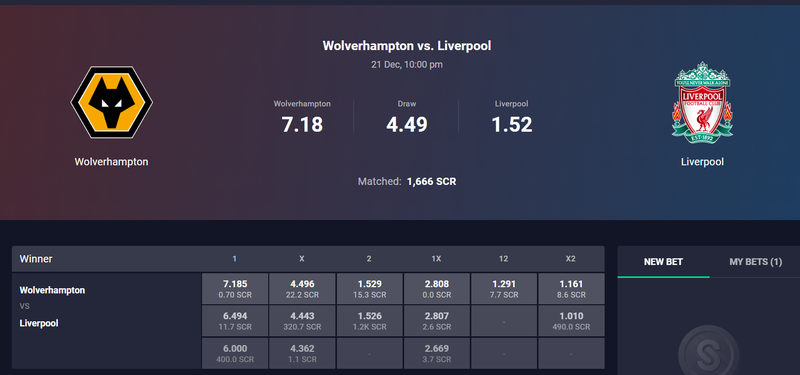 If you decide to bet on this match, I recommend using Scorum Bet platform. Here is the link to the match: https://betscorum.com/en-us/game/120
I am a fan of Liverpool so it's not easy for me to admit that Wolves not to lose is one of the best options in this match. The odds are too good to ignore. Also, Wolves know how to play at home and they also don't shy away from facing stronger teams. There is nothing wrong with that bet except the fact that Liverpool have enough class players who can decide games with their individual efforts. That said, I would never bet on Liverpool in this match.
My optimal bet is that we will see at least 3 goals in this match, though. You can read more about it in my previous blog post where I give my detailed opinion about this pick.
Guys, let me know what do you think about this match? And we will see you tomorrow @20:00 (GMT).