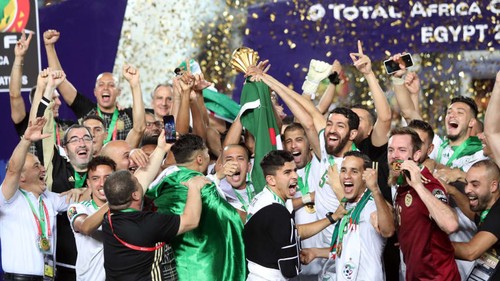 Congratulations to Algeria for winning the 32nd Africa cup of nations. Congratulations to Djamel Belmadi for leading his troops to victory. Congratulations to the dogged defense that defended well against the Senegal attackers.
The victory is not a surprise as I already predicted that the Desert Foxes will win and score atleast a goal. You can read my prediction here.
Algeria are easily the best team in the just concluded Africa cup of Nations. They showed grit, great mental strength, and great teamwork. They know their strengths, know how to break on a counter attack, and never stop believing. Senegal might be the favourites on paper but I believe Algeria are the favourite judging from their performance.
I mentioned in my match preview that Senegal are struggling for goals. When you have a striker Niang that does not add anything to the team or a ineffective right wing, you don't deserve anything. The over reliance on Mane was too much and Algeria came with a simple game plan. Stop Mane and you win the game. They were not afraid to tackle, head the ball and the head away, kick Mane head, and yes they got 4 yellow cards but it was worth it. The game plan worked as Bounedjah got the early goal for them.
Part of the game plan was to make sure none of the central midfielders got a yellow card which would have limit their marking. Bennacer, Feghouli,and Guedioura were tasked with the job of keeping things dirty but don't collect a yellow card. Guedioura got a yellow card in the 90th+ minutes but the deed has been done already. Bennacer was everywhere. He won't let Mane out of sight, Guedioura was ready to clear the ball away to the waiting Mahrez, Bounedjah, or Belaili. Feghouli task was to hold the ball and pass it around for some time. They all had their task and they did it well. They are happy to concede free kicks knowing fully well that there defense is composed. That's how champions play.
Senegal will be blaming the goal keeper Alfred Gomis who could only watch as the hugely deflected shot dropped into the net. He could have done better but you don't cry over split milk. Instead, you pick yourself up and find a goal.
In recent times, Senegal have not won a match that they conceded first. This is something I expected Aliou Cisse to have rectify. Unfortunately, the same thing played out. Play out the long ball from back to the wing then cross into the Algerian box with the hope to catch a defender offguard then repeat.
Algeria beat you in the group stages with the same pattern, you should know they are going to replicate that. You already have Koulibaly out due to suspension, I expect an attacking formation. I was expecting Niang and Mane upfront with Balde Keita and Ismaila Sarr as wingers. They can't defend that style for 88 minutes. You have the option to either cross low or high. There is Niang to meet the high crosses and Mane to meet the low ones. Mane can also be tasked with the responsibility of disrupting their defensive shape. Drag a center back out and give someone the ball to cross in. It's a trick that works for stubborn defense. You change tactics for different game especially the most important game in your coaching career.
Unfortunately, that was not the case. I only saw attacking substitutions made with the same pattern being played. It's a shame. It shows Aliou Cisse is tactically inept and should be sacked.
This is another golden generation and a good coach should be employed if they want to win silverwares else, they risk going the way of the 2002 Senegal team.