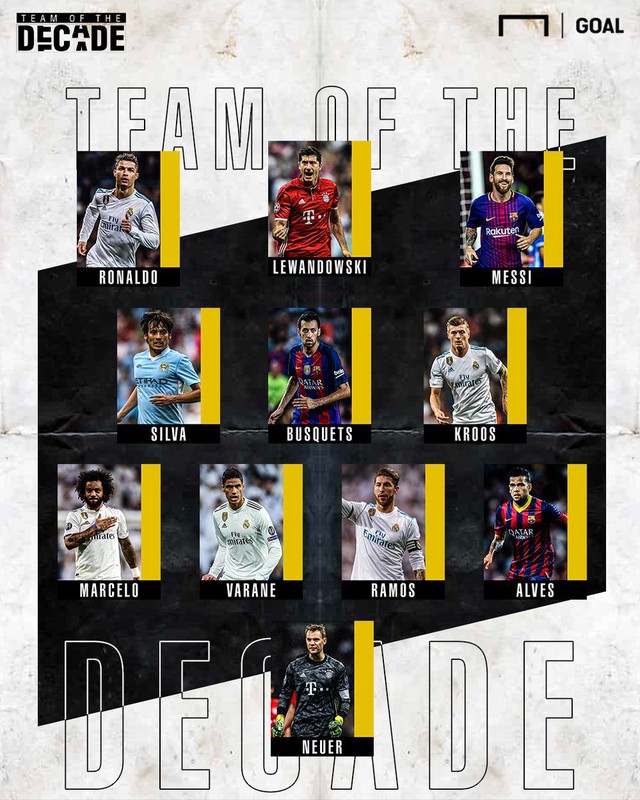 Goal.com in their usual controversial self published a list of the World team of the decade. They already published English Premier League team of the decade and also the Spanish team of the decade.
---
I won't talk much about the Spanish team of the decade or the EPL team of the decade. The focus will be on the World team of the decade.
The list includes
Manuel Neuer
Dani Alvez
Raphael Varane
Sergio Ramos
Marcelo
Toni Kroos
Sergio Busquet
David Silva
Lionel Messi
Robert Lewandowski
Cristiano Ronaldo
It's a pretty decent list with plenty of omissions. I laughed and called goal.com a joke. Peter Staunton, Stefan Coerts, and Sam Brown formed the selection panel and I only have one question for them. What are you smoking?
---
I have no problem with the defense. Few might argue with the inclusion of Dani Alvez and Varane. Some may go for Philip Lahm and Pique there. Lahm is one of the best consistent right backs in his era and even won the World cup. I feel Dani Alvez still edges him on this one. The Brazilian display in the Cop America shows why he is the best and consistent right back there. Varane has been there for some time too. He has been solid ever since breaking into the Madrid first eleven. He is no more a young lad but has grown into a leader at the back. Maybe Pique could have made it or Chiellini. Varane deserves the spot.
---
The midfield is one that will cause many football fans to grumble. Busquet did not make the La Liga team of the decade and he is here in the world team of the decade. On what basis? Euros and World cup performance. Luka Modric did a clean sweep of the awards last year and he is not there. Iniesta and Xavi are not in the list and the excuse was they didn't perform consistently for the whole decade. It's really funny.
---
I really appreciate Toni Kroos on that list. He is one of the best midfielders whose work has gone unnoticed by the footballing world. He doesn't get the necessary recognition. His inclusion in that list is justified.
---
David Silva presence is surprising. I will pick Iniesta over him and maybe leave Busquet on the list.
---
Lewandowski in the number 9 position is another debatable inclusion. I strongly believe Luis Suarez should be there in place of Lewandowski. The Polish man is good but no way near Luis Suarez. They gave a flimsy excuse regarding his behavior. That is trash talks. Suarez has been the best striker of his era. He offers goals and assists and it's just difficult to keep him quiet throughout the match.
---
Goal.com should just stop this trash lists. If you don't have anything to publish, you can just pick some old matches and review them.