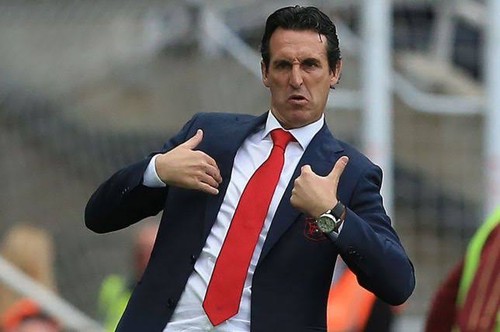 Arsenal yet again dropped points having taken a 2 goal lead. They did it against Watford and now against Crystal Palace at the Emirates.
According to OptaJoe, After winning 49 consecutive premier league games when going two goals ahead, Arsenal have dropped points in in each of their last 2 matches where they have gone 2 goals ahead. Source
This is not surprising atall. Emery is well known for squandering a 4 goals lead in the Champions league. What's 2 goals compared to 4 goals.
---
Arsenal lost 3-2 against Crystal palace at Emirates last season and a replica of that match was erased when Arsenal raced to a 2 goal lead courtesy of some setpieces. Arsenal should kill the game from there. Either you get the third goal or prevent your opponent from scoring.
---
I told people around me that Arsenal are playing rubbish despite leading 2-0. The midfield is non-existent and I would love to see Torreira come in for Xhaka atleast to add some bite to the midfield.
13 minutes to the end of the first half saw Crystal palace win a penalty. Zaha does what he knows how to do best. Dribble the defender and try to get a penalty. Chambers allowed him into the Arsenal box before fouling him. Zaha initially got a yellow card for simulation but thanks to VAR, Crystal palace got a penalty converted by Luka Milivojevic.
---
Second half came and Crystal palace equalised. Emery made his first substitution which was a very wrong one. Xhaka out for Bukayo Saka is very wrong. That means Arsenal played a kind of 4-2-4 and at times 3-2-5 with David Luiz playing an attacking role. Torreira should have been brought in to sit deep which will afford Guendouzi and Ceballos the chance to advance a little. A late Guendouzi wrestling like foul on Zaha saved Arsenal from an embarrassing loss at the Emirates.
Xhaka responding to boos
Xhaka has been poor so far this season and with the fans booing him, he should have just walked off without any gesture. A sort of keep it up and fuck off gesture is bad for the club captain. Aubameyang had to pick the captain band from the fall after Xhaka threw it there. It's very bad.
---
We are all humans but he should have controlled his emotions.
When you are booed, you respond with some great performances on the pitch that will make the fans chant your name. Cristiano Ronaldo, Mourinho, Jorginho have all been booed in the past. You just need to improve your game.
The post-match conference indicates that Unai Emery is likely to take some actions.
The beginning of the end for Unai Emery
Xhaka might be poor on the pitch but I don't think he is poor in the dressing room. He was Borussia Mönchengladbach captain at the age of 22 and also Switzerland captain prior to the recent issues regarding his Albanian heritage. This shows you that he is very influential. Arsenal captain was chosen thanks to a ballot system and for the players to select Xhaka despite his poor performances shows something.
---
Removing him as captain or freezing him out of the team will be a very bad thing for Emery and Arsenal as a whole. The likes of Bellerin and Ceballos have declared their support for the Arsenal captain. An unhappy locker room won't win games. You already freezed Ozil out and if you try it with Xhaka it will definitely hasten your doom.
---
I suggest a heavy fine, public apology, with him sitting out one or 2 matches is okay.
---
Arsenal face Liverpool tommorow, followed by Wolves in the Premier league and high flyers Leicester city. It's not looking good for Emery.
---
A wrong decision in the Xhaka issue may seal his end as Arsenal Manager